The Girl Powder Exhibit: Kate Schmidt's Effort to Embrace Femininity in Outdoor Apparel
Each morning, after rubbing the sleep from our eyes or enjoying a hot cup of coffee, most of us pay a visit to our closets and dressers to choose an outfit that will help us carry out the day's tasks. Clothing is so much more than a way to cover ourselves up, though. For many, it is a tool for bringing our inner sensibilities outward, adorning ourselves with fabrics and patterns that speak to our unique personalities. The beauty of dress is that we all have different ways of doing it. How we pair our garments with other articles of clothing and accessories assists us in telling our stories. We all dress the part in our own special way, making fashion a viable medium for self-expression and functionality.
The Girl Powder exhibit at Colorado State University's Avenir Museum of Design and Merchandising is a carefully designed and crafted display dedicated to "embracing athleticism and functionality while holding femininity at the crux," according to visitfortcollins.com. The display was created and designed by Kate Schmidt, Ph.D. student in the Education department at CSU and instructor for the Design and Merchandising department on campus. Her exhibit showcases 11 complete snow sport looks that took shape after completing qualitative research about women's preferences in outdoor apparel.
 "I did some observation sessions at REI," Schmidt says. "Following that, I did about 10 interviews with women that I knew were avid participants in outdoor sports to see what they wanted in outdoor garments." From there, Schmidt began sketching her ideas, illustrating her designs, and obtaining fabrics to begin sewing. 
Schmidt created the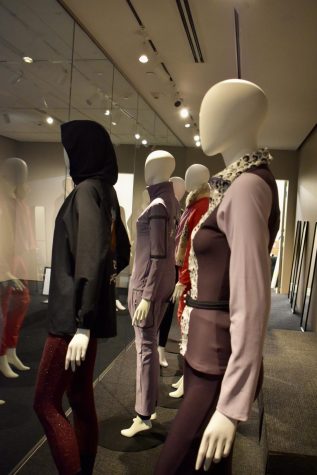 Girl Powder exhibit for her master's program in the Design and Merchandising department at CSU. "I really became inspired by being able to create a research and development project," Schmidt says. "Based on my research [about] what consumers actually want, I could create something that is backed up by qualitative data." 
Much of Schmidt's research also came from observing trend forecasting websites like WGSN, a resource used by designers for analyzing popular fashion trends. Her process was dedicated to creating a fresh take on traditionally feminine color palettes, prints, and patterns, Schmidt says. 
The garments within the Girl Powder exhibit were designed using the FEA consumer needs model, which identifies function, expression, and aesthetics as playing crucial roles in marketing clothing to specific audiences. "[Clothing] can be both functional and have expressive and aesthetic qualities, which I think is foundational for all garments," Schmidt says. "Each [component of the FEA consumer needs model] is somehow incorporated within [the Girl Powder exhibit]." 
For example, her ski bibs are designed for ease of wear, making them functional. 
"Female consumers said they liked bibs and one-piece garments because they stay put and are comfortable to wear when skiing," Schmidt says. Expressive and aesthetic components take form in aspects like garment print, color palette, and stitching detail.
"[Kate Schmidt's work] is very thoughtfully designed and expertly constructed," Megan Osborne, assistant curator and collection manager for the Avenir Museum, says. While the garments featured within the exhibit are only prototypes, they are fully functional and would serve as warm, dry apparel to accompany one on the snow hill. This, Osborne says, is what sets Kate Schmidt's work apart from other garments that have been featured in the Avenir Museum. "[Schmidt] is such a conscientious designer. She went that extra step and produced finished, functional objects that are also beautifully designed," Osborne says.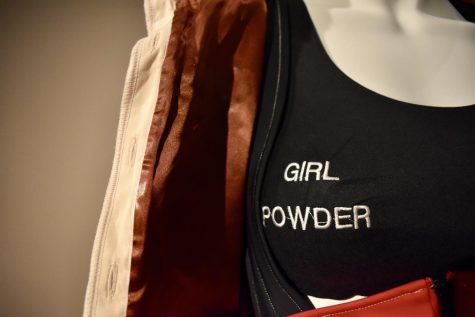 Not only are the garments within the Girl Powder exhibit fully functional, they are also designed in a cohesive way that aligns the articles together with one another. "Most of the garments have a little freshwater pearl on the zipper pull," Schmidt says. "I like how pearls are very delicate but also withstand a lot, and they embody what I was trying to get across in the collection." Additionally, many of the pieces feature a bustier as a "continuing element throughout the collection for cohesion. I think that it's very overtly feminine," Schmidt says. 
The design process was no small feat for Schmidt. After her qualitative research was conducted and she had an understanding of what female consumers were looking for in their outdoor apparel, she put pen to paper and began sketching her garment ideas. 
"I made conceptual pages, where I essentially drew small fashion figures several times to hash out the iterations of my ideas," Schmidt says. "I started drawing the bustier seaming and how I might do the necklines, coming up with different ideas." In total, Schmidt created about fifty conceptual drawings for her garments. 
After completing her conceptual designs, Schmidt's work underwent an industry review session, dedicated to receiving feedback regarding current fashion trends. "Based on [the reviewer's] feedback, I dialed [my designs] down to 20 garments that were most essential to the collection," Schmidt says. Once the designs were narrowed down and contextualized with her research, Schmidt began pattern-making. 
"I spent a lot of time in the pattern-making studios in the Gifford Building [at CSU]," Schmidt says. "I started draping and flat-patterning to figure out how to actually make the garments that I had drawn."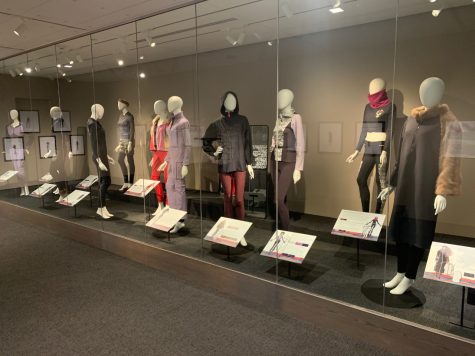 The process of bringing the garments to life was complex, Schmidt explains. Because the collection is dedicated to outdoor snow sport apparel, it was crucial to innovate traditional clothing designs to make her garments fully functional for outdoor use. The bustiers, for example, required special attention to detail. "Most collections that [showcase] bustiers are more lingerie-based," Schmidt says. "Outdoor garments, however, need to have some ease, so base layers can be worn underneath."
Once Schmidt's patterns were methodically planned based on visual aesthetics and functionality, they were translated onto her chosen fabrics, stitched together, and embroidered. 
With Schmidt's qualitative research, ideations, illustrations, and garment production complete, it was time for her work to be displayed within CSU's Avenir Museum. "[The museum staff] were pivotal in helping me put [the Girl Powder exhibit] together," Schmidt says. "I handed over all the garments, and they were pressed, steamed, and put onto mannequins. The garments were then displayed behind glass cases with briefs, describing each piece and their properties," Schmidt says. Her biography and hand-drawn illustrations were placed within the exhibit as well. 
"I really love having the opportunity to share my work [with the community]," Schmidt says. "It's cool to see [the garments] laid out together with the illustrations, and the outpouring of interest I have gotten feels great."
The Girl Powder exhibit is located at CSU's Avenir Museum of Design and Merchandising, and is open from noon to 4 p.m. Tuesday through Friday until May 6.