The Colorado State University Design and Merchandising program is a hub of creative expression, where aspiring designers cultivate their talent and push the boundaries of fashion.we spoke to three CSU seniors with a concentration in Apparel Design and Production working on their capstone projects. For these projects they are each creating a line of clothing, each with a different purpose.
Caelan Chamberlain: Revolutionizing Fashion with Inclusive, Adjustable Sizes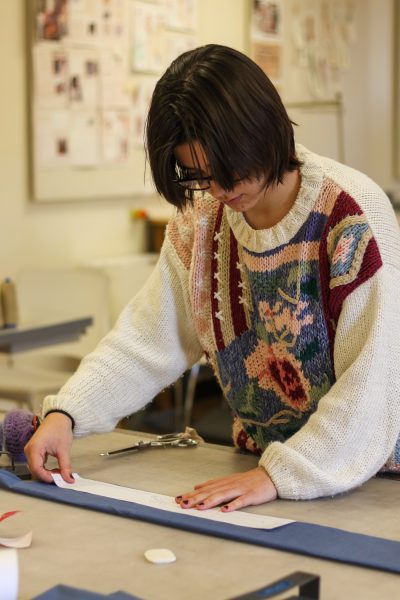 CSU Apparel Design and Production student Caelan Chamberlain is challenging the fashion industry's size norms with an innovative clothing line. With one simple goal: helping people feel more comfortable in their clothing and spend less, Chamberlain's line "Weekend Wear" features adjustable clothing for everyone.
"The clothing is meant to be worn on the weekends," Chamberlain said. "That's why it's called Weekend Wear. It's when you're being your full authentic self outside of a nine-to-five."
Chamberlain was inspired by traditional Japanese clothing when she was first designing her line. Two main pieces she focused on were hakamas and tobi pants. Hakamas are tie-front shirts and tobi pants are cinched at the ankle and have a tie at the waist.
Using these adjustable and inclusive techniques, Chamberlain hopes to limit the cost of her pieces. 
"A lot of women will buy three pairs of pants in the same size and color," Chamberlain said. "Just in different sizes for different times and different weights."
"Weekend Wear" will not only be able to fit different people, but the same person at different weight fluctuations.
Shaheen Ghamari: Redefining Luxury Fashion with Gender-Fluid Elegance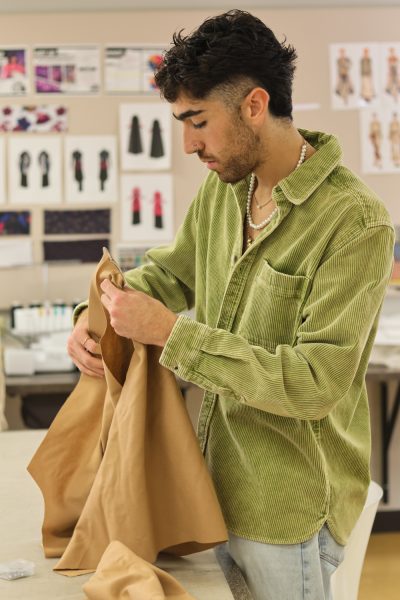 Shaheen Ghamari is shaking up the CSU fashion scene with a line of gender-fluid luxury evening wear. Ghamari's collection is a fall/winter, ready to wear, co-ed assembly of pieces focused on the Iranian population in Los Angeles, California.
Being Iranian himself, Ghamari was inspired by his family and friends as well as Persian patterns. 
The CSU Apparel Design and Production student is challenging the male vs. female gaze. Each female look has a male counterpart and vice versa. 
"You could wear either version depending on how you're feeling or match with your partner," Ghamari said. "It's a unisex line but the male looks lean feminine."
Ghamari's biggest inspiration is Maison Schiaparelli, a French couture house that produces high end clothing. He hopes to one day be the creative director of a high-end brand and see more designs like his own in the industry.
Cecilia Kastner: Inclusive Survival Gear Has Never Looked So Good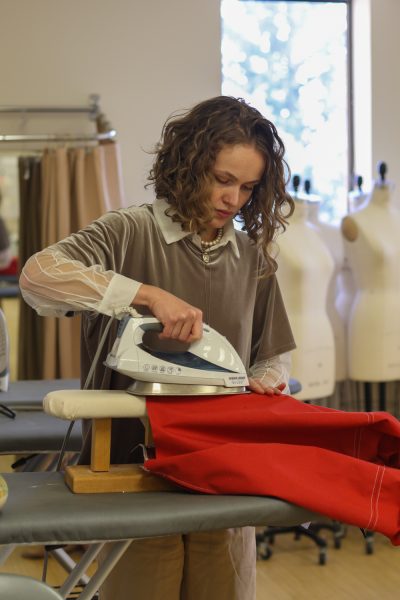 In a remarkable fusion of compassion and creativity, CSU Apparel and Design student Cecilia Kastner is pioneering a line of survival gear that serves a dual purpose, catering to both outdoor enthusiasts and the homeless population.
"Ironically, these two demographics require super similar apparel," Kastner said.
Kastner was inspired by high-quality outdoors brands, such as North Face and Arcteryx.
Pushing for a more sustainable approach to creating clothing, Kastner uses 3D rendering programs provided by CSU to create samples that can actually be worn, limiting waste. Kastner also uses deadstock fabric to prove the point that designers don't need to source fabric for every piece of clothing.
"I think a big thing I struggle with in fashion design are the ethical ramifications of it and there's a lot of issues with fast fashion now," Kastner said.
She is very passionate about fashion, not only for survival, but as a way of expression.
"Fashion is an art form that we all participate in every day, no matter what," Kastner said. "We can't walk outside naked. So even if you're wearing the same thing every day, that says something about who you are. I think that's fascinating."
To see more of their work, be sure to check out Caelan, Shaheen, and Cecilia in the CSU Fashion Show on May 3rd.