Behind the Curtain: The Dedication and Passion That Transforms the Theater
The auditorium fills with excitement as audience members trickle in. Conversations brew as anticipation for the show builds. Soon the lights go down and chatter in the auditorium ceases as all attention is directed toward the spotlight and the velvet curtain it illuminates. 
As the curtain lifts, a new world materializes with a detailed set and intricate costumes that transport the audience to another dimension. Lights illuminate the intricate set as performers appear in detailed costumes, and the sound immerses the audience into the scene before them. The pieces of a puzzle are put in place to transport the audience to another world.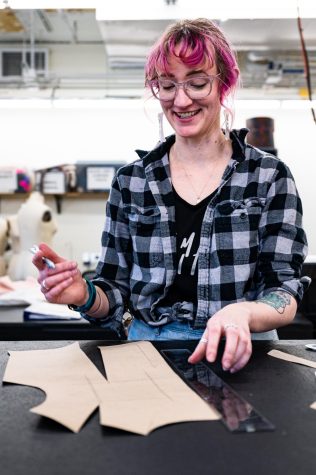 What the audience doesn't see are the months of planning, collaboration, and dedication that has amounted to this moment of transformation. 
The Colorado State University Center for the Arts, located at 1400 Remington St., bustles with production as students prepare for upcoming performances. Students can major in a Bachelor of Arts in Theatre while pursuing a concentration in a specific area of production. Specific production concentrations include scenic design and technology; lighting design and technology; projection design and technology; sound design and technology; and costume design and technology. Students from all of these departments come together to transform a stage into a new, immersive world for performances. 
The process of creating this world begins the semester before a show opens. Students from each department have six design meetings to collaborate on the show. As each department puts in research and imagination into set ideas, they come together in meetings, where ideas begin to shift and change. 
"You never know where your design will take a turn," Erin Carignan, assistant professor of costume design and technology, says. Carignan explains how seeing another designer's idea can spark new ideas for creators, and plans can alter based on the people working together. 
While ideas can flourish through teamwork, there are also aspects that designers may have to sacrifice in order to create a cohesive world. "You have to be able to properly communicate what you want, but you also have to be flexible in letting something slide and you know, some things have to go," explains Maddie Engeman, student costume designer pursuing a concentration in costume design and technology.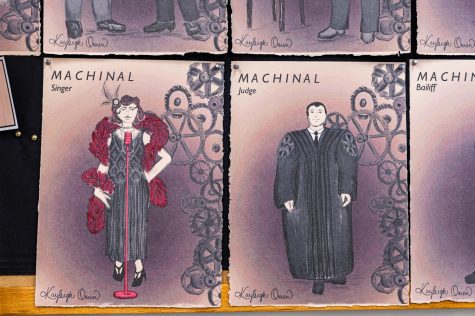 The collaboration process in the department generates ideas that create a show's world while fostering flexibility, communication, and teamwork in students. "It's kind of fun to see where you're all collaborating on one thing, but you all have your own thing at the same time," says Thomas Ray, student scenic carpenter and designer pursuing a concentration in scenic design and technology. 
After forming a solid design, the work is taken to each department's workshop where the ideas begin to become real. "Our job is to make them (ideas) happen…to make them look great," Ray says, who works in the scenic shop.
In addition to working together in the design process, working with performers is essential, especially in costume design. Designers strive to make costumes that not only bring the set to life, but are comfortable for performers. 
"I had to be able to make sure that every single person was comfortable and also dressed as an individual, and supported the (story of the) show," Kayleigh Owen says. Owen is a student costume designer and hair and make-up work-study student with a concentration in costume design and technology.
While everyone is striving to support the narrative of the developing story, they are also ready to adjust their work to support every department in coming together. In addition to working with performers, costume designers also have to be aware of aspects such as the effects of lighting and how they will impact the appearance of actors' costumes. Through aspects like this, students learn not only to be aware of their specific focus, but to also consider other areas of production. 
"
It's kind of like climbing a 14er, you're like, oh my God, I never want to do that again. And then the next one rolls around, and you're like, OK, let's do it.
— Maddie Engeman
As students in the program strive to create elements such as costumes, sets, lighting, and sound that support the world they are creating, they encounter challenges and learning curves as they go. Engeman remembers the excitement and the intensity while creating her first designs for the production of "She Kills Monsters." Engeman describes how she put in hours of work to make the designs come to life, then more hours on top of that to prepare for issues like costumes breaking on set. Nevertheless, she enjoyed the process even though it came with high stress. "It's kind of like climbing a 14er, you're like, oh my God, I never want to do that again," Engeman says. "And then the next one rolls around, and you're like, OK, let's do it."
While professors in theatre production are available to help, they encourage students to design and produce the show, creating an environment where it's safe to make mistakes and learn from them. The theatre production programs at CSU allow students to take the lead on the design of shows.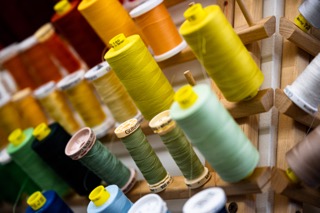 "I like to spot the errors and not say anything about it until I really have to," Roger Hanna, associate professor in set design, says. Hanna explains that when students make mistakes and realize it on their own, they learn more from the experience. He describes how one student with a concentration in lighting once chose the wrong size of lights for a show. The student had the lights hung and then realized his mistake after all of the barrels had been hung. While he made a mistake, he had done it in an environment where it was safe to do so and could easily be fixed. Hanna explains that it is better to make these mistakes now, as students, instead of on the job. 
"We're really honing in on trying to get the students' skill sets to improve," Elise Kulovany, costume shop manager, says. Kulovany explains that while the skill set is important, the staff at CSU wants to make sure that students are enjoying what they do.
In a space where mistakes are often made, students are immersed in a learning environment where a variety of skills are gained, whether it's in design, lighting, sewing, creating a set, or setting up sound. As they become better equipped with these skills, students are able to make their visions come alive and transform the stage. "What I love about costumes is that immersive element that I feel…flips the switch for a lot of people to really bring them into that world and bring them into that character," Engeman says.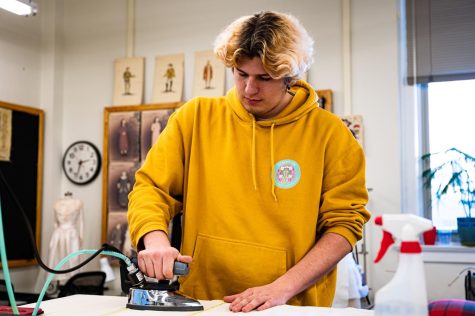 Shows open with costumes immersing the performers into their characters, a set that transports the audience to a new place, lights that illuminate the story, and audio design pulling the audience into its own world, reflecting the dedication students have invested into its production. Each component created by students comes together to elevate performances to their highest potential. The cohesive world created is a reflection of the months of students' hard work, dedication, and passion. After dedicating themselves to the show while balancing their studies, students are able to see the whole thing come together as the show opens. "It's pretty exciting because when everything comes together…the lights and the costume and you're creating a world….you don't think of it as my design, as you think about it as our show," Owen says.