Metalsmithing and Mental Health: A Look at the Benefits of Artistic Expression Through the eyes of CSU Metalsmith Students
There is a public mythos built around the idea of the "tortured artist." This idea expresses that truly great art goes hand in hand with emotional despair or personal distress.
While there are plenty of famous artists and creatives that adhere to this pattern, it may be that they are the exception, not the rule. Psychology Today, Forbes, Smithsonian Magazine, and many other publications have conducted studies and written articles on the beneficial effects of artistic expression in recent years.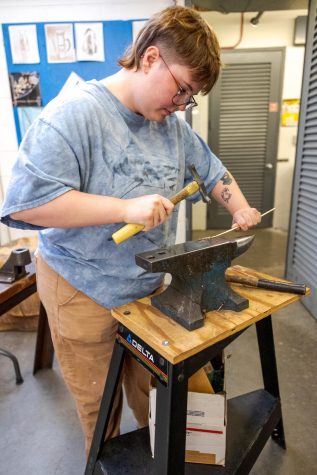 These findings are no surprise to the students of Colorado State University's metalsmithing program, who say art is the remedy for many of their internal struggles, as well as the key to continued mental health and stability in their lives.
These CSU art students creatively express themselves in a myriad of ways, but one core truth remains for all of them: art improves their mental well-being dramatically.
Syd Hanna is a fifth-year student at CSU who started college as an engineering major. Now he is studying metalsmithing and sculpture and is the secretary for the metalsmithing guild on campus. His journey as a transmasculine student has not been easy, Hanna says. Art has been one of, if not the key factor in his journey of self-exploration and expression. 
For Hanna, artistic expression is a two-way street. It allows him to better express and work through internal thoughts and feelings he might be having a hard time expressing otherwise. At the same time, the act of creation helps him discover new things about himself. 
"I have always struggled with anxiety and depression," Hanna explains. "I think… creative expression really helps you get those feelings out that are sometimes hard to articulate…. 'Cause (anxiety and depression) never go away. It's something that you always have to think about and always have to deal with and I think that, for me at least, creative expression just really helps me be able to deal with it. " 
The metalsmithing program at CSU has helped Hanna beyond just allowing him to hone and practice his art. Hanna largely credits this to the uplifting, supportive community in CSU's art department. 
"I think that's why I love CSU's art community so much," Hanna explains. "It's because I know that there are other places where it can be really competitive and it can be very much 'who's the best, who's gonna get the best job, who's gonna get into the best grad school, who's gonna whatever,' and at CSU I don't feel that. I feel that everybody is trying to support each other."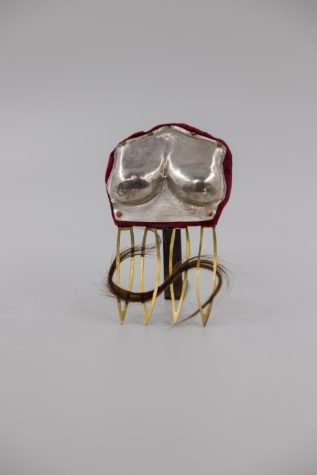 The community of CSU's metalsmithing program helped him see the transition and improvement in his art as a source of confidence, not just in his art, but also in himself, Hanna says.
Joclyn Goss took a longer road to end up at CSU as a post-baccalaureate metalsmithing student. Goss had successful careers in graphics work and as an art therapist for underserved youth in Philadelphia. While pursuing her career Goss also focused on supporting her daughter's dance career, which landed her daughter a full-ride scholarship to George Washington University, before she retired to come back to school for metalsmithing.
Goss's background, both as a Black woman interested in the arts growing up in Connecticut in the 1960s and as an art therapist for the youth of underserved communities, has solidified her passion to provide access to the arts for youths of color. 
"A lot has not been invested in teens of color and I have a responsibility to do that," Goss says. "I can't have all this and not be expected to share. My thing in life is to help people find their greatness and then move and grow into that."
Goss says that too often, diverse perspectives are missing in the arts because there is little to no introduction or support for the arts as a viable and valuable career path in underserved communities of color. This is something she experienced growing up and is now determined to remedy for as many young people as she can in her retirement.
Goss says her goal is to open her own studio. She wants to own a place where teens can develop their creativity and foster their gifts, as well as learn how to become entrepreneurial, create their own business and sell their work.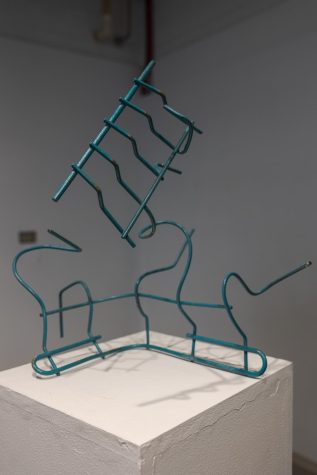 "Just (giving teens the) understanding that you don't have to do a nine-to-five," Goss says. "You can create an avenue where you bring in other people to do a nine-to-five for you. You have an avenue with your gifts and your talents to make a way for yourself." 
For Goss, art has always been the way to quiet her mind when her life has been full of tumultuous noise, a way to tap into something quiet and closed.
"(Art) soothes your soul," Goss says. "I haven't met one artist who is a working artist who can say 'I'm dissatisfied with myself.'"
Kelsey Gruber, president of the Metalsmithing Guild of CSU, is in her capstone semester for metalsmithing and says she uses art to grapple with questions she has about the world. Her recent art specifically attempts to grapple with and normalize the idea of mortality.
Gruber is double majoring in sculpture and metalsmithing and says that the two disciplines help her in different ways.
"Doing metalsmithing, you are holding yourself accountable and you are dedicating yourself to a tradition and a craft in some way," Gruber says. "Sculpture is a little different, I think. (In) the world of sculpture there are so many different subsets. There might even be sculptors that are metalsmiths… (Sculpture) can be made out of anything."
In metalsmithing, Gruber says the medium grounds her when she needs it.
"When I first got into metals, the reason I loved it so much was because it was introducing a discipline – not just a discipline as in like a category, but a self-discipline in my life that I had lacked and it was doing it in a positive way," Gruber says. "It was holding me accountable, holding me to my integrity to just spend time on things and plan things out in a way where I would want to see (them) through…. Metalsmithing is kind of spiritual. It's really like you are interacting with the metal and you are speaking with the metal in a way."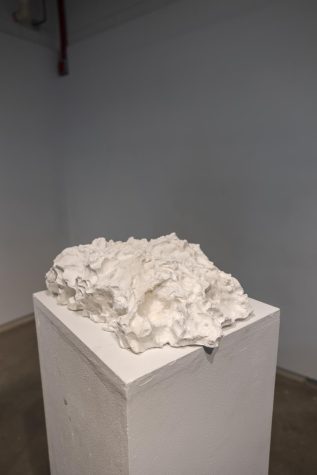 During the interview with Kelsey Gruber, a friend and fellow art student who is aspiring to become an art teacher, Abhi Joseph, came into the room to share with Gruber a piece he had been working on in the ceramics studio.
When Joseph heard the topic of artistic expression and mental wellness being discussed, he could barely contain his smile, eager to share how mentally and emotionally centering and powerful he found the rituals associated with different art forms. 
It is likely every artist on campus has a different answer to the question "how does art help you?" Art is a tool that can be used in any way the artist feels drawn to. Whether it is a single medium approached in different ways, or entirely different mediums, CSU's artists all find something emotionally powerful and fulfilling in their art. 
Each of them get something slightly different out of their artistic expression, but all of it is equally impactful; a ringing endorsement to find that creative outlet in our own lives, and take advantage of the peace and healing it provides to so many.