Trail Building: How Fort Collins Gets it Done
Sunlight filters through the trees, creating patterns of light across the ground. A light breeze causes the plants to sway and cools the trail underneath the hot sun. The sky is a deep shade of blue, occasionally dotted with a small, fluffy cloud. It's a picture-perfect day for a hike.
As one treks along a trail, they can't help but notice how well maintained it is. The trail is obvious; some areas have stairs and retaining walls, also known as crib walls, further maintaining the trail and making it walkable for casual and experienced hikers alike. As one may see the structures, they may begin to wonder…. Who is taking care of these trails? How are they so well maintained?
Fort Collins has over 285 miles of trails for hiking, biking, and trail running; all of these trails are built and maintained by federal programs, volunteer organizations, and private corporations. These entities often collaborate with one another to connect the Fort Collins community to the outdoors through trails and natural areas.
The city of Fort Collins houses the natural areas trails department, whose staff maintain trail conditions throughout the year, according to the city of Fort Collins website. Bridgette Windell, a public engagement specialist for the city of Fort Collins, says the natural areas department evaluates sites for trail placement by considering soil structures and rare species' habitats. Then, they get community feedback.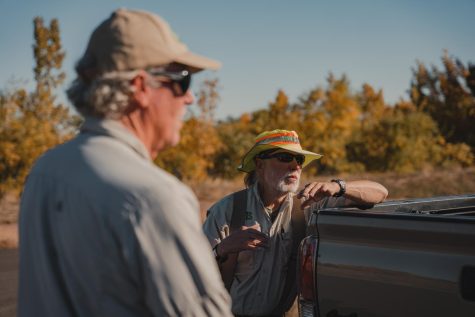 "Typically, we'll give the community a few different options for where they want the trail to go within that area, and they can vote or provide feedback," Windell says. "Or the community can suggest a completely different trail alignment."
According to Windell, the department communicates with the public through sending postcards, tabling events at trailheads, connecting at natural areas, and visiting around Fort Collins. They also collaborate with community partners to promote diverse voices. They encourage people to navigate online to a survey, where they can give their input about what kind of trails and natural areas they want. She said the department is trying to communicate with the public more frequently ever since the Covid-19 pandemic.
"As we saw with the pandemic, things can change almost overnight," Windell says. "We want to make sure that we're meeting the community's needs since we are using their tax dollars. We're public servants."
The city of Fort Collins collaborates with a variety of other organizations to maintain trails. According to Windell, the natural area department trail builders often work with volunteer trail builders to maintain trails.
"
"We want the community to have ownership over trails and natural areas.
— Bridgette Windell
Windell says. "I  think it's nice to go behind the scenes and figure out what goes into building the trail. Having volunteers bridges the gap between the community and the natural areas department."
Among the volunteer organizations is the Colorado Addicted Trailbuilders Society, or CATS. The nonprofit organization strives to provide quality trails in Northern Colorado and to support local government and environmental agencies, according to their website. Ben Walter, a CATS volunteer and occasional crew leader, says the organization focuses exclusively on trail construction, maintenance, and remediation.
Walter says that trail building consists of both labor-intensive and technical tasks. Labor includes running wheelbarrows of material, moving rocks, and pulverizing rocks to lock things into place. Technical tasks involve building rock structures and drainages to combat trail erosion, most commonly due to water.
"I actually really enjoy doing the labor-intensive tasks because I work a desk job that involves a certain amount of mental energy," Walter says. "(My favorite part) is putting in that sweat equity and feeling sore and tired after a hard day's work."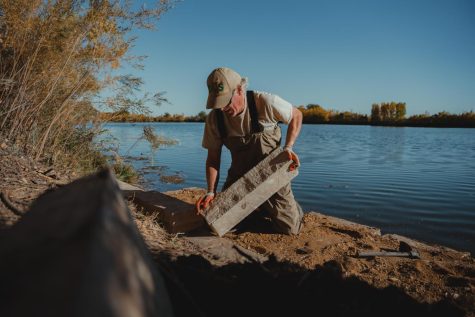 A CATS trail crew consists of laborers and crew leaders. Walter says crew leaders instruct people on the best trail building practices, ensure that everyone is working safely and enjoying themselves, and maximizing the efficiency of the crew. There are also technical advisors on site who oversee the process and interact with the land agency. Walter says a lot of the work done relates to the CATS community.
"I've made a lot of friends through volunteering with CATS," he says. "I think we are a relatively small organization. There's a fairly tight crew of a dozen or two individuals who are regulars (working on) five or more projects during the year."
According to Walter, one of CATS's most recent local projects consists of laying the foundation for fishing access at River's Edge in Loveland, CO. The crews, led by Walter and another CATS volunteer, Scott James, cleared vegetation and spread gravel and small particles of crushed rock, termed as crusher fine. They used pavers at the point of contact between land and bodies of water to secure the materials and create a rock culvert, or a tunnel carrying water streams under roads and walkways, between beach sections. They also spread crusher fine on access trails. Walter also highlighted weekend projects in Soapstone Prairie Natural Area for the city of Loveland and Forest State Park for Colorado Parks and Wildlife.
"Most recently, I've been working in Old Saint Louis Natural Areas, which happen to be on weekdays," Walter says. "That's another thing I like about CATS – they have Thursday workdays, which are a fantastic way to kickstart your weekend."
Windell says that the city of Fort Collins is doing trail work all the time. Walter agrees that there is always work to be done and says that there is no such thing as a perfect trail. He also says he finds satisfaction in trail building.  
"The long-term gratification is getting a sense of the before and after or revisiting the site where you worked and seeing how your structure held up," Walter says. "Particularly so you can take lessons or feel a sense of pride in telling whoever is in the vicinity, 'I moved that big rock over there.'"
Walter isn't the only trail builder who feels this way. Stewart Simon, a student at Colorado State University, spent the summer building trails for the Southwest Conservation Corps. He also has volunteer trail building experience with the Colorado Fourteeners Initiative.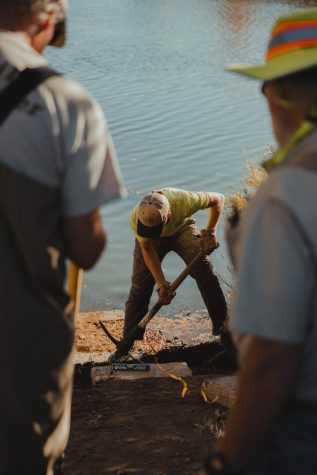 "Being super outdoorsy, trail building felt kind of natural," Simon says. "I wasn't really doing any technical work (with the Fourteeners Initiative). It was still super rewarding to be out there and see the progress being made."
Simon says his trail building experience over the summer is memorable because he reaped many benefits from it.
"I got to explore different parts of Colorado that I had never been to," he says. "I got to meet some really cool people that I'm still in touch with. Even the hard days, when it was raining and we didn't want to work, and we're huddled under a tree trying not to get struck by lightning…. Even those days are such great memories."
Ultimately, Simon says that trails don't exist by accident. They require a lot of work to build and then maintain once they're there. However, Walter says having access to high quality trails improves quality of life.
"It enriches all our lives," Walter says. "It provides opportunities to access nature to people who might not have it. (Trail building) offers a means for people to get out into nature more quickly and continuously."