Outdoor Volunteering: Wildlands Restorations Volunteers Offers a New Take On Outdoor Adventure
Colorado provides a playground for just about every outdoor activity.  A goldmine of hiking, climbing, skiing, and more awaits the eager outdoorsmen in Colorado. However, among these unending options, one remains overlooked. Outdoor volunteering is oftentimes forgotten, but by fusing outdoor adventure with environmental restoration, it provides a unique experience and necessary aid. Wildlands Restoration Volunteers, a non-profit abbreviated to WRV,  is committed to making this difference by offering a variety of opportunities in which Coloradans can engage.  These opportunities are particularly beneficial for Colorado State University students, both to interact with the outdoors and to build critical skills and workforce experience.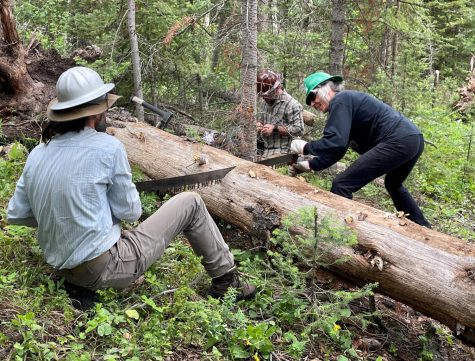 Founded in 1999 by Ed Self, WRV was created to assess growing land damage that, thanks to public land budget cuts, would otherwise continue to degrade. What originally started as a concerned group of friends operating out of a basement transformed into a flourishing nonprofit according to Annemarie Fussell, the community relations coordinator.
"We have a dual mission," Fussell says. "That is to heal the land and build community." 
Ironically, Colorado's love of nature makes volunteering more necessary than ever. 
"In recent years we have seen an explosion in the number of people recreating outdoors in Colorado, which resulted in the increased use of outdoor spaces and their degradation," Cameron Taylor, project coordinator, says. 
The influx of outdoor use combined with residual damages from wildfires, restoration work is critical. The Cameron Peak Fire, infamous for being the largest fire in Colorado history, created a dire  need for change according to the Incident Information System. Its lasting damages pose a danger to local communities, including Fort Collins. According to Fussell, the fires burnt down Northern Colorado's natural water storage systems: its mountain slopes, vegetation, and roots. This impacts the level of water entering rivers, which directly affects Northern Colorado agriculture, as well as the quality of water available to Front Range homes.  These impacts combined with climate change, Larimer County currently ranges from abnormally dry to moderate drought -stunting rangeland growth and dryland crops, as noted by  the National Integrated Drought Information System 
Wildfires impact sediment in river levels which "also cause damage to homes, roads, and in extreme cases has resulted in the loss of lives," Taylor explains. The dryness increases the risk of wildfires, which, without restoration, increases the risk of further land damage and even more drought.  
WRV hosts a multitude of volunteer opportunities to help restore Fort Collins and the surrounding areas. Since the creation of its Cameron Peak Restoration series, WRV has worked with Coloradans to mitigate ecological damage. Although the fires became fully contained in January 2021, they burned more than 200,000 acres and echoes of the damage are felt in the dry landscape today, as reported by Incident Information System.  Recently, volunteers took to the Cameron Pass area, where participants enjoyed nature while engaging in a unique service by creating artificial beaver dams.  
"
"I had so much fun splashing around in the rivers and lifting logs.
— Kate Flynn
Fussell notes that the dams catch the river water and sediment, creating little pools which allow the water to soak into the landscape. This allows for vegetation regrowth, the spread of vital nutrients, and help to create a wetter landscape.  
"My experience was great," Kate Flynn says, a CSU student who attended the restoration event. "I had so much fun splashing around in the rivers and lifting logs." 
 Beyond risk reduction, WRV provides other diverse, outdoor-based opportunities for volunteers to enjoy. From tree removal to planting shrubs in an effort to restore pollinator habitats, WRV offers activities that are necessary while catering to nature-lovers' needs. 
"Projects can be laid-back half-day affairs, (such as) collecting seeds, or multi-day backpacking trips through the wilderness, and everything in between," Taylor says. 
WRV invites all Coloradans to join, but it partners closely with CSU. "Many volunteers are current or former CSU students from various disciplines who simply enjoy the experience of getting outdoors, giving back, and learning, all at the same time," Taylor says.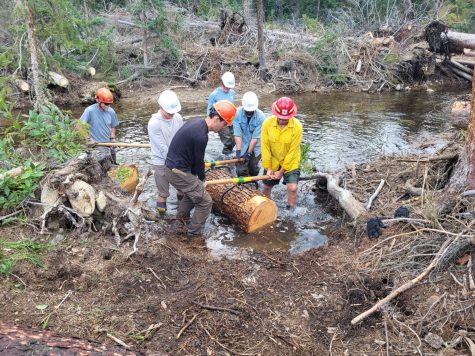 Beyond simply being fun, these endeavors can provide invaluable knowledge and expertise for students' futures. WRV works with CSU graduate students, allowing them to collect research data from WRV's rehabilitation sites. They share observations with CSU research facilities, uniting to further educate and advance conservation sciences. WRV has even collaborated with the U.S. Forest Service to approve some student research projects. Without help, approving projects can be challenging for a researcher to do on their own. 
For undergraduates, WRV offers a skill-building experience that can be critical to career development. According to Fussell, interns have designed high school curriculums on seed collection, become seasonal staffers, and become certified in trail building. For students outside the natural resources field, WRV offers a volunteer leadership training program for those pursuing future leadership roles, training in non-profit management, social services outreach, and the skills necessary to bring together a community to make a change. 
"(There are) opportunities to be trained in skilled roles such as chainsaw use, crosscut saw use, wilderness first responder, crew leading, (and) project management," Taylor says. "CSU students bring a different energy and enthusiasm to our volunteer groups that we can never get enough of."
Outdoor volunteering offers a new perspective on outdoor activity —it celebrates giving back and admiring the nature treasured by so many. Although overlooked, those who partake in it get to interact with nature in a dynamic way that presents opportunities only found in restoration. 
"You're actually doing something that has a need in the community," Fussell says. "At the end of the day, you'll be dirty and tired and have earned every minute of it."  
WRV is a collective of passionate individuals ready to make a difference. They bring together those with common values, creating both community and change. According to Kate Flynn, volunteers "are introduced to a new experience and living life to the fullest, and that is what, in my beliefs, is truly important."