Throughout the fall semester, one could find the Colorado State University Marching Band practicing for their next performance regardless of weather, wildfires and yes, even a pandemic. 
From day one the marching band worked as a team, but especially this year little would have been accomplished without Kevin Poelking, the interim assistant director of bands and the interim assistant director of athletic bands. 
Interim refers to a position filled temporarily, and Poelking took on the incredible challenge of navigating a season filled with generally unideal conditions. He had only one season to make everything count, but he used this semester to connect with the students and leave his mark on the program. 
In a way, everything brought Poelking to this moment and prepared him for the challenge. Obviously, no one could predict the effects of COVID-19 on school or the marching season, but it seems as if destiny always allowed him to be in the right place at the right time.   
In July of this previous summer, Rebecca Phillips, the director of bands at CSU, called Poelking to ask if he would step into an interim assistant director role. The former person in this role, T. André Feagin, helped the program during his two years at CSU but left suddenly after accepting a band director position at Central Washington University. 
"By the time she reached out to me, I was under contract in probably about a week, so it definitely moved quick and was a bit unexpected for sure," Poelking says. 
Many students had strong feelings about the uncertainty of the season and shifting directors. However, Poelking worked as a graduate teaching assistant for the band before and was a welcome face for many, like Preston Dunton, a third-year computer science student and drum major for the 2020 marching season. 
"I guess when I learned the news that Dr. Feagin was leaving I was somewhat upset because it was more uncertainty to pile on top of the coronavirus," Dunton says. "This was the first time I ever had a director leave… but once it was announced that Mr. Poelking would come in and be the director for this year, it was like a sigh of relief."
Little did anyone know at the time, Poelking made ties long before CSU that would help him on his musical journey. He first met Phillips as an undergraduate at the University of South Carolina, where she saw him turn into the person he is today. 
"When I met Mr. Poelking as an undergraduate student, you would think that he was the same person now," Phillips says. "He obviously looks older,… but to me, he already had everything that you know you can tell that person is going to do a great job." 
Phillips says three important characteristics make a person successful in the world of music. Those three things are organizational abilities, being a great musician and having a great personality. After relocating to CSU, Phillips never expected to see Poelking again, but he surprised her by becoming one of her graduate students and demonstrating advanced abilities.  
"He was showing me that he was mature and calm under pressure, and generally cared about people, which stuck with me," Phillips says. "I knew the minute that [this position opened] he was one of the only people I could think of that could step in at the last minute."
Now amid a pandemic, these skills were put to the test. Although the marching band could play, they had to forgo the marching, the uniforms, band camp and many longtime traditions.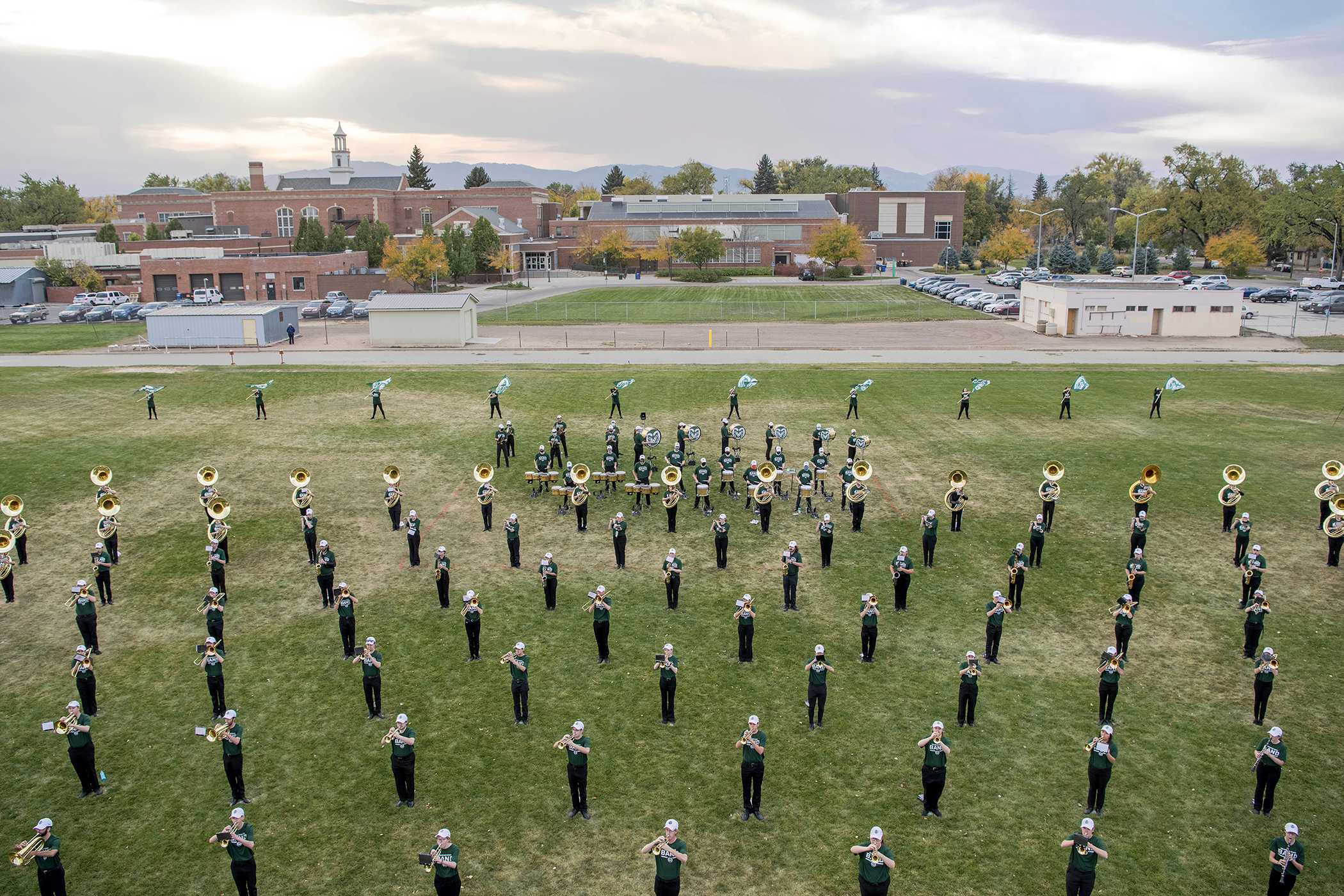 According to the marching band newsletter sent out Aug. 13, students had to wear masks at all times with the only exception of playing, they had to comply with social distancing regulations and there were no rehearsals indoors or access to instrument lockers.
To observe these regulations, Poelking focused away from the marching aspect by cleaning up the music and giving their ensemble better instrumentation. That way the band has a head start and access to playable music at the beginning of the year.
Planning for the future meant no one wasted their season. In fact, for the first time in a while, the marching band also made recordings with their newly fine-tuned sound. With social distancing requirements this year, that goes out to events the band cannot physically attend, like football games or graduation. 
"The band goes so beyond football; it's about creating community, so that's been a lot of what we've done is just working on recording projects… and our big project this year is just getting that out to the community," Poelking says. 
The CSU Marching Band performs the Fight Song in just one of the Recordings which will soon be available at https://music.colostate.edu/ (Courtesy of the CSU Marching Band).
One way or another, Poelking and the band performed this year, but for him, the enjoyment comes out of the human connection. It might not be the most ideal semester, but Poelking has found the time to do what he loves best, and being able to have a positive impact on the students' day makes it rewarding. 
"I always wanted to teach, I always wanted to be in the mentorship role and I always wanted to do music," Poelking says. "So this is amazing right now because it's checking all my boxes."
However, interim positions do not last forever, and because Poelking only has a master's degree with a lot of experience instead of the required doctorate in musical arts, someone will take his place next season. While next year will also look completely different, Poelking says the students help the band prepare to stand on its own as things shift over time.
Paige Sakakida, the sousaphone section leader and fourth-year biology major, has gone through many changes as well. In four years she has seen three different directors and hopes whoever replaces Poelking can make the band the best they can be while understanding the traditions they built up from the past directors. 
"I just hope that they find a good fit, who kind of understands the traditions that we've started to build up especially with these three different directors over the years," Sakakida says.  
Still, after the marching season ended, it is hard for students to imagine someone else on the director podium yet again. Beginning as early as February, the interview process for a new director will begin, and that person will take over what Poelking and Phillips laid out this year. 
Poelking may roll back into his position as a music theory and conducting teacher, but no matter what happens, he has created a legacy within the CSU Marching Band. 
"The band knows and Dr. Phillips knows and everyone knows if there's anything that I can ever do to help the band, I'm happy to do that," says Poelking.