Get Your Ugly Sweater On
As the holiday season approaches, another prominent season nears us: ugly holiday sweater season. To most people, ugly holiday sweater parties are a time to let loose and be silly, but to one Fort Collins business woman, it is a lifestyle. Nancy Agnew, owner of Get Your Ugly On Christmas Sweater Store, has found a way to make a living off creating these holiday fashion essentials. From years of running her own nonprofit business, ARC Thrift Store, Agnew caught on to customers' needs for ugly holiday sweaters and knew just where to get them.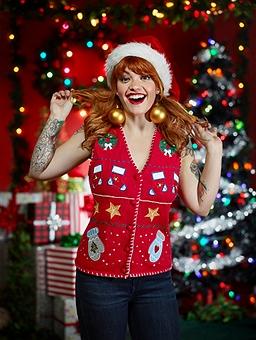 "Most ugly Christmas sweaters come from the '80s because they were fashionable back then," Agnew said. "After that phase, when everyone was donating their sweaters, the thrift stores couldn't sell them, so they were taken to stockpiles. That's where we get the majority of ours from."
This year, the store has collected over 10,000 sweaters for the holiday season. However, before they can be put out on the racks, Agnew and her team make sure they are ready-to-wear.
"We begin washing the sweaters in January," Agnew said. "I've noticed that most of the kids who come in here to buy a sweater are getting it for an event that evening. I want to make sure it looks nice for them."
Next, Agnew and her team of crafters spend months crafting sweater after sweater. Their collections range from sweaters that light up to featuring naughty innuendos to even being Hanukkah themed. In fact, there is so much designing to do that Tiffanie Hutcheson, Agnew's right-hand woman, has become an ugly holiday sweater-creating pro.
"It used to take us about 45 to 50 minutes to create each sweater," Hutcheson said. "We've done so many now, though, that the process is a lot faster. It only takes about 15 to 20 minutes to make each one now."
"I believe ugly Christmas sweaters have become such a huge fashion statement because of the ironic nature of them."

— Heather Poage, CSU student
Both Agnew and Hutcheson agree that their greatest demographic of customers falls in the category of college-aged kids, seeing that they have many shoppers who are students at CSU. Undeclared student Heather Poage weighs in on why she believes ugly holiday sweaters are so popular among college students.
"I believe ugly Christmas sweaters have become such a huge fashion statement because of the ironic nature of them," Poage said. "I think people wear the sweaters because of the whole hipster movement of making seemingly uncool things cool just by wearing them."
Whether Agnew believes the sweaters are hipster or not, she greatly appreciates how supportive and involved the CSU and Fort Collins community have been with making her store such a great success. She loves the happiness the holiday season brings and the enthusiasm her customers bring into the store.
"Some of the comments from them [customers] are really funny," Agnew said. "Sometimes I don't get why they think a sweater is ugly. I believe ugly is in the eye of the beholder, though, because I think most of them are cute."
Be sure to put Get Your Ugly On Christmas Sweater Store at the top of your list for all your ugly sweater needs. With over 10,000 sweaters to pick from, alongside DIY options, hats and leggings, you will be able to get your holiday season fix in just one trip.