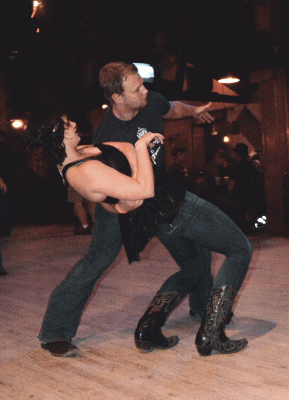 Sundance Steakhouse & Saloon was voted the top place to dance this year for Best of CSU. With a large dance floor and live music, Sundance's environment encourages country western swing and line dancing.
Swing dancing is a very diverse style of dance that can be accompanied by many different styles of music—country western, blues, rock and roll, and, most historically, 1920s-style jazz. While swing dancing is not a new style, its diversity and fast pace has allowed it to endure the test of time.
College students frequent Sundance on weekends and Tuesdays (college night) to show off their country style swing dance moves. While about half the dance floor line dances, the other half swing dances with friends, significant others or new acquaintances.
The dips, turns and spins are a perfect conversation-starter, particularly for those just learning.
Since swing dancing offers an ideal college culture for meeting new people, a group of students have started the CSU Swing Dancing Society. This group meets every Wednesday night in the Cherokee Ballroom on the third floor of the Lory Student Center.
To begin the meeting, two student instructors teach aspiring swing dance enthusiasts. After the lesson, '20s-style jazz fills the ballroom and students can practice their newly learned moves with each other.
Students' favorite moves include the Charleston, swing outs, dips, Lindy circles, aerials and pancakes.
"Pancakes are the best move, without a doubt," said Eric Mault, a business freshman. "It's a move in which you are sort of kicking and rotating with your partner."
During the lesson, students rotate partners every few minutes to learn, practice and interact with different people. The lessons are designed for beginners, so this club is one place to start for students looking to learn some basics before frequenting Sundance.
However, student instructors Kristen O'Neill, an English major, and Luke Isakson, a junior in conservation biology, are also experienced in advanced moves.
"I'm a big fan of aerials," O'Neill said.
Can I have this dance?
Sundance Steakhouse & Saloon
Time: Tuesday College nights, Saturday Ladies' night, Sunday family night
Place: 2716 East Mulberry
To Do: Show off your swing dancing moves, line dance, food, drinks, shoot pool, and other special events.
Cost at the door:
Tues: under 21 $8, over 21 $6
Fri: 21 and up free!
Sat: 21 and up $5
Sun: all ages $4
More Info: www.sundancesteakhouse.com
CSU Swing Dancing Society

Time: Wednesday; lessons at 7:15 pm, open dance at 8:15 pm
Place: Cherokee Ballroom; north side of LSC, 3rd floor
To Do: Learn and practice your swing dancing moves
Cost: Free lessons and dancing!
More Info: csuswingdance.wix.com/csuswingsociety
This article was created for the 2014 Best of CSU issue produced by the College Avenue Magazine staff.