The CSU Fly Fishing Club: Catching Friendships and Creating Fishermen
The water laps across the banks, swirling and foaming against the rocks. Trees of various sizes and colors, ranging from emerald to russet to marigold, shield the river from faraway distractions. Students gather in the water, standing silently with water up to their knees, peering into the river to find their next catch.
To describe the Colorado State University Fly Fishing Club as just a fishing club would be a understatement. Rather, it's a group of fishermen, ranging in skill and experience, who host weekend-long trips, fly-tying get-togethers, conservation projects, general meetings, and fishing outings. Under the leadership of Jack Allen, the club's determined president, the club is involving more students than ever before.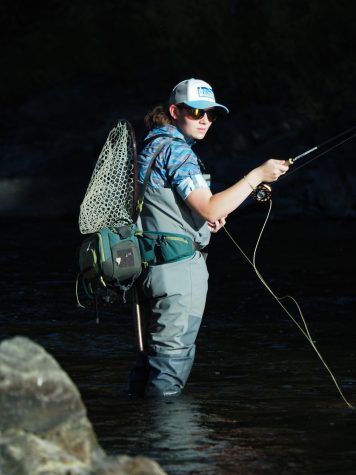 But some aren't sure what fly fishing even is. Joshua O'Bannon, a long-time fisherman who joined the club five years ago, says fishermen use a weighted cord, known as a line, to cast a fly onto the water. The sport is often done in moving water, like a river. O'Bannon notes that the skill lies in how the individual reads the water. Understanding the differences in the water, such as its speed, depth, and temperature, is how someone finds the fish. This additional level of complexity, which differentiates fly fishing from the dock fishing to which many are accustomed, is what tenured fishermen like O'Bannon love about fly fishing.
"It's like a puzzle," O'Bannon says. "It's one of the most fun parts about the sport." 
When O'Bannon joined the CSU Fly Fishing Club as an out-of-state freshman in 2018, the club allowed him to meet new people, explore new fishing sites, and cultivate his passion for fishing. Quickly, his perception of the club transformed from a fly fishing club to an enthusiastic group of friends who happen to fish.
"My first trip with the club…was the first time since coming (to Colorado) that I thought, 'okay, maybe college is going to be a lot of fun,'" O'Bannon says.
But for those who haven't fished extensively like O'Bannon, joining the club can be intimidating. Fly fishing has historically boasted an expensive, competitive connotation, especially for those unsure how to start. Allen sees this stigma not as an obstacle, but as an opportunity to dismantle it. The club has recently adopted measures to make fly fishing more accessible to beginners. 
"We've put a lot of money into buying gear for (members to use) so that people don't have to make that financial leap," Allen says. "We (also) have 'Fly Fishing 101' classes for people who maybe don't even have a rod, like, four or five times each semester."
These efforts have proven successful. Tomás Dardis, who joined the club this semester, had never tried fly fishing. However, his lack of experience was irrelevant to the club's existing members; they were happy to have a new fishing partner. 
"I know nothing about fly fishing," Dardis says. "But everyone here is so welcoming and ready to show me some new tricks."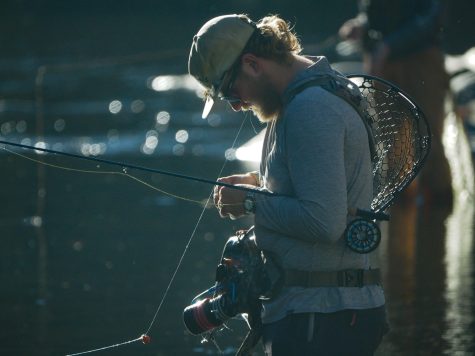 The club's efforts at integrating new members are not limited to equipment accessibility. Rather, they also seek to share their love for fly fishing. Despite only joining recently, Dardis has found a new passion in the sport.
"When you're sitting out there and feel a bite… that's honestly one of the coolest feelings out there," Dardis says. "The first time I caught a trout, I was coming down with a cold, but when I was bringing in that fish, I (forgot) that I wasn't feeling good."
Allen has also sought to expand the club's conservation and sustainability involvement. He joined forces with Emma Fortson, the club's conservation chair, to further emphasize their ecosystem preservation efforts. Recently, Fortson adopted a section of Gateway Natural Area, a nature preserve about 15 miles from Fort Collins, on behalf of the club. The club is responsible for maintaining its section for the next year. 
"Every month, we're going to Gateway to do some cleanup," Fortson says. "We went a couple of weekends ago, and we cleaned up trash and went fishing afterwards. You do a little good, then hang out and fish."
These efforts, Fortson noted, are representative of the club's conservation emphasis. Allen and Fortson seek to promote good fishing habits, such as disinfecting gear after fishing or throwing away trash at a site. To them, fishing comes second to protecting and preserving Colorado's ecosystems. This emphasis ensures that their members preserve and respect an area's resources.
O'Bannon sums up the club's conservation and sustainability efforts: "We use the resource to sustain the resource."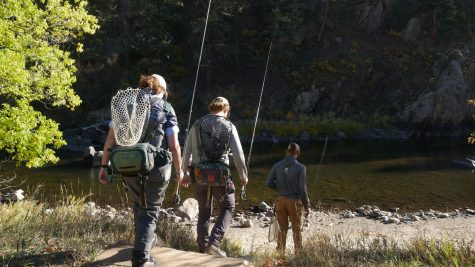 In addition to conservation, Allen says that "community is the most important" tenant of the club. He wants a club that functions both as a group of fishermen and a group of friends. This philosophy has allowed Allen to build lifelong friendships predicated on kindness, encouragement, and fishing. 
"I will never tell someone, 'no, you can't come fishing with me,'" Allen says. "I want people to come, to hang out, to feel welcome…. Fly fishing saved my life, and if a sport can be that impactful on me, then it can save somebody else."
O'Bannon agrees with Allen. "Fly fishing isn't the goal," O'Bannon says. "It's how we get to the actual goal, which is to have fun…and make some good friends."
Dardis says that the club's community philosophy is contagious. For him, the club is just as much about supporting his friends as it is about fishing. At a recent fishing excursion deemed "Party on the Poudre," Dardis didn't catch any fish. However, he still had a great time. 
"Even though I didn't catch anything, it's so great hanging out with everyone," Dardis says. "Even seeing other people catch fish is awesome. Like, Michael caught this awesome cutthroat trout. It was cool seeing him land that guy."
"
"It's not about me, and it's not about fishing."
— Jack Allen
But these new changes, Allen says, cannot be attributed to him alone. He describes himself as someone who "just ha(s) some ideas." Instead, he credits his officers and members with bringing the ideas to life. Members are welcome to pitch ideas, whether to promote conservation, inclusivity, or education, and to pursue those ideas. 
"It's not about me, and it's not about fishing," Allen says. "The people here are the ones who make this club special."
Allen hopes his members find passion, purpose, and joy in fly fishing. Creating an avenue for people to find friends and purpose regardless of their fishing acumen, he says, is "something (he's) the proudest of."
"That's what this club is about," Allen says. "It's not about competition or who has fished the longest. It's about conservation, community, friends, and fish. No matter who you are, or what you are, you have a place here."
Anyone interested in the CSU Fly Fishing Club is encouraged to visit their website, CSUFlyFishing.com, or message them on Instagram, @csuflyfishing.