CSU Stadium Sessions Bring Together Two Loves: Live Music and Football
Fierce, genuine and unabashedly expressive.
Alysia Kraft is all of these things and more when she performs. Any audience member can feel passion radiating wholeheartedly through every smile, air-kick and stuck-out tongue. This energetic, spunky blonde may seem larger than life, but after talking to her you begin to realize that she's down-to-earth and eager to connect with her fans.
"The songs are important because they have to be real and the feelings authentic . . . they have to be the vehicle that takes me to that place of expression every time I'm performing," Kraft said.
Kraft is a guitarist and vocalist for The Patti Fiasco and Whippoorwill, two of 20 bands scheduled to perform at the 2018 CSU Stadium Sessions.
"Fort Collins has really become my artistic community. I don't think there are a lot of places in the country that really embrace and offer so much support and opportunity for local bands playing original music," Kraft said.
The Stadium Sessions is an emerging concert series, at just two years old, and has brought the community together with two loves: college football and live music. The outdoor concerts take place on game days and game-day eves centered in the hub of festivities around the Colorado State University campus.
And chances are, you've probably witnessed one whether you knew it or not.
It is clear there is something special about the tight-knit music community in Fort Collins. The overwhelming support for local artists, diverse music venues and year-round concert schedule are just some of the pieces that make up this unique town of music-lovers.
"Fort Collins is technically our second home . . . there is something about the camaraderie in the music scene there that doesn't exist anywhere else," said Clay Rose, frontman of the Gasoline Lollipops.
The "GasPops" performed a lively set on the RamWalk as a part of the Stadium Sessions, entertaining the crowd with their signature gritty alt-Americana sound.
Understanding how approachable these musicians are and gauging their perspectives left me in anticipation for the day that I too would take the stage at the Stadium Sessions.
As an emerging songwriter and performer during the tailgate before the Border Wars home game, it is so inspiring to watch real and genuine people making music and having the ability to bring together a whole community.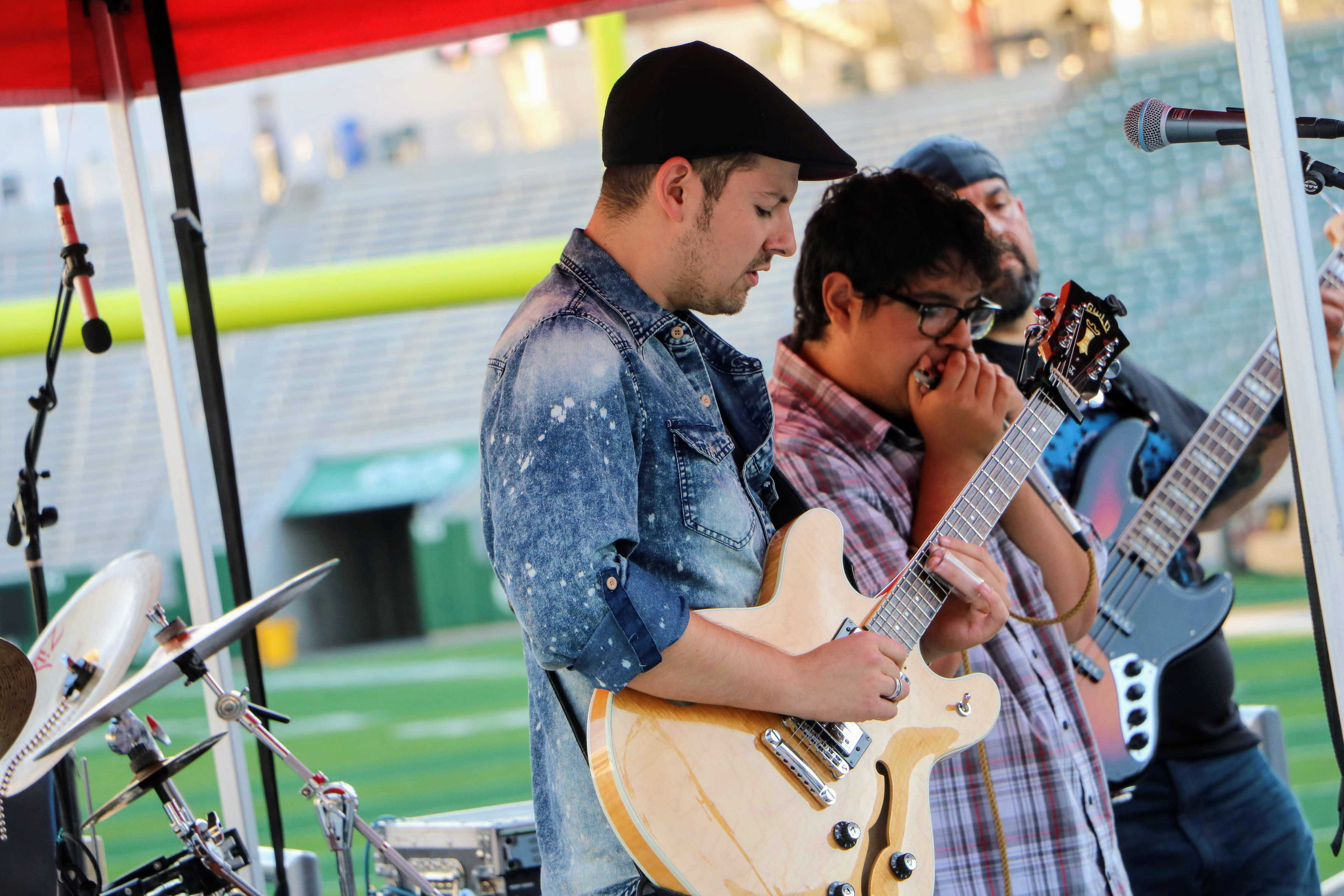 A.J. Fullerton, who performed on the New Belgium Porch with his band earlier in the season, also found himself being influenced by Colorado and the multitude of creative communities existing within its borders. Fullerton is a blues artist who has gathered much success in his young career, winning eight members-choice awards in 2017 alone from the Colorado Blues Society.
"I don't think the region itself cornered me into any one genre. I had the luxury to learn from, and pull from all these different influences, without there being any sort of cultural expectations of my music stemming from where I grew up," Fullerton said.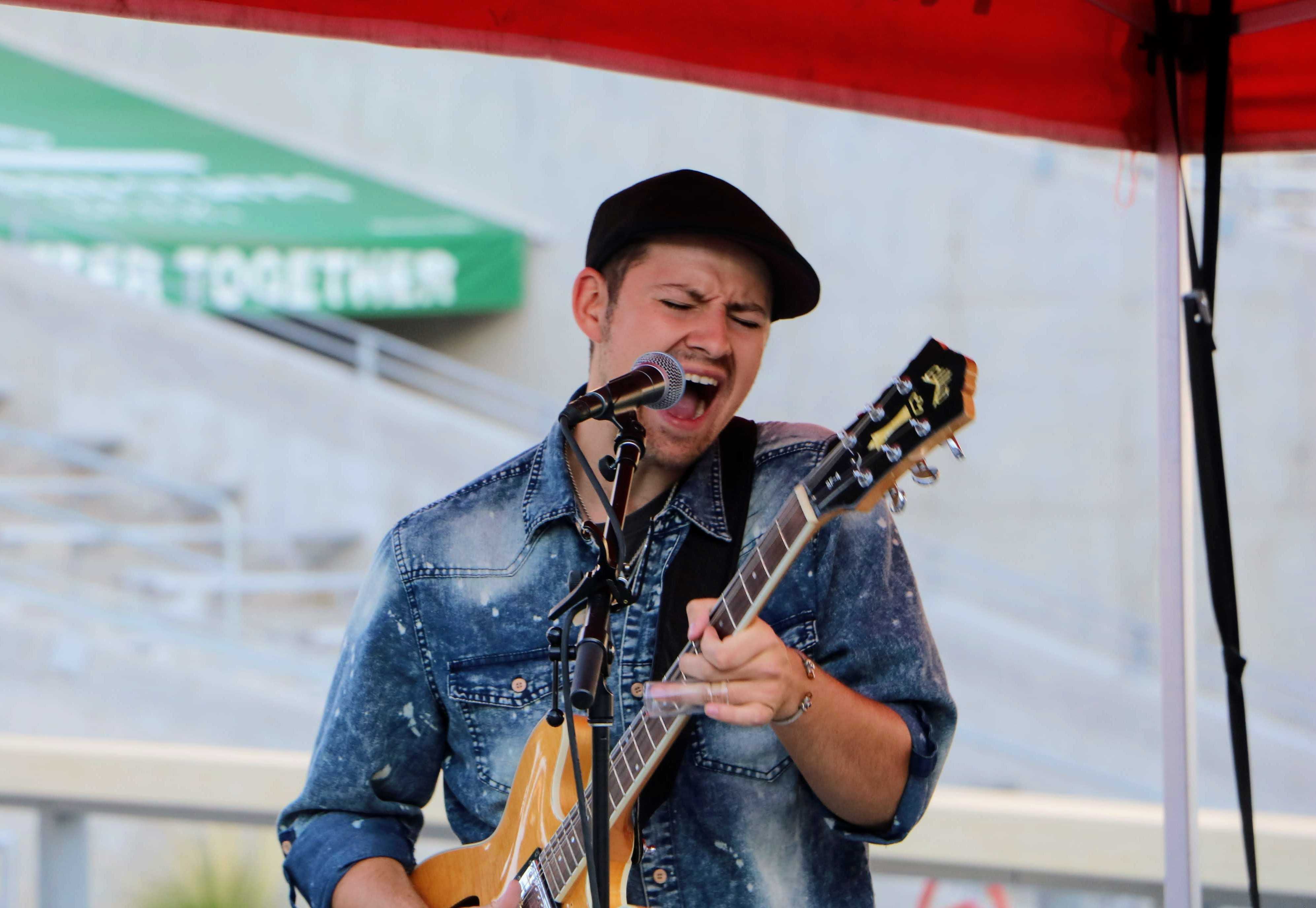 The A.J. Fullerton band took the audience on a journey to the heart of the blues-roots genre inside Canvas Stadium featuring Nic Clark on harmonica. Longtime friends Clark and Fullerton exchanged tasteful licks and soul that echoed across the stadium, as a captivated audience celebrated as one.
One thing is obvious about the local musicians: They love what they do.
On the evening of my performance, the sun was peeking up over the stadium and glinting off of my acoustic guitar as the strings reverberated down the street. I could feel the pulse of all of the artists who have stood on this stage beneath my feet, whose words and originality continue to be embraced by the Fort Collins community.
That night, I opened the show for 12 Cents For Marvin, an eight-piece ska band whose founding members met as students at CSU about 22 years ago. The group ignited vibrancy throughout the audience as the horn section deserted the stage and played alongside the crowd. Band members were decked out in CSU gear, including gold pants and a plush Ram hat, all while demonstrating a heightened level of collaborative musicianship.
After my performance at the Stadium Sessions, I molded myself into the crowd of green and gold football fans, proud to be a CSU Ram.
As my time as a CSU student continues, I have a feeling that the Stadium Sessions will evolve into a longtime tradition. Local, live music brings another level of excitement for Ram fans on game-days, and will for many years to come.
As the football season is winding down, so are the Stadium Sessions.
If you haven't made it out to one of these concerts yet, the weekend of CSU vs. Utah State will feature performances by Slow Caves, The Burroughs, Danielle Ate The Sandwich and Fjord Collins.