I'm a bit of a snob when it comes to what makeup I'm using, but having expensive taste has drained my bank account. As a college student struggling to pay rent, I've accepted that I can no longer afford to indulge in $40 eye shadow palettes. I'm confident that I am not the only one who wants a high class look on a low budget.
I set out to Target and scoured the shelves for affordable makeup. Being the giving person my parents raised me to be, I decided to share my honest (and completely unsponsored) review of what I discovered in hopes of helping out my fellow broke peers.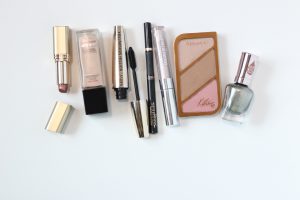 Foundation: Maybelline – "Fit Me" foundation
I thoroughly enjoyed using this product, and I plan on continuing to wear it. It feels light on my skin and provides an even coverage. I definitely would recommend.
Contour Palette: Rimmel Kate – Sculpting Palette
A great find! This contour palette includes a bronzer, blush, and highlighter. All three of which last on my skin throughout the day, even in the sun. The colors are very pigmented and blend nicely for a healthy, sun-kissed look.
Eye Shadow: Maybelline – Color Tattoo
This stuff is awesome! If you want to add a little shimmer to your eyes, then blend some of this onto your lid (even on top of your regular eye shadow) and it seamlessly amps up your look. It comes in a variety of shades and lasts all day. Highly suggest you pick up one in each color.
Eye liner: L'Oreal – Infallible Liquid Eyeliner
If you're like me, and have forked out a ton of money in hopes of finding the best liquid liner, then I have good news. This super affordable liner is amazing! It is a true black and provides a sharp, precise line for those cat eyes. My only complaint is that it does smudge, so be weary. However, if you can keep your hands off your eyes, then it will last all day.
Mascara: L'Oreal – Voluminous Million Lashes
This is your average black mascara. It occasionally clumps and leaves residue under my eyes, which isn't exactly ideal. It's not bad, but certainly nothing compared to Too Faced – "Better Than Sex" mascara, which I may be splurging on next time I go into a Sephora.
Lips: L'Oreal – Colour Riche Lip Color
I had high hopes for this lipstick. It's called caramel latte, for goodness sake, it must be delicious! Unfortunately, it didn't live up to it's name and is simply an average lipstick. It has a slight sparkle in the pigment, which initially seemed really cool, but when I put it on, it looked like I just scarfed down a package of powdered donuts. But maybe that's what L'Oreal was going for?
Nail Polish: Sally Hansen – Color Therapy Nail Polish
Nail polish usually seems like an unnecessary hassle to me. It always dries slowly, cracks after one day and overall causes me an exorbitant amount of stress. But this one is actually really good! When I started painting, the polish went on evenly, without any goopy parts. And it has lasted a fair amount of time! Unless I'm paying for a $30 gel manicure, then I expect typical nail polish to last 1 day maximum. So this product is relatively successful in my opinion.