The Fashion Industry's Warped Perspective of Plus-Size Women
We live in a world that is constantly telling people they're not good enough, that they need to lose weight, and that they need to change their bodies to be considered normal. This narrative begins in our mainstream media. Magazine spreads, advertisements, television, movies and the Internet send these messages every day. No stranger to this type of negativity are celebrities who are often digitally slimmed down, their faces reconstructed, bodies parts lengthened, and skin tones altered.
Recently, Glamour magazine created a special edition plus-size issue in partnership with Lane Bryant, a plus-size retailer. Aiming for women who are a size 12 and up, the issue covers topics like dressing for every body type and inspirational curvy women. While some see this publication as a step in the right direction for body positivity and representation, some see it as a step backwards for curvy women; having a plus-size only issue separates supermodels and movie stars from normal-bodied folks.
The issue features a "Women Who Inspire Us" article that includes the likes of Adele, Melissa McCarthy, Ashley Graham and Amy Schumer. Schumer found the article to be questionable, taking to Twitter and Instagram to defend her body type.
"Plus size is considered a size 16 in America. I go between a size 6 and an 8… Young girls seeing my body type thinking that is plus size? What are your thoughts? Mine are not cool glamour [sic] not glamorous."
Schumer also went on to say that she was put into the "Chic At Any Size" issue without her knowledge or consent. She then retweeted reactions from her fans and followers. One Instagram follower commented, "I'm against the idea of a "plus size only" issue. Every issue should include a diverse range of sizes and color."
On the "Chic At Any Size" cover is 28-year-old Ashley Graham, mainly known for being the first plus-size model on the Sports Illustrated swimsuit issue cover. Graham, size 16, has faced praise and criticism alike. Former supermodel, Cheryl Tiegs, spoke out against the cover star, saying, "Her face is beautiful, beautiful. But I don't think its healthy in the long run," in an interview to E! News.
Tiegs also went on to explain that she believes using plus-size models sends the wrong message. "I don't like it that we're talking about full-figured women because we're glamorizing them, and your waist should be smaller than 35 [inches]. That's what Dr. Oz said and I'm sticking to it."
Tiegs' comments created a backlash against the former model. People took to Twitter to defend Graham's body, pointing out that her waist is in fact only 29.5 inches, making her healthy by Dr. Oz's standards. Tiegs' immediately retracted her statements on Twitter, saying, "to clarify re: bodyweight: Being anorexic/bulimic/overweight all connected to health problems. I want all to be as healthy as they can." The tweet didn't calm the waters, however. Tiegs deleted her original tweet and sent out an actual apology, reading, "My sincere apologies to everyone I have hurt. I truly just want everyone to be healthy & happy."
Graham has also received criticism for being photoshopped on the covers of magazines, something she doesn't have control over. Graham is once again the first plus-size model to land a cover of Maxim magazine, wearing nothing but a white collared shirt. Her fans and followers complained that she looked too airbrushed and perfect.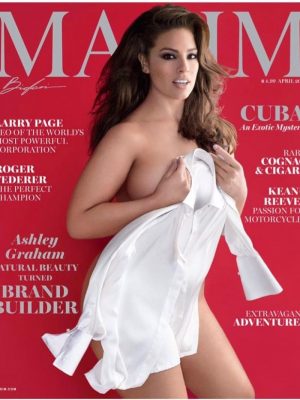 Photographer, Gilles Bensimon, quickly defended his work on Instagram saying that Graham had not been slimmed down "at all." Graham echoed his statement saying, "I was not slimmed down on the cover, and Gilles Bensimon did an amazing job capturing my true figure in all of the photos. This is another major advancement for curvy women, especially those who work in the fashion industry who are working hard to get the recognition they deserve."
Some celebrities are now speaking out against Photoshop altogether. Actress Kerry Washington was recently featured on the cover of AdWeek and was not happy with the final result. She took to Instagram to clear the air saying, "I was taken aback by the cover. Look, I'm no stranger to Photoshopping. It happens a lot."
Washington went on to say that she appreciates AdWeek as a publication and is proud of the article. However, the cover left her unsettled.
"It felt strange to look at a picture of myself that is so different from what I look like when I look in the mirror. It's an unfortunate feeling."
Last October, singer and actress Zendaya, was "shocked" to find herself the latest victim of over-Photoshopping on the cover of Modeliste. The 19-year-old took to Instagram to address how she felt about her hips and torso being slimmed down.
"These are the things that make women self conscious, that create the unrealistic ideals of beauty that we have. Anyone who knows who I am knows I stand for honest and pure self love."
Zendaya posted the original photo alongside the retouched one on her Instagram and called for the magazine to release the cover with the original image, which the publication did. Editor-in-Chief of Modeliste, Amy McCabe, had the magazine pulled to "have the images restored to their original, natural state."
The industry has seen a rise in people wanting to end Photoshop and replace it with natural, unretouched women. Petra Collins, a 23-year-old photographer from Canada, is trying to change the way women are portrayed in the media. Collins has photographed for Rookie Magazine, Urban Outfitters, Vogue Italia, Vice and fashion brand Its Me and You.
No stranger to controversy, Collins designed t-shirts for American Apparel that featured vaginas, masturbation and a line drawing of breasts. Her photographs also offer a different perspective through the female gaze. Collins is creating a space for female empowerment, body-positive images and the body's natural state. In an interview with TIME, Collins addressed the controversy surrounding her work.
"I'm really interested in what is hidden from our culture. We are always repressing or hiding what is natural to a post-pubescent body. We're taught to hate our menstrual cycle and even to hide masturbation."
Models Barbie Ferreira and Diana Veras have become front runners of Collins' work. Both under 20 years old, they are changing the expectations of the industry. They are full-figured with pouty features. In an interview for T Magazine, Collins said, "They're a great example of today's version of really cool role models for teenage girls," she said. "They're so positive about their bodies and not ashamed about that."
Ferreira and Veras began modeling together for American Apparel and have moved on to model for brands like Asos, Its Me and You and Aerie. In an interview with i-D Magazine, Veras explained what its like working with people who aren't used to plus-size models.
"We're both thick but we have completely different body types. And when you're around people who don't usually work with bigger models, they don't know how to act. They're scared to give you the size large because they think it's offensive and I'm like, 'No, I need the large, it's the only size that's going to fit me!'"
"When you're around people who don't usually work with bigger models, they don't know how to act." — Diana Veras, model (i-D Magazine)
When it comes to body positivity, Ferreira explained that her and Veras are here to help other girls accept themselves.
"I hope other girls read what we say and it helps them. Having a mentality that's about being confident in who you are, I think that has to be said over and over again."
Ferreira has also been the star of American Eagle's lingerie brand Aerie, a brand dedicated to showing natural women without any retouching. Previous stars include Emma Roberts and Iskra Lawrence. The campaign includes a video and photos that shows Ferreira, size-12, rocking a string bikini while lounging by the pool and hanging out in her skivvies.
The conversation surrounding full-figured women is evolving. Pioneers like Graham, Collins, Ferreira and Veras are showing the world that there is more than one body type. And that those types should be widely represented throughout different industries.