A Journey for the Senses: Savory Spice Shop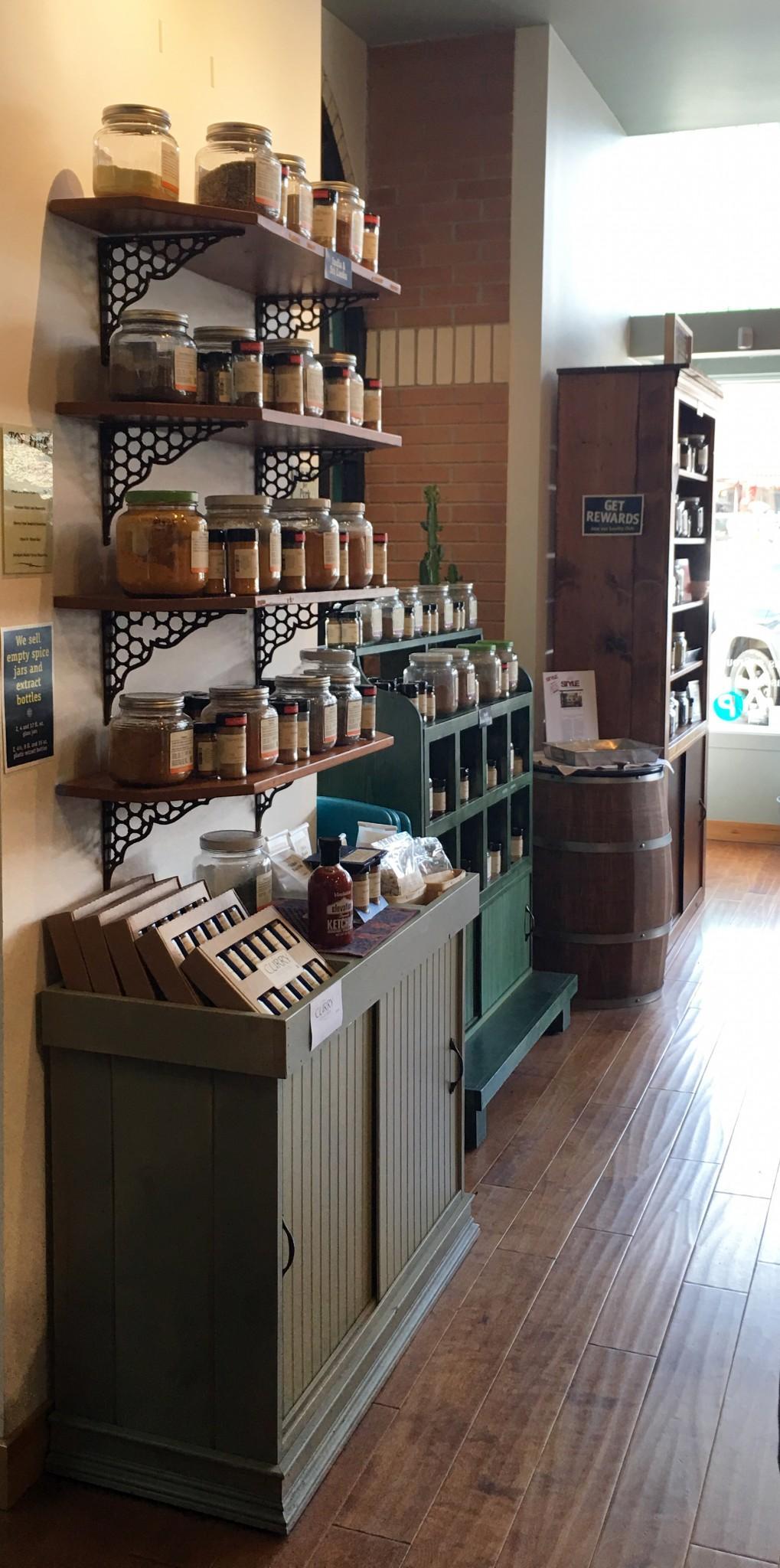 A bright, friendly environment with flavors from around the world, Savory Spice Shop brings Old Town Fort Collins more than just the savory side of flavor.
Connected to the Opera Galleria and adjacent to Jax Fish House & Oyster Bar on College Avenue, Savory Spice is one shop in a franchise that spans sixteen states.  Despite its corporate roots, it maintains the vibe of a small shop with its ever-present local owner and welcoming atmosphere.
Some may recognize the shop as being one of the stops in the free Foodie Walk that takes place downtown every third Friday of the month. Tasting offerings for the walk have spanned from spiced hummus in the fall to hot cocoa and grenadine cupcakes this winter.
A unique feature of the shop is that customers are encouraged to taste the spices. Tester bottles are set out, and patrons are urged to sprinkle a bit of spice onto their hands, and to let whatever's left fall to the floor to be swept up by the accommodating staff.
The shop is beginning to offer small cooking classes with a maximum of twelve students for just $5 per person that include a small jar of seasonings to take home. So far the classes available have included "Salts of the World," "Salt and Pepper" and "Cooking with Salt Free Seasonings," but owner Susan Kirkpatrick is always open to suggestions from customers.
Savory Spice is even partnering with local companies to offer its customers a greater variety of specialty goods, including Dilly Beans made by The Good Jar and Elevation Ketchup made with Savory's Vindaloo spice blend.
Offering a wide array of products, Savory Spice caters to curries, African spices, peppermills, spice racks, salt blocks and cookbooks. Sections within the store include Middle Eastern spices, Caribbean and Latin, European and more.
The salt and pepper section alone contains Ghost Pepper salt, Fumée de Sel salt smoked in Chardonnay oak barrels and Hawaiian Red Gold salt. In terms of pepper, pink, Szechwan and Bourbon barrel smoked peppercorns are among the varieties.
A wide variety of gift sets and combinations of different spices are available, from the "Global Kitchen" set to "Best of BBQ" and "Dips for Chips."
The baking section is particularly unique, offering sweet treats such as honey powder, vanilla bean sugar, Bakers Brew coffee spice and Black Onyx cocoa powder.  One of my personal favorites would be the Black Onyx cocoa—it's so rich that you'd only want to use half Onyx with half regular cocoa in a recipe. It's so intense that it turns brownies black.
Aside from the spices in the baking section, the shop also carries a myriad of different extracts ranging from ginger to pistachio, and dried flowers such as Hibiscus and Rosebuds.
Savory Spice Shop is an excellent destination whether you're looking for exotic new finds, a rub to complement your purchases at the Winter Farmers' Market or if you're just looking to wander about the store smelling all of the merchandise on a Saturday afternoon.