Karaoke Club: Belting Lyrics at The Lyric
There are three rules at Karaoke Club. One, you don't talk about Karaoke Club. Two, always tip your bartenders double. And three, if it's your first time at Karaoke Club, you must sing.
Every Tuesday, from 7 to 11 p.m., The Lyric hosts a Karaoke Club run by Daphne Starr and her co-host Alex Forbes. It is an all-age event and free of charge in the main lobby of The Lyric.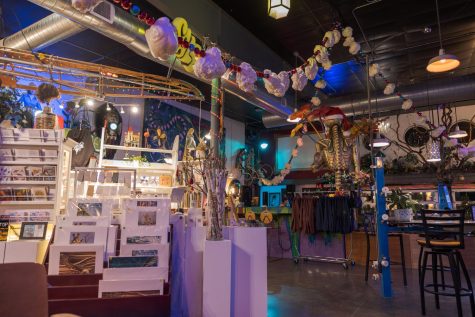 Surrounded by unique structures and three large stages outside, The Lyric is a vibrant place for outdoor concerts.  Its vibrancy is reflected on the inside as well, with local artists' work decorating the walls. 
Walking into The Lyric is like entering a different world. Covered from the floor to the ceiling in unique, local artwork and objects, it is easy to get lost. Some people come to just enjoy the pinball machines or simply wander around. 
"We do concerts, we do live events, we do rentals….we've got burlesque groups that perform here monthly, we have drag groups," Aaron Varnell, the chaos wrangler at The Lyric, says. "We do things where we'll have a band playing a live soundtrack along to a movie on the screen."
Tuesdays at The Lyric are also called "student Tuesdays," where movie tickets are only $5 and popcorn is $1 off for Colorado State University students. This way students can enjoy a night of karaoke along with a series of film retrospectives, adult cartoons, and a game of battle league. 
The karaoke stage is set up in the corner of the main lobby, across from the bar. In the middle of the lobby stands a cluster of unique chairs and tables that make the room feel homey. Slowly, people start to gather into the lobby and take their seats as they begin to listen to the performers. 
"
Don't be nervous, because everyone here is super positive.
— Peyton Clark
Gaby Bowman and Peyton Clark, CSU students, had their very first experience with karaoke night and said it was fun, with huge smiles spread across their faces.
 Both Bowman and Clark have friends that perform at The Lyric. They have gone to a couple of their concerts, and have come to really love the space. They specifically enjoy how open and accepting the community is.  "So far it has been a really cool community, good vibes all around," Bowman says.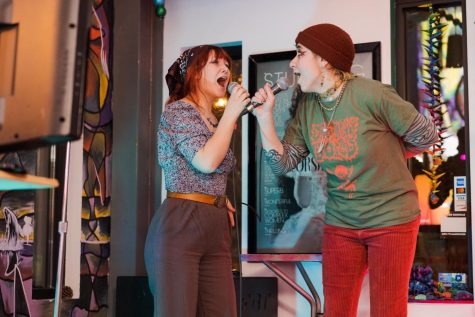 This atmosphere keeps both of them coming back, and each time is a good time. They had no fear as they walked up to go sing a duet – the two laughed and had a great time onstage. 
 "Don't be nervous, because everyone here is super positive," Clark says.
The visitors began to laugh and participate more and more as the voices of the karaoke singers began to fill the dimly lit lobby of The Lyric. Everyone felt welcome and safe to express who they were. It didn't matter what age you were, or how good your singing was, everyone was welcomed onto the stage with open arms. 
Geneva Hein, who works Tuesday nights at The Lyric, has been there for Karaoke Club since day one. "It's super fun, Daphne does a great job at cultivating a close-knit environment, so it always feels like you are a part of it," Hein says of the atmosphere. "They do a group number once…in case you're too shy to sing on your own."
Hein even has a hard time trying not to get up on stage. If the night is slow, Hein and her co-workers will run up to the stage to do duets together. Then they'll return back to bartending.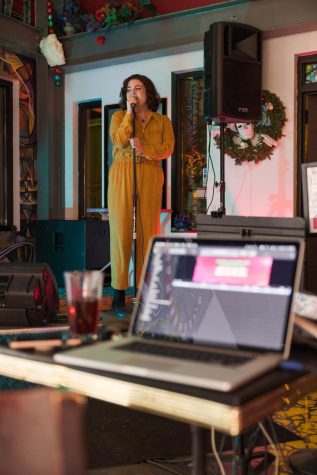 "I have a lot of pride in working here, because I think it's a really cool place, and before I started working here I loved coming here and showing new people this place," Hein says. "I love the creative community and sharing that with people."  
The core Lyric attendees are people who enjoy a local aspect and love to add something extra to a regular event. The lobby on Karaoke Night was filled with a variety of people that all share one thing in common: a love to have a good time. The Lyric has found a way to build a community that is filled with people who love to have fun. 
When coming in for the first time there is a lot to do and see. Varnell has some advice for any first-timers; "I mean, the more you look in this space, the more you find. So I would say, bring a friend, get ready to have a good time, and feel free to wander."