Old Town Swing and Blues
As you stroll down the streets of Old Town late on a Saturday night, you may come across a small door swung open wide. Music cascades into the dark around you, inviting you in. Upon entering the softly lit lounge of Old Town Yoga Studio, you're greeted with smiles and politely prompted to remove your shoes. Following the music and the sound of people, you wander further into the studio to a room around the corner, filled with twirling couples and rhythmic tunes. The dancers–beginners and experienced alike–are mesmerizing, and the music is wholesome and lively. You can't help but want to join. This is Saturday night Swing and Blues.
Started by Aidn Van Duyne in 2009, Swing and Blues nights at Old Town Yoga provide a place for everyone to enjoy dance regardless of age, gender, or experience.
Ruth Bruhn, who frequently hosts and DJs at Old Town Yoga, described the environment as friendly and inviting.
"No one is here to compete, and it isn't about selling anything but the experience of dance," Bruhn said.
Swing dancing incorporates a fast, swinging motion, while blues has more freedom and focuses on rhythm. Stemming from traditional blues dancing comes fusion, a contemporary form of blues and mix of different dance styles, free to interpretation.
Bruhn has been dancing for as long as she can remember. "Swing is what I started with, so it's near and dear to me," she said. "But fusion is mostly what I do now."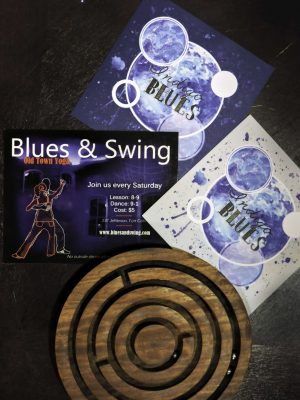 Bruhn began teaching lessons for the Swing and Blues nights since they began. "The most rewarding part of teaching people to dance is getting to see them learn," she said. "Before they were afraid but now they are confident and can turn around and teach others."
Joe Moorehead, originally from Loveland, first came to the Swing and Blues night three years ago with a roommate. He admitted that he didn't like it at first.
"It is really intimidating to feel like everyone in the room is better than you," Moorehead said. "However it is the community of people that kept me coming back."
Moorehead said he loves the social environment of dance, praising it as a great way to meet new people. After attending a weekend dance workshop, his confidence grew immensely.
"The amount a person's skill level increases after just one weekend is truly incredible," Moorehead said.
Fort Collins native Mackenzie Dotson also frequently attends the dance nights at Old Town Yoga. She first came in September 2012 and has taught lessons in dance as well.
"Swing is my first love," Dotson said. "It has such high energy, but blues tells a story and fusion feels limitless."
The Saturday program offers a lesson from 8 p.m. to 9 p.m. for $5, followed by an open floor from 9 p.. to 1 a.m. Swing and Blues nights will be relocating starting at the end of September, howver the new location has not yet been determined. For more information on Swing and Blues or for updates on the new location, visit www.bluesandswing.com