Colorado Music Festival Roundup
Festivals like Bonnaroo, Lollapalooza, Burning Man, Coachella and Electric Forest bring millions together to celebrate life and music. Headliners have ranged from AC/DC to Lana del Rey and Elton John to Skrillex.
These festivals happen from spring through late summer across the entire country. If you can't afford to fly half way across the United States, don't sweat it; hundreds of festivals take place each summer in our very own backyard.
Colorado music festivals commence in May and wrap up in late September. Legendary festivals include Telluride Bluegrass, ARISE, Global Dub and Riot Fest. Colorado music festivals cater to all music preferences, genres vary from folk to rap, dubstep to bluegrass.
May 2016
Festival season kicks off with the fifth annual Global Dub Festival in Morrison. on May 14. The event is held at Red Rocks Amphitheater and provides beats, bass and tons of dancing. The year's lineup includes Datsik, Bro Safari, Slander and Ghastly. Tickets start at $39.95, but they sell quick so get them while you can.
On May 20, Pabst Project kicks off a two-day event in Denver commemorating beer, music and community. Tickets start at $40, but once those are sold out, the prices raise to $55 and $65. The Pabst Project takes place on Larimer Street between 27th and 28th Avenues in the RiNo Neighborhood. 2016's lineup is comprised of Violent Femmes, Charles Bradley and His Extraordinaries and K. Flay. The genres are across the board at this festival, giving attendees plenty of musical options.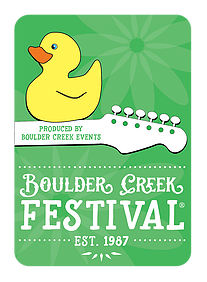 Established in 1987, the Boulder Creek Festival brings May to a close with its multi-genre concerts and events. The festival takes place May 28 – 30 in downtown Boulder; however, the lineup is still to be determined. Boulder Creek Festival offers live music, art vendors, carnival rides and community dances. The musical performances are also free, so no need to worry about breaking the bank.
June
June is when Colorado music festivals really start to take off and a new one can be found every weekend. The LOHI Music Festival begins June 11 on West 32nd Avenue in Denver. The event includes bluegrass, rock and funk. This year's lineup includes the Kyle Hollingsworth Band, Poor Man's Whiskey, Analog Son and Greener Grounds. Tickets range from $32 to $170 with VIP and after party tickets also available.
Sonic Bloom, is an EDM music festival at the Hummingbird Ranch June 16-19. In addition to hard-hitting danceable beats, the festival also offers yoga sessions, art installations, art workshops and live demonstrations. Sonic Bloom tickets range from $38 to $444 and include a walk-in camp pass with all tickets. Acts like SunSquabi, Tipper, Bonobo and EOTO round out the 2016 lineup.
Starting on the same day as Sonic Bloom, the Telluride Bluegrass Festival returns to Telluride. for the 43rd year. This musical event is famous for artists playing banjos, fiddles, acoustic guitars and crooning to the oldies. The Bluegrass Festival is a family friendly four-day affair of music, food, contests and camping. This year's lineup includes Ryan Adams, The Oh Hellos and Houndmouth. Tickets vary from $55 – $340.
On June 17, Bands in the Backyard takes over Vineland. The festival is a two-day event that includes campgrounds, $2 boat rides on the Arkansas Riverwalk of Pueblo and pop-up bars. Bands in the Backyard brings Kid Rock, Sawyer Brown, 3 Doors Down and Sarah Ross to the stage. Tickets for this festival are sold in general admission single and two-day passes, VIP tickets and camping passes. Prices range from $50 – $2,000.
July
Global Dance Festival arrives at Red Rocks Amphitheatre in Morrison on July 8 for three days of world-renowned DJs, dancing and bass. Coming up on its 14th anniversary, the festival welcomes artists like DJ Snake, Above & Beyond and Knife Party to perform for 10,000 concert goers. Tickets are sold in tiers starting at $99 up to $300.
For lovers of country music, Country Jam 2016 is here to fill all your country needs. The festival is from July 16-19 in Mack, just outside of Grand Junction. and will feature performances by Brad Paisley, Zac Brown Band, Blake Shelton, Trace Adkins and Big & Rich. The festival offers camping, VIP passes, meet and greet opportunities and plenty of food and beer to keep you sustained in the summer heat. Tickets range from $105 to $1,500.
On July 22-24, the Divide Music Festival takes over Winter Park for three days of craft beer, mountain bike tours, yoga sessions and music. The festival, which is brand new this year, has yet to announce its lineup. The Divide Music Festival is produced by Team Player Productions who are also responsible for the Taste of Fort Collins and the Steamboat Wine Festival. According to a press release, the production team was inspired by Coachella and Bonnaroo to create a massive music event. The lineup will be announced and tickets will go on sale March 31.
Bass Center swings into Denver on July 29 to offer up electronic music, light shows and dancing. Bassnectar, Flux Pavilion, Wu-Tang Clan and Flying Lotus are included in the 2016 lineup. Bass Center gives attendees the full experience of festival life. Concert goers are allowed to camp, smoke marijuana and indulge in food trucks throughout the length of the festival. Tickets range from $49.95 to $180.
August
Taking place at Loveland's Sunrise Ranch, ARISE Music Festival features three days of music, yoga, community and art installations. ARISE happens August 5-7 and will include performances by Ziggy Marley, Jurassic 5 and Wildlight, with three more headliners to be announced in May. The festival also offers overnight camping for concert goers. Tickets range from $75 to $275.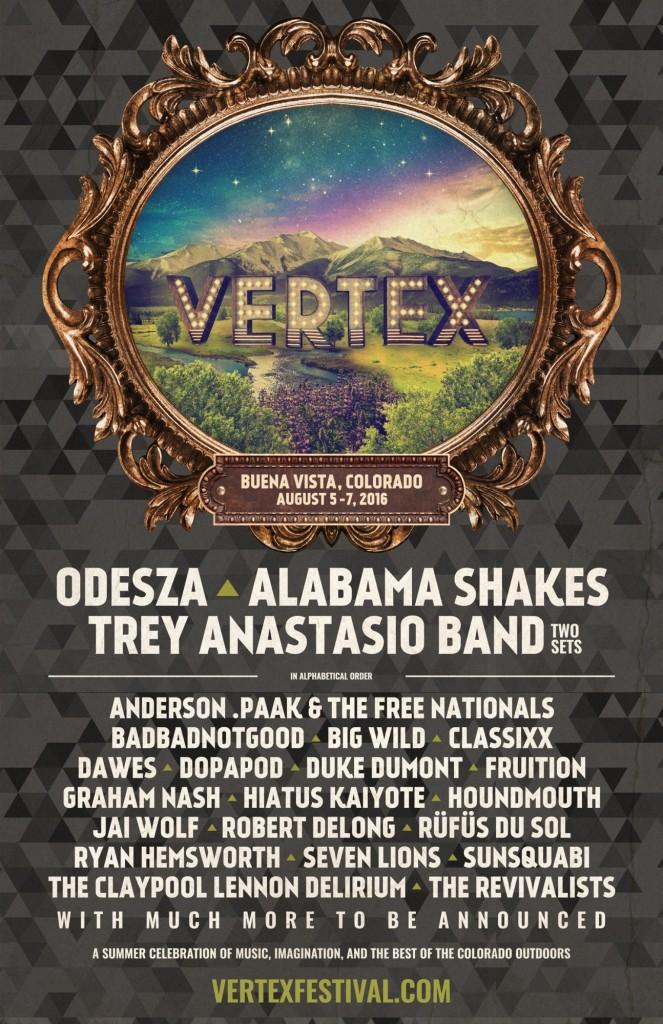 Bringing some heavy competition on the same days as ARISE is Vertex, a brand new music festival in Buena Vista. The event was created as an "intersection of inspiration, and as a celebration of live music, of festival culture, of Colorado's breathtaking natural beauty," according to the Vertex website. Vertex's lineup includes Alabama Shakes, Odesza, Jai Wolf and SunSquabi. Tickets go on sale Friday, March 25 and include general admission, VIP and camp passes.
Bohemian Nights at NewWestFest is a must if you live in Fort Collins. Filled with craft brews, food, art and entertainment the festival has something for everyone. Bohemian Nights will take place in downtown Fort Collins August 12-14. Musical acts have yet to be announced but you can check out the website for further details. The music events are free, so you only need to bring some spending cash.
September
Kicking off the end of festival season is Riot Fest, an alternative music celebration. This year, Riot Fest will take place in Denver at the National Western Complex September 2-4. Musical guests have not been announced, but past lineups include a mix of artists like Snoop Dogg, Modest Mouse, Iggy Pop, Ice Cube and Coheed and Cambria. Early bird tickets are on sale now and start at $99.98. Riot Fest also includes VIP lounges, massage stations and circus performers.
Telluride Blues and Brews festival brings attendees back to the good 'ol days with music like blues, funk, jazz and rock. The festival is a three-day long event in the heart of one of Colorado's best mountain towns. Blues and Brews is fun for the whole family, offering arts and crafts, activities for kids, camping and plenty of food and drink. The festival will take place September 16-18, although the lineup has yet to be announced. Telluride Blues and Brews tickets vary from $20 to $500.
Just because festivals like Coachella and Lollapalooza are states away from Colorado, doesn't mean that we can't enjoy music and arts festivals right here at home. Musical stylings like rock, folk, hip hop and bluegrass are abundant throughout these events. No need to experience FOMO this summer; the Colorado music festivals are calling your name.