No one does live music better than the Aggie Theatre in downtown Fort Collins. The 100-year-old theatre has housed various performances ranging from hip-hop to jazz. Artists that have previously performed at the Aggie include Tech N9ne, Maceo Parker and STS9.
On Wednesday, Feb. 3, the Aggie welcomed Pink Talking Fish and The Red Hot Llama Peppers Malai Llama. The Red Hot Llama Peppers Malai Llama opened for the main act and performed songs by The Red Hot Chili Peppers. Pink Talking Fish is a self-described "fusion of Pink Floyd, The Talking Heads and Phish."
The venue, which is normally crowded to its 650-capacity limit, was strangely barren with about 40 people in attendance. The performers didn't let that stop them from putting on a kick-ass show. Pink Talking Fish was able to entice concert-goers onto the dance floor where the swaying and grooving really picked up speed.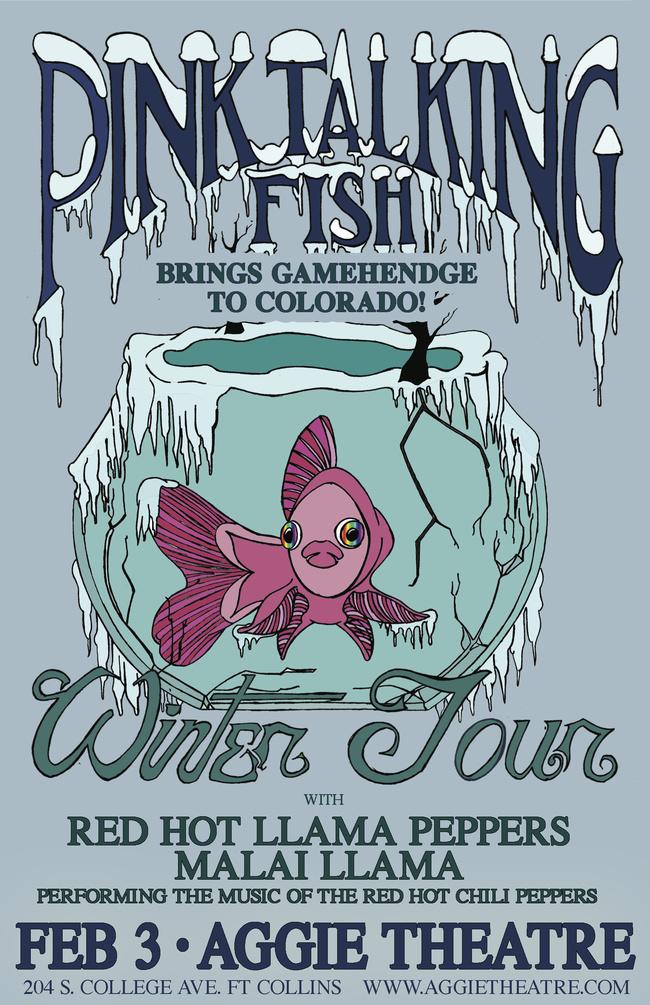 "They cover my favorite bands," 21-year-old Wes Shaffer said. "I'm stoked to be here tonight."
Pink Talking Fish is made up of four die-hard Pink Floyd, The Talking Heads and Phish fans. Eric Gould is on bass guitar, Richard James plays the keyboard, Zack Burwick is on the drums and Dave Brunyak plays the guitar.
However, the band didn't perform a "normal" set of cover songs. Instead, they focused mainly on performing what Phish called "Gamehendge." Gamehendge is a mythical land inhabited by lizards that was created by Phish's guitarist and lead vocalist, Trey Anastasio, while attending Goddard College. The point of Gamehendge is to "transport" the audience into that world by the use of narration and songs. Pink Talking Fish did just that — the band was able to talk and sing to the audience while keeping a fantasy-like element to the show.
"What's cool is that they're kind of a jam band," 20-year-old Grant Baca said. "They're just having a good time."
Pink Talking Fish is on their Winter Tour until late May with planned shows in areas all around the country.