Looking at the Future of College Avenue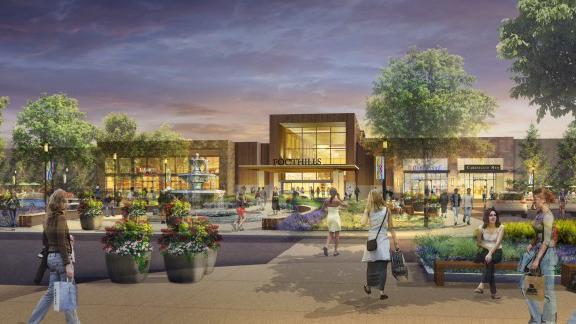 For over 5 miles, U.S. Highway 287 turns into College Avenue. Coming from the north end, the construction-ridden asphalt gives way to Old Town. The old brick and shop windows blend with dark trees and sidewalks from the car window.
Just before Mountain Avenue on the left is the path to the historic Old Town Square. Soon, the old cobbled pathway that people have walked on for over 30 years will change.  The city plans to update and refurbish the Square. In total, the reconstruction will cost $3.9 million.
Along College Avenue, things are constantly changing. Buildings are torn down, old shops are given a facelift and new ventures get their start.
South of Old Town in particular, projects and new buildings are popping up along areas that were lacking in money and business in years past. Now, however, new projects are slowly but surely changing College Avenue and the view from the car window down Fort Collins's main roadway.
New Medical Center
Once Old Town ends, CSU begins. The tree-filled campus breaks the regular street intersections for a mile as buildings like the University Center for the Arts and the South College Fieldhouse pass by. Despite the fact that CSU has many construction projects happening at one time, the one that will soon impact College Avenue the most is a new medical center.
The $59 million project will replace the old medical facility and change the corner of College and Prospect. Last fall, the university bought residential houses in the area and now plans to tear this area down to make space for the new 113,000 square foot center.
"The new CSU Medical Center will serve as a prominent gateway to campus and will certainly become a significant asset to our students and the broader Fort Collins community," President Tony Frank said in a statement.
Foothills Mall Updated
After CSU, College Avenue changes from old historic buildings to a new and always growing space where new restaurants and stores set up shop while other older ones change locations to settle elsewhere.
Down south College Avenue, one of the biggest renovations underway for the City of Fort Collins is the Foothills Mall, which sits in Midtown Fort Collins, an area that in years past has faced lessened business.
The mall, which sits right off of College Avenue, is a part of Midtown the Fort Collins City Council has pushed to rejuvenate since 2013.
According to the city, the new mall will have 660,000 square feet of retail space and include a 10-screen Cinemark all-digital movie theater, 400 to 800 apartments and a variety of new and old retail business in the new space.
The $300 million redevelopment is well underway and is expected to finish by the end of the 2015 holiday season.