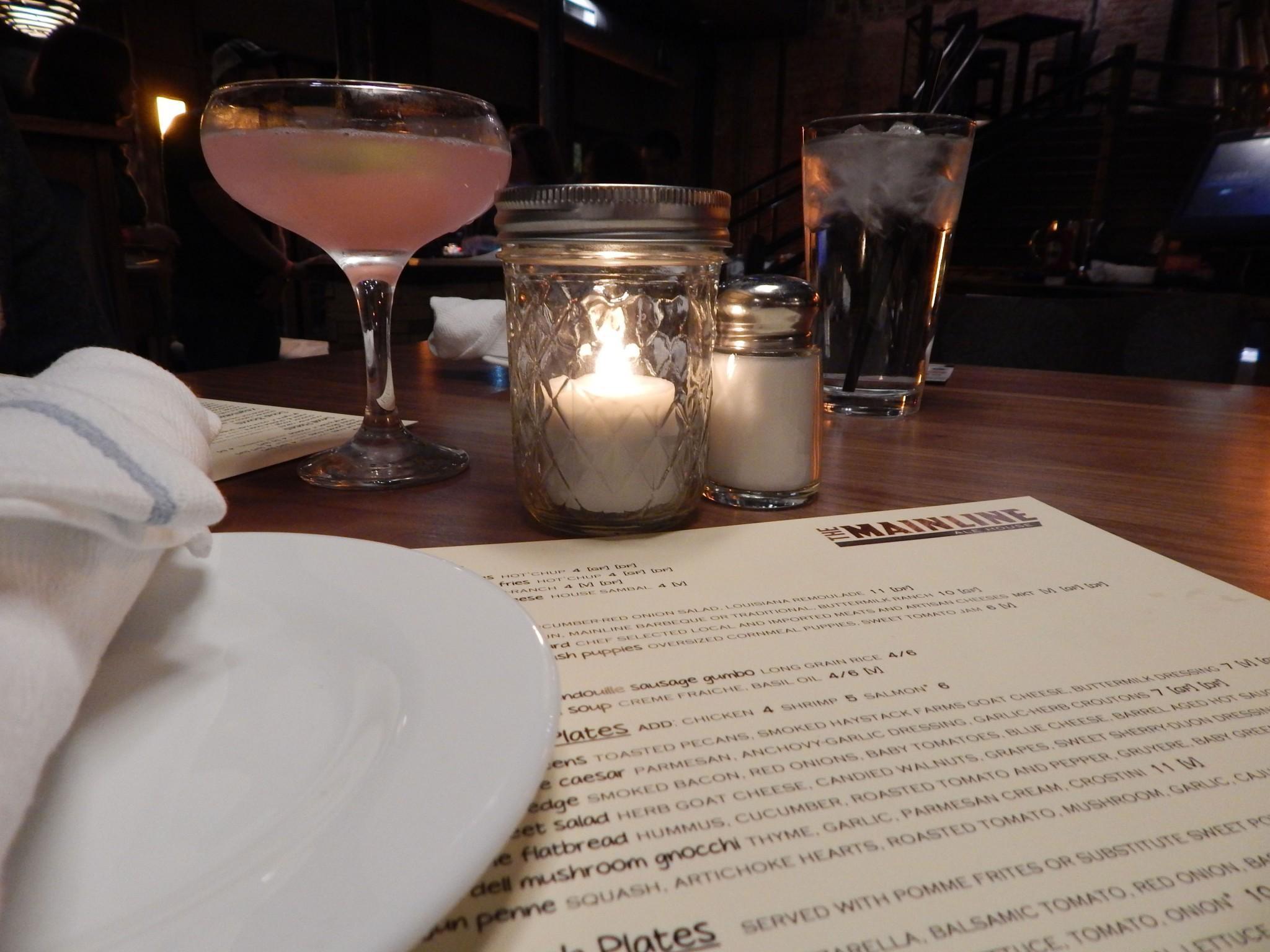 One of the greatest struggles being a college student at Colorado State is knowing the wheretos regarding the best restaurants to take your significant other on a date.
You would not want to come off as cheap and take your date to a chain restaurant on the low end of the chic spectrum because this might come off as a lack of care or interest in him/her. However, the harsh reality for college students is the fact that the majority of us are broke and cannot afford to pay for a meal that would prevent us from buying groceries for a month. So how does someone get the best of both worlds?  Is it possible to take your date to a unique restaurant without draining your checking account?  The answer to this telltale problem can be found right in Fort Collin's very own Old Town: The Mainline, voted best date night restaurant in the 2014 Best of CSU.
As I walked into Mainline on a brisk Saturday evening, warmth immediately surrounded me, both figuratively and literally. The hosts greeted me attentively with an enthusiasm to assist my date and myself. We were quickly seated in a cozy booth on the main floor and almost immediately greeted by our kind-hearted waitress.
Once seated, I began to take in the truly authentic interior design of Mainline. The lighting was dim and romantic. Candles were lit on each table. Placed sporadically throughout the restaurant, metal pipes crafted to resemble trees reached from floor to ceiling, giving Mainline a very rustic feel, almost as if we were sitting outside by a bonfire on an autumn evening. The main floor's bar was also surrounded by these metal trees and was illuminated by a rusty orange backlight, adding even more to Mainlines' already picturesque appeal.
"I love the relaxed atmosphere of the main floor," said Ryan Cobb, Mainline's bar manager. "People can come in here dressed casually, but they also can feel free to dress it up."
The same theme continued on to the second floor, except this level carried a more intimate vibe. Cobb said the upstairs level is "a more comfortable feel, better suited for appetizers and drinks." With a snug lounge area, more bar seating and table tops made for two, it is easier here to feel cozier with a loved one.
The carefully concocted menu was just as pleasing to the eye. With options priced from about $4 to $20, it allowed my date and myself the freedom to order what we pleased.
Cobb said Mainline "started with a Southern comfort food menu" but gradually adjusted to a more classic menu, with some of the same traditional Southern dishes.
The plates varied from fried okra to grilled chicken tacos, blackened ahi to vegetable flatbread and even gluten free or vegetarian options. There is a sure chance that anyone can find a plate which suits his or her personal taste preferences.
There is also an extensive drink menu filled with local brews and mixed cocktails exclusive to Mainline's bar.
My date and I went with the southern wedge with shrimp and the New York strip. Neither plate disappointed.  We also shared a rich chocolate caramel mousse at the end of our meal and were very impressed by how flavorful such a small treat could be.
My overall experience at Mainline was one of genuine hospitality, intriguing aesthetic appeal and savory dishes. My date and I were always well-attended to and felt comfortable asking questions and having casual conversation with Mainline's employees.  The interior design and decoration gave us the feel of being at a chic, high-class restaurant, and, at the same time, the reasonable prices of our meals did not empty our wallets.
This story was created for the 2014 Best of CSU issue produced by the College Avenue Magazine staff.