Themed Parties at CSU
Between those pesky block-parties-turned-riots as well as our eighth-place ranking on the "Playboy Magazine" top 10 list of party schools in the country, college parties at Colorado State are getting a lot of attention lately.
College Avenue sat down with two CSU students for an interview on party themes they have heard about around campus. Pamela Shapiro is a journalism junior. Danielle Sebben is a senior majoring in economics.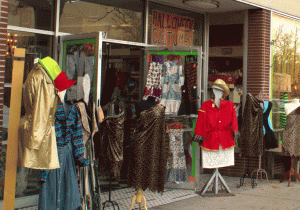 According to Shapiro, the best, or at least the most common party theme she knows of is the "Risky Business" theme, when party-goers wear socks and boxer shorts like Tom Cruise in the '80s movie of the same title.
Conversely, the worst party themes are offensive, according to Shapiro.
"I've heard of parties where the women dress like animals and the guys dress up as hunters, so literally the guys are the predators and the girls are the prey," Shapiro said. "I've also heard about pilgrims-and-Indians-themed parties."
Shapiro said the most unique party theme she can speak of is the ABC (Anything But Clothes) theme, with participants fashioning homemade outfits out of household objects, like beer boxes, curtains, saran wrap and duct tape.
"My idea for the perfect party theme would be anything outdoors, instead of just another house party," Shapiro said.
Patriotic themes are frequent, but party themes are dependent upon the time of year, such as costume parties during Halloween and ugly sweater parties around Christmas, Shapiro said.
As for Sebben, she said people tend to find classic parties the best where no one has to question the theme and everyone knows what it is.
"Don't go to parties to meet people," Sebben said. "Just have fun."
According to Sebben, the most memorable party theme that comes to her mind is the Rubik's Cube theme, wherein the person buys different colors of clothes at thrift stores and then trades articles of clothing with other people until they leave the event wearing only one color.
When asked what her ideal party theme was, Sebben said movie-themed parties sounded the most fun, especially if they are based off of classy films like "The Great Gatsby."
"I don't think that most parties even have any themes," Sebben said. "It depends on the time of year."
No matter how little or how much you party, Rams, you should always remember to have fun, but be safe.
This article was created for the 2014 Best of CSU issue produced by the College Avenue Magazine staff.