My Story in Ink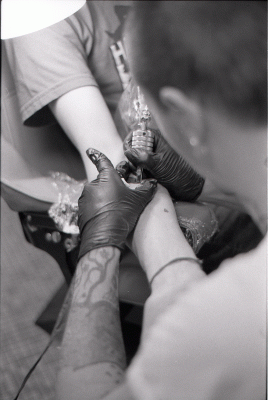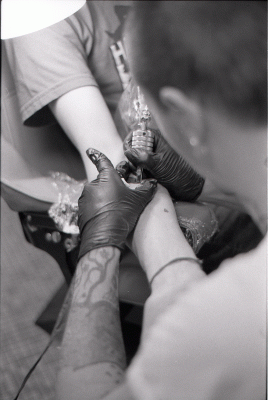 Over the years, tattoos have progressed into a societal norm, with 45 million Americans having at least one tattoo, according to statisticbrain.com. People get tattoos for a variety of reasons, such as an acknowledgement, a memory or even a reminder.
Tattoos are often observed by the public, and appreciated or not, well-done or shaky, there always seems to be a certain level of curiosity. What does it represent? Why is it significant? Did it hurt?
Freshman Liam Huber, an international studies and political science major, said, "You can break my body and spirit down, but I will never forget where I am from," when referring to a four-leaf clover on his shoulder blade. Huber said he was "relatively pleased" with his first tattoo, and while it is not perfect, he "wanted it ever since I learned of my (Irish) heritage for the first time around 8."
While Huber thought about getting a tattoo for about 10 years, sometimes it does not take more than a few months or even a split decision to decide on getting a tattoo.
Freshman Denver Hansen, undeclared major, said it took him about two months to decide whether or not to get his tattoo, a chest piece of "my mother's family crest representing her bloodline." Hansen said his tattoo is significant because "it is kind of the Carmona [his Spanish heritage] way of life to value family… it shows that family will always have your back."
Both Huber and Hansen take pride in their heritage and have chosen to wear it on their body for the remainder of their life. Some tattoos, however, are not a symbol of family pride, but a symbol of memoriam for a loved one. For example, freshman Dan Vinyard, engineering major, got a tattoo of the initials of a friend who had passed away.
"It reminds me of my friend and how much damage suicide does to a family," Vinyard said.
Memoriam tattoos can come in a variety of forms, such as a portrait to capture a loved one during happier times, lettering of names, initials or the date of death.
Tattoos are an expression of the person wearing it, signifying a number of things. Next time you run into someone with a tattoo, ask them about it. You never know what you might gain from it.
This story was prepared for the 2014 Best of CSU issue produced by the College Avenue Magazine staff.