Jackson Aldern: Creating a Space For Radical Art
Sometimes the pieces that make up a majority of our lives tend to be the ones we miss out on the most. They make us wonder, yet often go by unnoticed. One of these things is artwork. 
Art surrounds us on a daily basis and fills our corporate spaces with life and a breath of fresh air. Pieces hang on the walls and make us stop for a second and smile, sigh or gasp. 
At Colorado State University, one of the many artists behind such pieces is Jackson Aldern.
Seven years ago Aldern was a freshman at Colorado State University interested in engineering. Growing up in Fort Collins and having two older siblings attend CSU before him set him on his path. 
Coming to CSU was the obvious answer for him but his career path was not so clear. 
"It took me a few years and definitely college to kind of learn that," Aldern said, referring to finding his passion for art.
During his time at CSU, he created art for multiple organizations across campus including SLICE, the multicultural offices and the Curfman Gallery.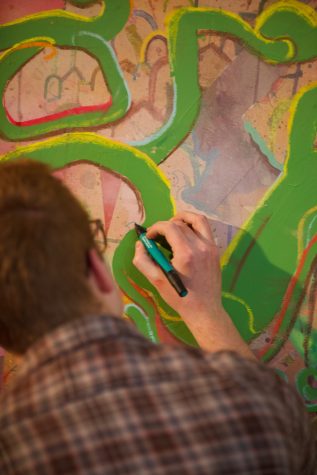 And yet he couldn't quite shake the feeling that the art being created and dispersed was too safe. Aldern often feels that galleries share great art, but the art that is deemed as too radical is shelved.
"Something I struggled with in college was [that] so many galleries are showing such great art, and it's all very safe was my complaint, and I still feel that way," Aldern says. 
"Art to me can be the feelings of things, it can mean happiness, it can mean joy, it can mean so many things, and for me personally it means happiness," Robert Browell, Fort Collins community member says.
Aldern believes in creating art that makes one think outside the box. He has a passion for artwork that moves people.
"What that means to me is artwork that is radical, either like politically or radical in some materialistic technical way, something that is just not as friendly to larger institutions," Aldern says.
Artists often find themselves with no avenues to share their work and limited resources, but Aldern intends to seal the gap with Half Snake.
Half Snake is an art collective that aims to find artists that are creating radical work and bring it all together under a collective that is for the artists.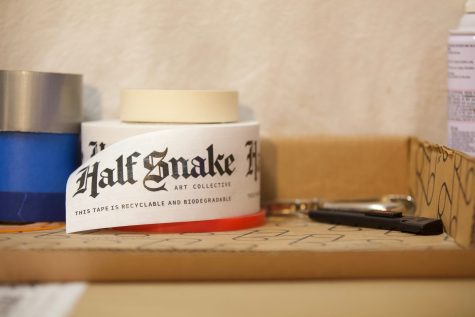 Half Snake was born from the idea to "compound the talent that each individual has as an artist and try and sort of like make something bigger than the sum of our parts," Aldern says.
Brought to life in late January, early February of 2020, Half Snake has spent its whole livelihood under a pandemic. Half Snake has not been deterred, despite the challenges faced by a global pandemic, the solutions that have arisen are proof of the creativity of these artists.
"Collectives tend to take from artists, but Jackson's vision tends to give to the artists," Maiya Hannon, a former CSU alumni and Jackson's right hand man at Half Snake, says. 
Much like Aldern, Hannon believes in creating room for artists to showcase their work and creating an avenue where they can do that. 
"Letting people participate adds high value and makes the community feel like home," Kathie Kunz,  Fort Collins community member, says.
Hannon advocates for a "big space for people to create, show and sell at a very low cost and attainable avenue. As opposed to leaving college and doing the gallery route where you have to spend a lot of money." 
They call it "The Warehouse Dream." A collective of artists brought together to create and share radical art that would not be seen elsewhere.