Sitting behind a tattoo parlor and a Mexican restaurant is a fairly nondescript warehouse. However, in the back, through an open garage door, you will find a room full of various obstacles such as boxes, quarter pipes, flat bars and even a vertical ramp.
This 2,000 square foot facility, called Launch: Community Through Skateboarding, houses a skatepark, skateboarding museum, library and makerspace. The facility exists solely for the benefit of the surrounding community and relies on the support from those who believe in the organization's mission in order to operate. 
The constant pool of volunteers wanting to work for the park has allowed Launch to stay open while charging little to nothing for the use of their facility. 
Andy Weiss, Executive Director of Launch and past owner of Brothers Boards, now called The Market Skate Shop, said that he often has to turn prospective volunteers away because there are so many people who want to help.
However, nothing is free, and with this in mind Launch does what it can to raise money through various programming and events. 
The biggest fundraiser for this small organization is the annual "All Hands on Deck" art show. This year's show took place at The OBC Wine Project on Sept. 23 through 25, and included a special exhibit of skateboards designed by local and national artists.
A free show to attend, all money made was through the auctioning off of the skate decks from the exhibit. All of the proceeds from this event go directly to Launch. 
While some of this money will go towards funding new programs for children, much of it will go towards the upkeep of the indoor facility.
"The skatepark is a program in itself," Weiss said. "It's a destination for a lot of kids to connect with other friends."
This is the focal point for Launch's existence. Having only been formally operating since 2011, the small organization has relentlessly sought to give the community a safe and welcoming place to enjoy a once frowned upon activity.
"We really wanted to go in a direction that was really focused on the skateboarding culture," Weiss said regarding himself and the other founding members. "We are trying to hold onto the history of skateboarding… we don't want it to become another sport."
This isn't to say that skating is nothing but the misconception of angsty teenagers running away from police officers. It means that those involved in the scene desperately want to hang on to what it means to be a skater: problem solving, physical exercise and social camaraderie that the community offers. No matter what trick you are attempting to land, a group, once deemed misfits by society, will be cheering you on through every hard fall.
This motif can be seen in Launch's programming itself. 
All of the programs offered through Launch are relatively relaxed and guided in a way that fosters individual creativity and personal improvement. After all, according to Weiss, "if we structure skateboarding too much, then it's not skateboarding."
When asked about the community itself, Launch board member and skater, Chris Jones said that one of the things he loves about Fort Collins is how amazing and strong the skateboarding scene is. 
Being a Fort Collins native, Jones has seen the scene evolve in many ways, but there has always been one constant: a deep-rooted love for skating. 
When Jones started skateboarding, Launch did not exist. What he had instead was the local skate shop Brothers Boards. Here, he spent all of his time hanging out with friends, reading magazines, watching skating videos and learning how to skate himself. 
"It was my home away from home," Jones said. His parents knew that if he was there, he was alright.
Launch seems to be the very embodiment of this. It feels like that one friend's house whose parents were cool and let them trick out their garage with couches, posters and a mini-fridge. It's  a spot to come relax after a long day and share some laughs.
All of this comes with the added benefit of being a place to improve your skateboarding. So when you do get that itch to step out of your comfort zone and catch an adrenaline rush, you only have to walk a couple of feet. 
"It provides a safe space that helps kids learn about skateboarding from people that love it and grew up doing it," Jones said.
For the kids that means a lot because they are able to learn in a setting that is not intimidating. Going to a local skate shop or skatepark for the first time can be super unnerving, especially if you have barely touched a board. With how strong some local skaters can be, it is easy to shy away from going out and working on improving one's skills.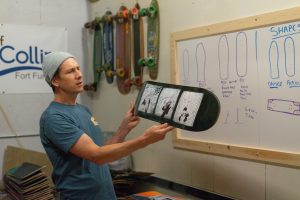 Launch seeks to attack this problem at the source by forging real connections and making newbies feel inclined to love skating just as much as the local park veteran.
"In my experience with running programs here, building real relationships through skateboarding, I think, has an effect on people and makes them want to continue to skate," Jones said.
After all, some of the biggest enjoyment some people get out of skating is by seeing others pull off amazing tricks, and they will never get to see that if that individual quits skating before they even get a chance to try.
Although there is always a big emphasis on helping kids in the present, the future is always sitting in the back of the minds of the board of directors.
"Currently a pretty big focus of ours is expanding and growing into more programming," Jones said. 
For example, Jones mentioned an idea to offer classes to teach kids how to build their own obstacles that they can take home to skate whenever they want. According to Jones, giving kids the resources to take creativity home with them is "super impactful."
A piece of Launch's mission statement reads "The organization provides an environment in which to engage in skateboarding as a form of recreation, develop leadership skills through volunteerism, utilize creative-thinking skills through hands-on learning experiences and ultimately make meaningful connections within our community."
Launch, through funding from events like the art show, intends to live up to these tenets far into the future. All so that everyone who walks through Launch's front door is able to learn that, through self expression and self determination, they are in charge of their own futures.