Cassidy Crawford was ready to make a trip to Boulder for a dancing event when he received a phone call from one of his instructors. Crawford was asked to switch his route from South to North and pick up some travelers who were stranded in Laramie.
The trapped group was headed to the same location Crawford was: a dance studio in Boulder where they would be preparing for the annual Block Party. This is where hundreds of dancers from a dozen different countries congregate together.
"I drove up to Laramie in this pouring rain, I lost signal and went ten miles out of my way trying to find them," Crawford said. "It was a wild night getting [the group] to Boulder at three in the morning."
"That was a cool event and I had a great weekend," said Crawford. "People from that group that I picked up are now my roommates, it's crazy how it all turned out."
"After I hurt my neck in football I went on to do something else… where I spun on my head — which doesn't make sense." — Cassidy Crawford
Crawford, a 2015 Colorado State University alumnus, has been interested in dancing for as long as he can remember.
Crawford grew up watching musicals like Grease, he remembers his mom teaching him how to swing dance at a young age.
"I always was into music, and how good it felt to move in sync with it," Crawford said.
Dancing from a young age, he did not start going to a studio until he was a junior in high school after sustaining a football injury.
Because he was always an athlete, Crawford was not ready to stop moving after retiring from football and track.
"After I hurt my neck in football I went on to do something else… where I spun on my head – which doesn't make sense," Crawford said.
Crawford started taking breakdancing classes at a studio in Fort Collins, where he was attending high school. After taking classes for a year, the first studio he attended later closed and Crawford moved to the High Country Conservatory of Dance, where the main focus at the time was clogging and ballet.
He never really got into either of those types of dance too much.
Crawford used their studio space for a while and then decided to take a break from their classes to train with a mentor in Boulder.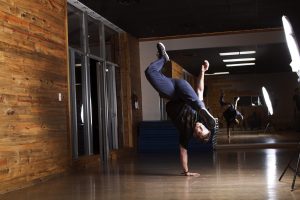 Crawford slowly started spending more time dancing in Boulder than in Fort Collins. "As I went down there more, I found a community," Crawford said. Eventually, that community would lead him to Block 1750 – the same group he would later spend 3 a.m. mornings with after picking up his stranded peers from Wyoming.
Block 1750, hosts the annual Block Party for dancers to attend over Labor Day weekend. As they approach their sixth year hosting the event, the Block Party will feature dance battles, workshops and "cyphers" – a group of rappers, beatboxers and break-dancers to get together.
Last year Crawford estimated about 240 attendees, ranging from DJs to dancers and everyone in between.
This experience was part of the reason he was drawn to leave Fort Collins and move to Boulder.
"I've met people from all over the country and all over the world that have come to Boulder to dance with us," said Crawford. "Regardless if they share our verbal language, they share our language for the love of dance. It's pretty awesome."
Fort Collins is not completely behind in the culture. Local dance group Mighty Rock Morez hosts the annual event "FoCo Flava," where dancers gather in Old Town and get the opportunity to compete against each other and interact with groups of a similar interest.
FoCo Flava is making a come back to the city this summer, premiering with "FoCo Flava: Volume 3" in Old Town Square on June 23, 2018. The event will be held from 1 – 6 p.m. and will have judged events and cash prizes.
Meanwhile, Crawford has other plans in between dance events. Last Christmas, he wanted to set a "difficult goal to hold accountable to." Wanting to improve his own abilities, Crawford challenged himself to do ten thousand flips throughout 2018, and post them to his YouTube channel.
"I hadn't improved much," Crawford said. "The challenge came as a way for me to kinda set myself up for success."
Citing himself at about 28 flips a day, Crawford has started to fall behind as his body "gets used to the figures of landing with so much impact."
Minor injuries in his knees and ankles aside, Crawford is still pushing to meet his 10k goal by the end of the year and believes the volume of flips left will be lessened by the training he has been putting into it.
Crawford currently trains two to three times a week, alternating between CATS Gymnastics in Boulder, Apex Movement in Louisville and Block 1750. When he's not training at one of these studios or recording flips, Crawford is taking classes at Front Range Community College as he starts working towards another degree in Computer and Electrical Engineering.
"I've always been just a very physical person," Crawford said. "I've always enjoyed feeling free to express myself."