Yes, ladies, that's right. Make room for dry brushes in your hub of in-home-remedies next to your sheet masks and moisturizers. Dry brushing is the next big thing in the beauty world, and if you are anything like me, when I first heard of the term I had zero idea what it meant or the potential benefits for my skin. After the pore cleansing face mask fails, I was skeptical of all the hype. Rest assured, this is a beauty trend you can rely on for the long term.
Dry brushing has been an age-old beauty hack used by ancient civilizations such as the Chinese, Cherokees, Greeks and more. Although the tools used by these people were a cry from our modern brushes, such as the Chinese silk squash fiber made out of dried fruit, the concept and the goal is still comparable. Dry brushing is best known for being a lymphatic draining tool. It also serves as an assister to stimulate the body's natural reduction of waste.
Dry Brushing Benefits
Softens skin. The natural bristles on the brush allow for exfoliation of the skin and knock out dead skin cells.
Clears skin. Because the brushing encourages healthy circulation throughout the body, your system is able to carry unhealthy toxins to the proper waste sites.
Eliminates cellulite. Cellulite occurs when fatty cells build up underneath the skin, creating the lumps you see on the surface. Dry brushing breaks up the fatty clots to create the appearance of smooth skin.
Reduces stress. Massages are known to reduce anxiety and stress. With the start of the school year, everyone could use a little rest and relaxation via dry brushing.
The list of benefits can go on and on, but it is also important to know where you can get these brushes. I ordered mine on Amazon, from a company named Touch Me. It was only $13.95 for a beautiful set of brushes, which was a great deal.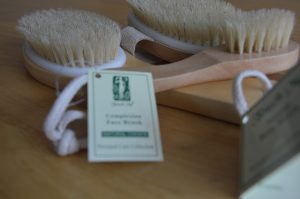 The set came with three brushes: a facial brush, a hand held brush and a brush on a long rod for hard to reach areas. The bristles are made from natural fibers, which is crucial for proper dry brushing. Plastic bristles may scratch and irritate the skin.
When you first use these babies, the bristles will be stiff because they have not been broken in yet. Scrub gently at first and as time goes on the bristles will become kinder to the skin. The motions should always be towards your heart to promote circulation. Be patient with this technique and you will reap all of the perks of dry brushing.
Whether it be to reduce the appearance of "flaws" on your body or to reduce the stresses of everyday life, dry brushing is sure to be an effective regime to add to your daily routine.