The improvisation ("improv") group Comedy Brewers brings family-friendly entertainment to Fort Collins. Similar in style to the popular comedy show "Whose Line is it Anyway," the performances feature fast-pace short form improv game as well as more collaborative long form style improv.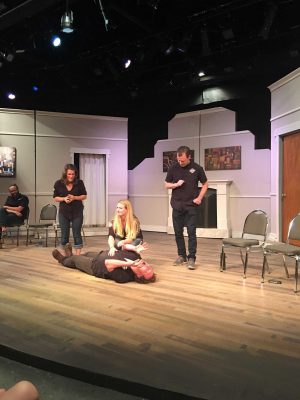 Heather Ostberg Johnson is the events manager of Comedy Brewers and one of six founding members who formed the original group in March 2013.
"I love improv," she said. "Part of it is just the sheer adrenaline of getting up on stage and not knowing what you're going to say."
For Ostberg Johnson, improv has provided a confidence boost on and off the stage.
"With traditional theater, you spend three months in a rehearsal room and you don't step onstage until your part is perfect," she said. "Improv is the exact opposite. Now I find joy and thrill in that where before I was terrified."
Ostberg Johnson also says improv has helped with her develop better public speaking and conversation skills. "I hated having to make small talk, but now I really enjoy it," she said.
The other five founding members include comedians David Austin-Groen, Jessica Crow, Cary Dean Klataske, Jessica MacMaster and Dan Tschirhart. Alex Harris joined the group in 2015.
According to Ostberg Johnson, the group dynamic is integral to the success of their performances.
"I would say as a group we know each other so well, it's crazy how we start to read each others' minds," she said. "It takes a lot of trust to get up there and have to rely on the other members of the team. I know they've got my back."
Another important relationship is the one between the performers and the audience.
"The shows are really interactive," Ostberg Johnson said. "Each night is tailored for the audience. We will make the evening the way they have us drive the show."
Colin Garfield has been a regular at the Comedy Brewers shows for over two years.
"Each time I go it's different," he said. "As an audience member they have the opportunity to run the show with suggestions."
Garfield advices newcomers to "come with an open mind."
"Don't expect the exact same formula as the TV show [Whose Line is it Anyway]," he said.
The group has expanded their performances and hopes to continue growing in the future.
"This last year we've started taking on outside gigs like client appreciation events and birthday parties," Ostberg Johnson said. "We are also hoping to start offering classes in spring of 2017."
One challenge for the future growth of Comedy Brewers is the members' busy schedules.
"Some of us have families and we all have other jobs as well so it's kind of hard for us to focus on growing," Ostberg Johnson said. "But we are hoping to increase gigs and hire a manager."
Apart from the additional event gigs, Comedy Brewers performs at 7:30 p.m. on the first Sunday of every month at Bas Bleu Theatre. Tickets are $10 in advance and $15 at the door, with a $10 student rate.
Garfield believes anyone who attends a show will not be disappointed.
"Just come for a great time if you want to come view something completely unexpected," he said. "It's a lot of fun and a lot of laughs."
Whether it's for a date night or just a night out with friends, attending a Comedy Brewers show is sure to deliver an evening full of laughter.