Seniors Admit Their Most Embarrassing Moments in College
Graduating from college is one of the most monumental moments you can experience in your entire academic career.
You've taken all the impossibly difficult courses. You've stayed awake all night cramming for exams and presentations.  You've nearly been in tears from the immense stress that being in college can bring.  At this point in college, you've accomplished everything. It's easy to feel like you're on top of the world.
It's even easier to forget about all the little "faux pas" that happened along the way.  There are a few fellow seniors, however, who are not ashamed to speak up about their most embarrassing moments as a student at CSU.
One of these embarrassing moments happened for senior human development and family studies major Taylor Sundermeier.
During the first few weeks of her freshman year, she was taking a business class with a group of upperclassmen who she said she really wanted to impress. One day, Taylor had to do a presentation, and she was dressed in business attire.
"I was walking with all the upperclassman to class and was really nervous to present in front of them," Sundermeier said. "Then, out of nowhere, I tripped on the steps and scrapped my legs and arms.  I even had a Marilyn Monroe moment."
Senior history major Terrance Dickens could also relate to Sundermeier's awful first college presentation experience.
Dickens said he completely misinterpreted the main objective of a speech he had to present.  Instead of describing unconventional ways to use an object, he simply described the object.
"Everyone in the room was looking at me like I was crazy," Dickens said. "At one point, I realized I was completely messing up the speech. I kind of ended it awkwardly and quickly went to my seat."
Dickens said he received the low grade he expected, with only two words written by his professor: "impress me."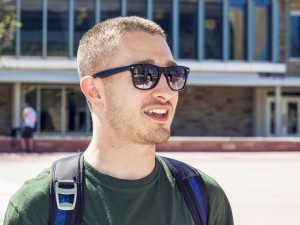 An embarrassing moment from more recent times happened only a few weeks ago to senior health and exercise science major Carlos Jaquez.
"I was walking out of Yates in between a heavy time for traffic in that walkway," Jaquez said. "I had a lot running through my mind. I walked through the first set of doors with ease, but the second set were completely stuck."
Jaquez then said he proceeded to walk and smashed his entire face into the glass.
"So many people saw it happen, but I just had to keep moving and walk it off," Jaquez said.
Yes, even the least embarrassing of stories can seem like the biggest of issues when they happen, but everyone manages to keep moving and walk it off.
Life moved on for the three seniors and led them to their final college moment of graduating at the end of this week.  Hopefully, one last embarrassing trip up the stage at the ceremony isn't in any of their futures.