Silver Grill Cafe Serves up History and Great Food
Any day is the perfect day for a great breakfast. Morning meals are the most important part of a successful day, and Silver Grill Cafe at 218 Walnut St. in Old Town is the ideal place to warm your heart.
My first visit to Silver Grill Cafe was on a chilly Wednesday morning. Even during the week, the Cafe is filled with customers. The unique atmosphere and old-time character make me want to sit there all day staring out through the big glass windows with a warm cup of coffee in my hands.
Over 100 years ago, in 1912, Uneeda-Lunch Cafe served the citizens of Fort Collins. In 1933, the name was changed to the existing title, Silver Grill Cafe.
The current owner, John Arnolfo, purchased the Silver Grill in 1979 and currently collaborates with partners Ian and Heather Beckman, as they work to maintain Silver Grill Cafe's legacy of great food and unique local experiences.
Now one of the oldest restaurants in Northern Colorado, Silver Grill Cafe continues to make customers feel special.
"Their cinnamon rolls are to die for; they're really easy to pick up because they have some already ready to go." — Ashley Wilson, a junior journalism major
I asked Heather what she thought made the Silver Grill Cafe such a special place.
"I would definitely say its location, its history; its the buildings," she said. "I kinda think it's a little bit of everything — the staff, the food."
As soon as I walked into the cafe, I felt an immediate warmness from the employees. Silver Grill gives a person that sense of certainty. You know as soon as you step into the door that this is going to be great.
The coffee cup wall, known as "Mug Club," immediately catches your eye as you glance around.
"We call it 'Mug Club,'" Heather said. "You just purchase a mug, and there's a company in town that puts the name on them for us. So then when you come, you get a discounted price and then leave them here, and when you come, you grab your mug."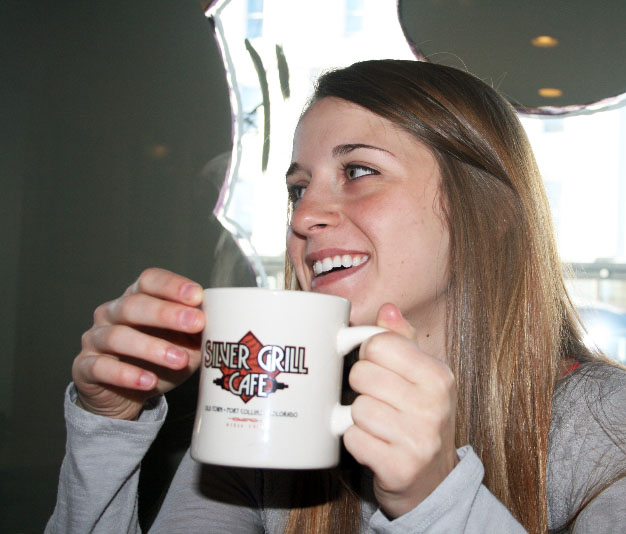 I also loved the rustic, small-town feeling of the Silver Grill. Looking around, I noticed the beautiful wood floors, the brick walls, and the instant love I felt for such a cute restaurant. I just had to buy my own mug.
When I got my menu, it was so hard to decide what to get. I had heard that the cinnamon rolls and the cinnamon roll French toast were extremely popular, but I had also heard that Heather's eggs Benedict are one-of-a-kind.
Ashley Wilson, a junior journalism major, told me all about her experience at Silver Grill Cafe.
"Their cinnamon rolls are to die for; they're really easy to pick up because they have some already ready to go," Wilson said. "Their mimosa bar is great and one of my favorite meals is the fried chicken with eggs and potatoes."
The next time I need a quick breakfast treat to go, I will definitely be stopping by Silver Grill to grab a box of cinnamon rolls.
"The cinnamon roll French toast [Maxie's French Toast] is probably the number one dish we sell," Heather said. "So, we take the cinnamon roll, it gets sliced in half, and then they dip it in French toast batter and fry it on the grill."
According to Heather, Christmas Eve is Silver Grill's busiest time of year for cinnamon rolls. Last year, Heather said the bakers made rolls into the wee morning hours, baking over 1,600 cinnamon rolls by 5 a.m. Christmas Eve.
Heather's eggs Benedict is not your average eggs Benedict. Every week it is different. She "likes to experiment with food."
"That's the good thing about people and food nowadays, they'll try anything, like there's nothing that scares people," Heather said.  "One of the funniest ones we've ever done was for Father's Day when we did a 'Crabby Daddy Eggs Benedict,' so it's an English muffin, lemon marmalade jam, and then deep fried soft-shell crab… it was so much fun."
Silver Grill Cafe is continually making sure that its customers get the best experience they can have. For the restaurant's 80th year anniversary, prices were rolled back to the original 1933 prices.
"The first 80 customers, three years ago, got prices of 1933, so there was literally a line down the street, so we started at 6:30 in the morning," Heather said. "I printed off 80 menus and I went down the line and handed them out."
Now, as the years progress, every year on one day in October, one extra person is added to the lineup for 1933 prices.  How exciting to get a 5-cent cup of coffee!
Friday, Saturday and Sunday remain Silver Grill Cafe's busiest days. With many rooms, the cafe is able to accommodate big parties.
"I always call it controlled chaos," Heather said. "It's hopping in here, but we all know what we're doing, you know it's been here forever, so we kind of have everything down to a science, so it's really fun."
Search no more, I have found my new favorite restaurant. It is a great place to meet up with friends for an early morning cup of coffee with a famous giant cinnamon roll or grab a sandwich for lunch.