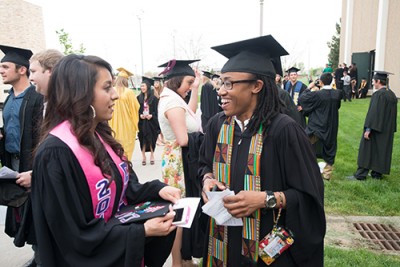 We all remember how terrifying it was to begin our freshman year at CSU.  Everything was new to us — from new people to new schedules and a new place to a new lifestyle. In order to adjust, many of us may have sought out the advice of upperclassmen because we felt that they carried an aura of maturity and wisdom. But, in doing so, we tended to forget that, as incoming freshmen, we also held a great deal of wisdom when it came to life.
 So, as a graduating senior, you may be finding yourself at a standstill. Your wisdom and intellect about college life has brought you this far, but now that college is over, you may be feeling lost in the sense of not knowing what to expect outside of college. Fortunately, there are many bright freshmen practically bursting with advice about life outside of the college atmosphere.
Health and exercise science freshman Domiana Piazzisi said the one thing she would suggest would be to, "Not lose yourself. Remember who you are and what your values are, and don't let the world change you."
A lot of times, we tend to believe that college is the only big transition in life that can make or break a person.  But, we forget that the real world is even bigger than our bubble here at CSU and that has even more people and places that want to change you.  It is important to remember how hard you worked in college to become the individual you are and to never lose that.
Another incoming business freshman, Ean Levine, said it is important to, "Try hard senior year, but definitely have fun with it.  Try something new, and leave with no regrets."
As common as this may sound, it is repeated often because it is true.  Your senior year in college may be one of your last chances to step out of your comfort zone and try something new before heading into the real world.  You may never get the chance to join the Airsoft Gun Club or Medieval Society, so why not just go for it?  As the saying goes, there is no better time than now, and if you sit around and wait, you are definitely going to regret not giving fun a try.
So there you have it, from your own CSU freshmen to you.  This senior year is your last chance to take risks and try something new and exciting.  Do not sit around and let time pass you by.  When the day does come for you to graduate and head into the real world, remember who you are.  Stay true to your beliefs, and do not let anyone or anything try to change you.  After all, you have worked so hard trying to become the person you are today at CSU,  so why try to change it?
This article was created for the 2014 Fall Graduation Guide produced by College Avenue Magazine staff.