The Legacy of the First African American to Graduate from Colorado State University
The diversity on the campus of Colorado State University has grown since it was first founded in 1870 as the State Agricultural College. Only students of white descent attended the university until about 25 years later in 1892, 29 years after slavery was emancipated in the United States.  
Grafton St. Clair Norman would be the first to do many things that no one had believed were possible, including becoming the first African American to graduate from CSU. Norman traveled to Fort Collins from Hamilton, Ohio to attend school at the then Colorado Agricultural College  (CAC). 
Mark Luebker, researcher, also says that there was a college near Norman while living in Ohio at the time. However, in 1892, there was a lynching of a Black man in the small town of Oxford, near Hamilton, Ohio, and may have directed Norman's pathway to Fort Collins. 
At 17 years old, he joined the freshman class of 1895 in the CAC to begin his path in the branches of mathematics and engineering.  
While studying, Norman engaged in many organizations and opportunities. Working his way up, Norman was involved in ROTC and achieved his cadet status by his senior year. Norman was involved in the Columbian Literary Society, Science Club, Y.M.C.A., and so much more. 
In his later college years, Norman became infected from the rapid epidemic of typhoid fever in Fort Collins during the spring semester of 1895.
After taking some time to recover from his illness in the spring semester of 1895, Norman graduated from the CAC with his bachelor's of science degree in mathematics and engineering in 1896. 
In a time after slavery, there was no documentation of Norman experiencing racism on campus, however, it was still prevalent at the time across many parts of the country.
"It was a time between Reconstruction after the Civil War and the KKK rising from the ashes in the early twentieth century," Luebker says. "Bigotry and hatred still existed…Racist interactions that may have occurred at the time mostly would have been at a personal level, and wouldn't have been considered newsworthy." 
"In the North and the West there was at least more tolerance between the races," Luebker says.  "If you look at the Fort Collins Courier and other papers of the time… many still didn't believe in equality among the races and were plenty hostile."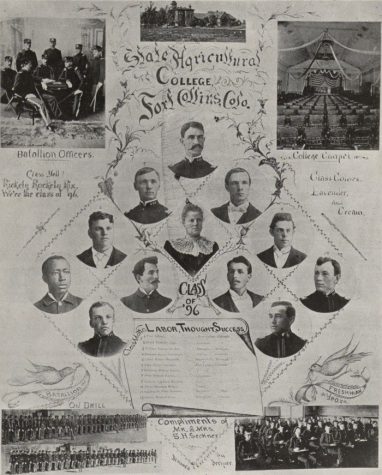 Through his milestone and many achievements, Norman paved the way for future CSU students of color. 
Over a century later, more and more Black students have come from all over the world to begin their journey at CSU.
"CSU is the best school for my major, ecosystem science, and CSU is a really good research school…I'm here because I want to achieve my goals," says Olivia White Eagle-Dodson, a sophomore student.
Still, CSU has remained a predominantly white school. Coming to the university, some Black students have experienced culture shock. 
Zavion "Zae" Madison is a student at CSU originally from Minnesota, where 83% of the population is white. When he first came to CSU, Madison was surprised by the larger white population he experienced. "Coming here, showed (me) how many white people there actually were," Madison says.
Despite today's constant growth of diversity at CSU, students of color are still facing racism today.
During the spring 2022 and fall 2022 semesters, Eagle-Dodson experienced racism on campus.
During Black History month in February, Eagle-Dodson was harassed in her dorm hall. Students would continuously kick her door and erase "Black History Month" off her door. Two days into the fall 2022 semester, Eagle-Dodson says, two white men and one white woman passed her and said, "What the fuck is this shit?  Where is my whip at?" 
Eagle-Dodson says she filed a report with the bias incident reporting tool, but nothing had been done. In situations similar to Eagle-Dodson's, many have support from the BAACC (Black/African American Cultural Center) office.
Established during the 1968 Project GO (Generating Opportunities), the BAACC, located in the Lory Student Center on campus, is a part of the Student Diversity Programs and Services.  BAACC aims to help and support Black students to connect with resources and community, but the center also welcomes the general public.  
"
"I want them to know their truth…Amplify your voice.
— Olivia White Eagle-Dodson
"The BAACC is a place for Black students to feel comfortable, acknowledged, seen, and heard…it's leadership preparation, cultural engagement, mentoring, and has programs for each year," says Savannah Johnson, a BAACC peer mentor and a leader in the Giving Back, Empowering, and Strengthening (G.P.S.) program.
When asked about Grafton St. Clair Norman and his accomplishments during his time at CAC, Madison says, "It was really close to when slavery was around. For him to do it (attend CSU), I wouldn't expect it. It's inspiring." 
"Sure, he struggled a lot and if there was a BAACC then, he would have had a better time," Johnson says. "He was the only one…(the) first Black student…first Black CSU president (Albert Yates)…those people matter, and they paved the way."
Being a person of color during Norman's time was difficult and being a person of color today still has its obstacles. 
As historical measures continue to evolve and improve, Eagle-Dodson says, "I want them to know their truth…Amplify your voice."