Passing the Torch: From JB's Convenience Store to Magnolia Street Market and the Importance of Multiculturalism
With the popularity of East Asian trends and culture becoming mainstream in North America, movies like "Parasite" and shows like "Squid Game" are still topping the charts. When snuggling in to watch one of these cross-cultural masterpieces or one of the many available anime series on various streaming platforms, a search for a snack might be on the mind. Rather than stopping at Safeway on the way home, why not try something new and add a little spice to your snack cupboard? Along with many other great international markets in town, there is one that stands out from all the rest due to its unique East Asian variety. 
Previously known as JB's Convenience Store, Magnolia Street Market has gotten a facelift thanks to Zachary Owens and Katherine Aguero. Behind the store's new shiny sign, this small gem holds an abundant amount of history. Located in local gas station chain Frontier Gas, this mighty mini-market has been serving the Fort Collins community for more than three decades after opening its doors in 1991 by Chin and Chae Chung. The exterior of the well-aged gas station may not look glorious, but once inside, it is an entirely new world. This gas station not only provides gas, they just so happen to triple as an Asian grocery and liquor store.
 When swinging the open glass door, the aroma of spices and snacks fill the air. Although small, this robust store has every corner jam-packed with supplies. Like a mural, the colors from the various Korean and East Asian snacks dance up and down the shelves leading the guests to the counter.
 Dividing the market from the liquor store is a small desk advertising an ever-changing supply of trinkets and lighters. Across the counter, a surplus of local and imported alcohol fill the shelves revealing an entirely second storefront accessible from the southeast entrance. Before ever getting the chance to fully peek into the other side of this infinite treasure chest, a polite face would once interject.
 "Getting goodies?" Chin Chung would ask as his smile lines used to peek out of his mask. Chin Chung, known to regulars as Mr. Chin portrayed himself as a humble shop owner, but there was much to brag about. Jb's Convenience Store was his pride and joy before selling it. He always kept his promises of providing multicultural products to Northern Colorado after winning the Northern Colorado Multicultural Corporation Arlene Nededog Merchant Award in 2003.  
"
To ensure his products were always fresh, he would go as far as importing produce from Japan. Quality was always at the top of his list.
According to Arlene Nededog, who now resides as Colorado State University's Director of Inclusion, the Nededog Merchant Award was established "to recognize merchants who provided inclusive products for ethnically diverse populations in making northern Colorado a welcoming community for all."
 As exhibited through his award, Chung always had pride in the quality, variety, and diversity of his products. To ensure his products were always fresh, he would go as far as importing produce from Japan. Quality was always at the top of his list. Along with international imports, Chung traveled down to Denver every Friday to shop for his customers and his shelves. 
"It is a lot of work. It is a long drive, but we do it," Chung says, when discussing the importance of always staying in stock and providing unique, special order food for his customers.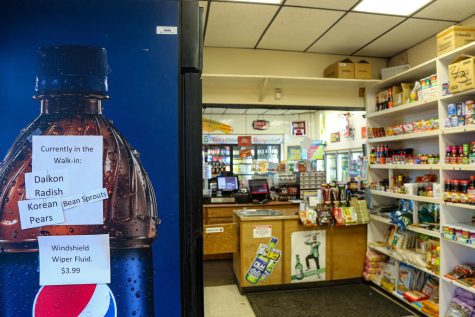 Over the last three decades, Chung provided high quality and diversity within his products and service to Fort Collins, but this was only a small part of this man's history. Although born and raised in Korea, Chung  moved to Hawaii to attend high school. After obtaining his diploma, he immediately joined the military. Traveling the world gave him a strong concept of multiculturalism and propelled his desire to succeed. 
After owning a Subway shop in Hawaii, Chung and his wife decided to make the move to Colorado. "When I was in the military, I was stationed in Washington [state]," Chung says when explaining his move. "Then I saw Colorado and we fell in love with it."
Not only did JB's Convenience cater to East Asian food, but Chung also made sure to keep Pacific Island snacks in stock as a reminder of one of his many homes to properly represent his communities. Knowing that no other international markets in Fort Collins offered the same variety of products that represent East Asian and Pacific Islander cuisine was his main driving force and what kept him striving for improvement. 
"I find more Indian food in Fort Collins," Asako Lani Allen, a Japanese-American community member who moved here from Hawaii two years ago, says. When reminiscing on how much she misses the authentic cuisine of Hawaii, she says, "I come from an island where the fish is fresh every day." Although offering only limited fresh ingredients, being an avid cook, JB's Convenience Store was always the only international market in town where Allen shopped for ingredients. 
Although not heavily advertised, a quick internet search would point you in Chung's direction. "I moved here for the Denver area, there was a much larger community down there," Scheyenne Vue, a Hmong American community member and frequent customer says. "After moving up here, the only place I have been able to find my snacks is through Mr. Chin." Vue reminisces on how, although feeling out of place in a new town, being able to eat food related to her culture makes her feel more at home. 
By providing a space for underrepresented communities in Fort Collins, Chung ensured that even if someone was thousands of miles from home, his community always felt comfortable. JB's Convenience Store provided the only consistent supply of East Asian and Pacific Islander snacks and groceries in Fort Collins. The fear of losing the last East Asian grocery in Fort Collins loomed as Chung decided to retire. 
With big shoes to fill behind the fresh counters at Magnolia Street Market, the Owens-Aguero family acknowledges the hard work that Chung put into the store. "We are excited about all aspects of this new adventure," Zachary Owens, the new owner, says. "We are very happy and proud to be serving the community and look forward to meeting everyone."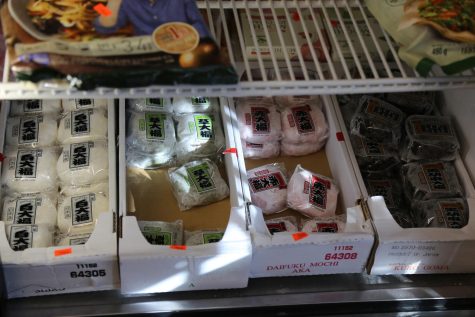 Along with the excitement from the owners, the new employees are thrilled to work hard. "He[Chin Chung] was an icon here for so long," Julia Weber, an original manager at Magnolia Street Market, says. "So we hope to become like he was, part of the Fort Collins family."
Although Chin Chung and his wife may no longer be behind the counter, he made sure the new owners were well equipped to run the store. "I spent about a year studying the products,"Weber says when talking about preparing to manage the store. "And I spent a lot of time working with Mr. Chin." 
Ensuring the new family taking over would provide nothing less than the best quality products, "He stayed for two weeks and helped to train us on all aspects of the store," Owens says. "Chin still stops by quite often and helps with any questions we have."
Seeing the interior of the store now, the same products are bursting at the seams of their shelves, stocked and ready to serve the community. A new customer came in for the first time and exclaimed "I wish I would have brought my daughter here, she would have gone crazy," as she marveled over the variety of available East Asian products. She was shocked that after help from the employees, she had finally found products that she was unable to find anywhere else in Fort Collins.  
When working with customers both new and returning, flexibility is always on the mind. The new owners may not speak Korean, but they will ensure that every customer is taken care of. A customer who struggled to place the order over the phone due to a language barrier was given a variety of options to complete their order, like personally emailing the owners or working with Chung to help with translation. 
"Since none of us speak Korean, it is hard,"  Weber says when talking about the language barrier. "But we are working to find a better solution for the customers." 
"We are compiling a list of frequently requested products and questions," Owens says. "We are always open to suggestions regarding help with translation."
The new owners plan to add some new renovations in order to provide the best shopping space possible. Along with adding new 24/7 gas pumps with card readers, the owners "have redone the roof and are in the process of replacing the siding," Owens says. "We will be adding more convenience items, more Asian grocery, and more local grocery."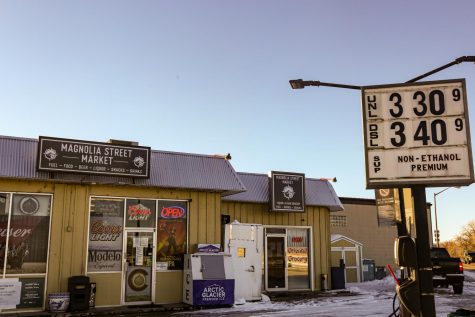 A cultural barrier may exist, but with an open mind and open arms, the new Magnolia Street Market shines with promises of a bright future. By setting high goals for the future of Magnolia Street's, Owens hopes that he and his employees can "continue to serve the community in the same way Chin did for years."