Photo Story: Morning Fresh Farms
Article & Photos by: Greg James
For the Graves family, dairy farming has been a way of life for over a century. Since 1894, Bellevue's Morning Fresh Dairy Farms has been producing milk for the greater Northern Colorado area. To this day, the farm has continued to keep tradition alive, bottling the majority of their milk and cream products in glass bottles on site and hiring a fleet of milkmen to hand deliver milk to customers. 
It all started when founders William C. and Arista Graves moved from Illinois to Denver in the early 1890s by train to escape the sweeping epidemic of tuberculosis. For the next few years they traveled all around Colorado in a rented covered wagon. One place stood above the rest in the eyes of W.C. Graves, the Poudre Canyon. He purchased 294 acres in Bellevue, the very same land that the dairy farm sits on today.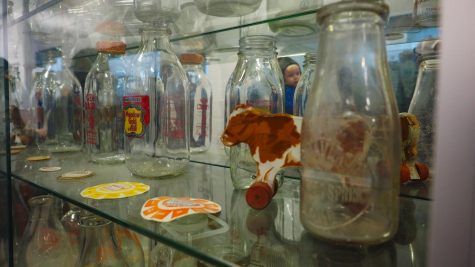 The family has remained here ever since and has strong ties to the community with many family members graduating from Colorado State University. Dr. Robert Graves got his veterinary degree from CSU while Helen Whiting Graves graduated from Colorado A&M and became a school teacher. 
The current Graves generation has brought vast improvements to the property and business; increasing the number of cattle on the property as well as renovating the Pleasant Valley Schoolhouse. They have partnered with Australian-based yogurt company, Noosa, allowing them to build a factory on site that produces 200,000 pounds of yogurt each day.. They also added a new rotary system of milking their cows aptly named the "Moo-Go-Round," which allows Morning Fresh to milk each of their cows 2-3 times per day, producing 10 gallons of milk per day from one cow. From it's adventurous beginning, Morning Fresh Dairy Farms has gone above and beyond the otherwise normal profile of a dairy farm, creating a healthy environment for the many cows that reside there, and an opportunity for the community to come together over locally sourced dairy products.