Cafe de Bangkok: A Taste of Thailand
As soon as you walk in, you smell the steaming scent of jasmine rice, curry, exotic vegetables and tender meats and noodles, foreshadowing not only a meal but an experience as a whole. Your plate is brought to you by kind and merry servers and your palate delights with the smell of your food. Suddenly, you are not in Fort Collins anymore, you are in Thailand!
Because of a diverse and growing international population, numerous restaurants with cuisines from all over the world strive to cater not only to foreign students but also to the locals, who wish to try something different every now and then. Located at 1232  W. Elizabeth St. Unit C7, Café de Bangkok is one such restaurant, representing authentic Thai cuisine cooked by locals from Thailand.
Nattatida Dumrongpalasit, the co-owner of Café de Bangkok, describes how she and her husband are able to transport patrons to Thailand through its cuisine. "We try to keep the food as authentic as we can," Dumrongpalasit explains. "The [kitchen] crew and the servers are all from Thailand because they will be able to explain, in detail, what each dish is like, and they are more knowledgeable about Thai cuisine than anybody else."
"
It is pretty easy for us to present what we are doing since they [customers] can tell about the authenticity of the plate.
— Nattatida Dumrongpalasit, the co-owner of Café de Bangkok
Café de Bangkok offers a wide range of dishes, from noodles to rice-based plates. Most of them also have vegan, dual-vegan and gluten-free variations for those unable to consume certain ingredients in the recipes. Sky Kalavity, a server at the restaurant since 2021, said that the most common plate order among locals and newcomers alike is the Panang Curry, C006 on the restaurant's menu, which the menu says is a type of peanut-based curry with shredded kaffir lime leaves, bell pepper and basil in coconut milk.
Kalavity also said that Café de Bangkok caters not only to Thai customers, but also serves as an eating stop for travelers, especially Californians, passing through Fort Collins. These oncoming customers even like the restaurant so much they also eat there on their way back. "The public loves it [the restaurant]," Kalavity says. "We have an award for Best Thai Food 2021 Reader's Choice Award by The Fort Collins Coloradoan."
This award comes as a result of many reasons. Dumrongpalasit explains that it is crucial to keep the cuisine as authentic as possible and therefore buys ingredients from local small vendors. She even imports some ingredients, like holy basil, from Florida. However, the COVID-19 restrictions imposed on cargo have made it difficult to obtain more of these niche ingredients.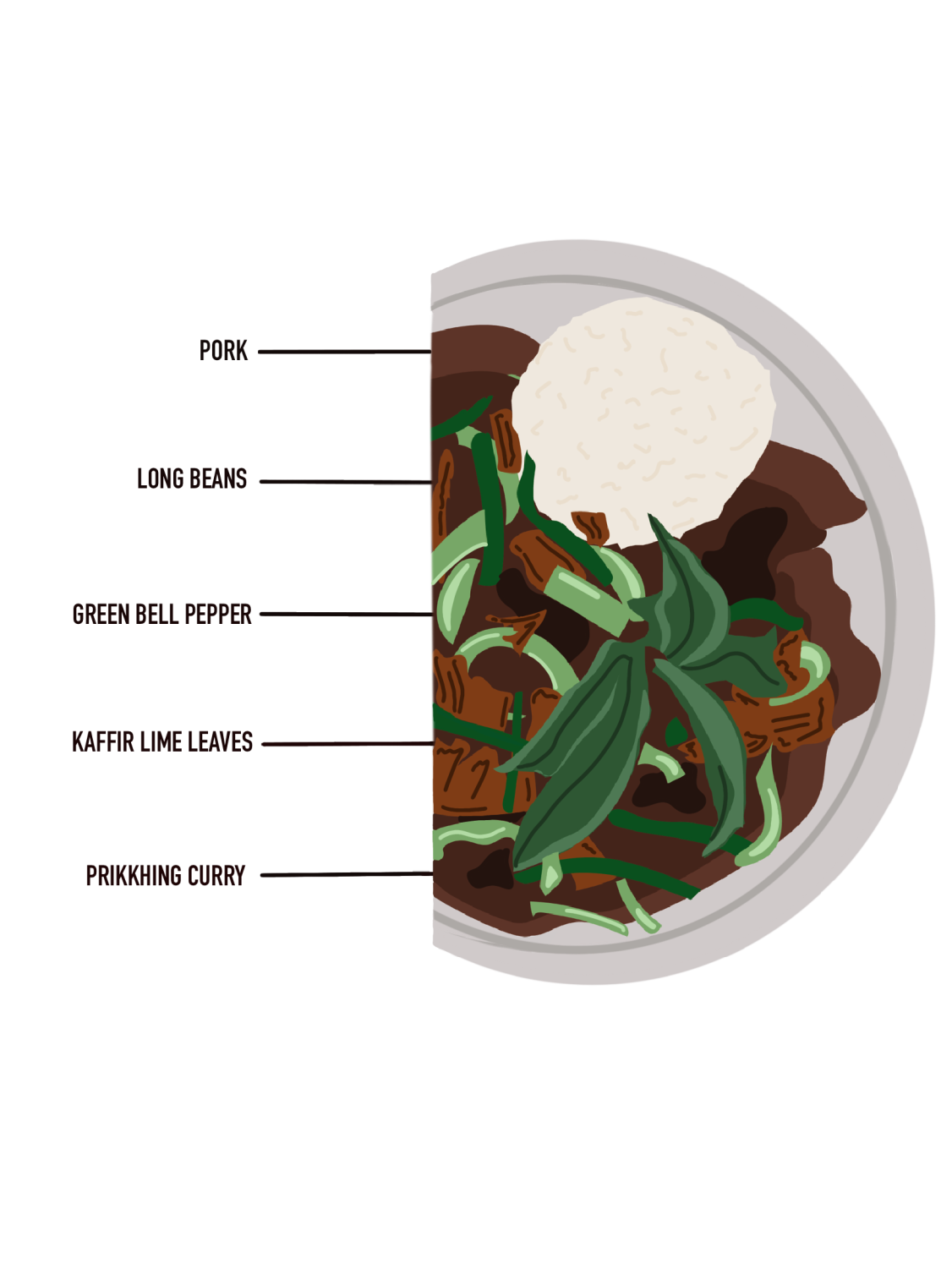 "As far as I know, a lot of our customers know about Thai food [and have been to Thailand]," Dumrongpalasit states. "It is pretty easy for us to present what we are doing since they can tell about the authenticity of the plate."
Despite the cargo restrictions, Café de Bangkok's menu continues to offer most, if not all of its dishes. Chef Wirote, a Thai cook from northeast Thailand who works at Cafe de Bangkok, said that all of the plates from the menu come from original recipes from Thailand. His specialties include the Northern Styled Curry Noodle, or Kai Soi and N006 on the menu, which derives inspiration from his hometown in northern Thailand. Wirote also perfected the Chinese broccoli with crispy pork, which is E011 on the menu and the first to offer authentic Chinese broccoli in Fort Collins.
Due to its close proximity to campus, many Colorado State University students are already regulars at the restaurant and commit to try new things every time they go.
Brayden Jonswold, a Colorado Springs native who was raised in Indonesia, shares his experience with Café de Bangkok's food. "I've always grown up loving Thai food and all its spices," Jonswold says. "So I definitely missed having it [when I came back]. So I started looking around Fort Collins and Café de Bangkok came up as one of the top rated ones.  We wanted to make a commitment to having a regular schedule with an international restaurant. They have all different kinds of spice levels. They have hot and Thai hot if you're really feeling brave, so if you want to sweat a little bit, you can definitely get Thai hot.
They also have great vegetarian options, tofu options and gluten-free options."
Like many other international restaurants, Café de Bangkok brings authentic cuisine from its home country, Thailand, with high quality standards and affordable prices. For those who have yet to visit the country or want to change their eating routines, it is the perfect place to experiment and even take on a challenge.
"Hopefully you guys will come and try the food,"Dumrongpalasit says. "For those who have never been to Thailand, you will get a sense of what Thailand is. It's an easy going kind of vibe. We try to keep the price low as much as we can for the students to spend and for us to survive."