The Art of Thrifting: Giving New Life to Old Items
Old Town Fort Collins is home to a myriad of colorful and unique shops, selling a variety of clothing, food and distinctive souvenirs. However, the hidden gems within Old Town lie within thrift shops, nestled between the restaurants and stores.
When you take a step inside, you'll find that these shops are a bit different from your classic retail outlets.
Shoppers stroll through cluttered aisles, each shelf filled to the brim with vintage clothing, books, toys for children and various other secondhand products. The brightly lit room, relaxing music and soft hum of customers talking among one another about the unique items they discovered are all characteristics of a classic thrift shop. 
Shopping at thrift shops, coined "thrifting," has steadily risen as a trend over the past couple years. In 2020, 223 million consumers over the age of 18 said they had purchased or were open to purchasing secondhand products, according to a 2021 resale report by ThredUp. 
"I started thrifting kind of after quarantine when it started becoming more trendy," Bradley Beck, CSU freshman from Illinois, said. "It's kind of a fun thing to do, especially when you live in a town where there's not a whole lot to do."
Although the thrifting craze may seem like a recent development, the activity has been around since the late 19th century, according to a Time article. Thrifting was originally looked down upon for the bad stigma that surrounded wearing a stranger's clothes and the mistrust against the sellers, who were usually immigrants, the article says.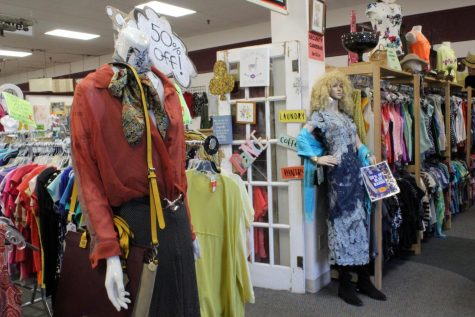 However, this stigma changed when Christian ministries saw potential in thrifting. In 1897, the Salvation Army emerged, and Goodwill followed not long after – these thrifting charities took in donated items and provided jobs for poor and disabled people. From the 1920s and onward, thrifting became a valuable component in the economy; ThredUp's resale report states that the secondhand market was worth $36 billion in 2021, and that rate will continue to gradually increase during the coming years. 
CSU freshman Hanna Spanos said she thinks the rise in thrifting came from the inspiration of influencers such as Emma Chamberlain, a YouTube creator known for her unique style derived from thrifting. 
"People love her style and I love her style, and I guess people saw that she had such a great style because she wasn't going to these normal stores, she was going thrifting," Spanos said. "I think that's when it became super big because people had so much success and got very good at the art of thrifting."
Spanos said she also likes thrifting because it's environmentally friendly. Thrifting is known for supporting sustainable fashion; however, there are downsides as well.
"
I think people are becoming more conscious of their waste, which is important."
— Bri Brown
An article from Vox investigating thrift shopping and overconsumption describes one of the biggest concerns with thrifting regards resellers, which are people who clear out thrift shops (mostly clothing) with the intention of reselling what they collect themselves, often for a higher price. This practice could lead to rising prices in thrift shops as one-of-a-kind items become scarce. It is also important to note that the rising prices and smaller selection in thrift shops could cause shoppers to turn back to fast fashion for inexpensive clothing.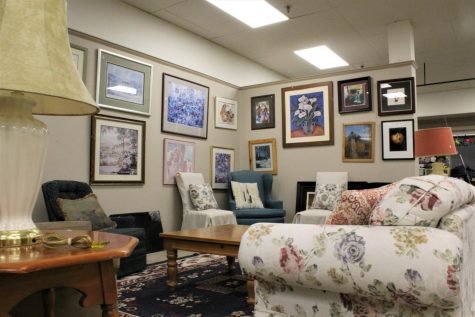 "I think people are becoming more conscious of their waste, which is important," Bri Brown, an employee at Brand Spanking Used, a local thrift shop, said. "However, it's also like a Catch-22 because there's a lot of fast fashion and thrifting now. But I think (thrifting is) people looking to get things on a budget and stuff that has a story."
Brand Spanking Used is located in Old Town at 227 S. College Ave. The store is primarily donation-based and contains a wide variety of used and vintage items including clothing, furniture, supplies and holiday decorations.
"I think we're more stylish," Brown said. "I think that we receive cooler things, we display cooler things and I think that as far as inventory (goes), we just have cooler stuff. We get a lot of dealers that donate to us, so like people who actually take a lot of pride in their stuff." 
Another thrift store close to campus is Eco-Thrift, at 314 N. Howes St. According to store manager Tess Abineri, Eco-Thrift is donation-based and puts a heavier emphasis on recycling items. Additionally, Eco-Thrift is a for-profit establishment rather than a non-profit.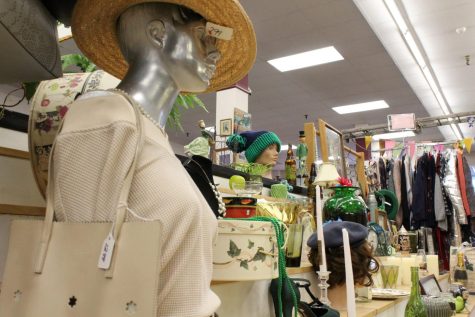 "We're much more flexible in what we can do because we don't have that non-profit structure," Abineri said. "We can just casually give away to people who need it. It's nice to give a tent or a sleeping bag or a new outfit to someone to be able to be warm at night or go to a job interview but can't afford the outfit. That's the most rewarding part for me." 
Brand Spanking New and Eco-Thrift are just two thrift stores in Fort Collins. Brown said the thrifting culture is a lot bigger in Fort Collins than other places. Abineri described thrifting culture today as a "double-sided sword." 
"It's good that people are, instead of taking their used things to the landfill, bringing them somewhere where they will be resold," Abineri said. "But I also think there's a certain population of people (who) don't necessarily understand the significance of the circle of life of a shirt. But overall, as long as people are educating themselves on why it's important to be used, keep it coming."