A screen of black, faceless Zoom tiles, a socially distanced room with masked faces, and various discussion boards have greeted professors at Colorado State University over the past year of the COVID-19 pandemic. Through the hectic year that was 2020, University professors had to adjust their styles of learning remotely and navigate hybrid classes, all while trying to give their students the best instruction they could. 
When professors adapted to a partial online semester in March they had a plethora of obstacles to jump through. During his spring break, Brian Tracy, a professor from the Health and Exercise Department who teaches Neuromuscular Aspects of Human movement, worked with other staff to recreate at home labs when CSU went online. 
"We probably got about 75% of that content, we figured out how to repackage and reengineer as an at home lab," Tracy explains.
As science professors learned how to modify labs to be performed at home, Thomas Conway, an English professor at CSU, describes how he and his colleagues went to the TILT building seeking ways to help their students.
 "So we all went there and basically spent our summers taking online best practices classes to adapt to the post COVID, post pandemic world," Conway says. "So it was really remarkable I think, the response that I saw from my colleagues and willingness to give up their summers."
"It was really remarkable I think, the response that I saw from my colleagues and willingness to give up their summers." — Thomas Conway, English professor at CSU
One factor that has increased for most professors is the time they put into creating effective activities and lesson plans to deliver in the format they have to work with. Before the pandemic hit, Conway had invested time in creating Canvas modules and shells. 
"I adapted more and more to Canvas to meet student needs," Conway explains. "Then I decided to really go all in on it and created really strong Canvas shells and modules which I hadn't used. In the past, I would just give like a Word document schedule."
Professors like Conway who invested time into Canvas before or during the pandemic helped to create a reliable structure students could turn to in order to locate resources and material. In addition to his modules, Conway has also tried to make his discussion boards more engaging and interactive.
 Jeff Dodge, who teaches Copy Editing in addition to working in the CSU Public Relations office, has also invested more time in discussion boards for his class. In teaching a hybrid class in the Fall 2020 semester, Dodge found his usual teaching habits disrupted by a classroom half in-person and half online. 
"I couldn't use the whiteboard anymore because nobody would be able to see it, so I had to start getting used to typing things in documents," Dodge says.
This alteration in his teaching style led Dodge to use more digital PDFs and engage his class through discussion boards.
One important role that has played a factor in almost all forms of teaching is the lack of student engagement. Brian Tracy has done his best to combat this through the lab/ lecture course he teaches on Neuromuscular Aspects of Human Movement. In his in-person lecture in the fall 2020 semester, Tracy's class was split into two groups: one meeting in-person on Tuesday while the other group watched online; this flipped for Thursdays. 
"It restricted my movement and my ability to go around the classroom and interact like sometimes we'll do," Tracy explains about how different discussions were amid an in-person, socially distanced class. Nevertheless, Tracy still does what he can to engage his students. "I try to, as much as possible, force the interaction with the students that are there and still pose questions," he says.
Tracy's lab looks drastically different from a normal year. He explains that although he and his colleagues had to take out many aspects as they redesigned labs, "we retained quite a bit of stuff we just had to re-engineer so that people aren't touching each other."
Tracy has had students use an app called phyphox that measures movement in ways that professional tools would do. For example, if students were studying reflexes, they could put their phone against their leg, tap their knee, the leg would move as a reflex and the app would record information about the movement.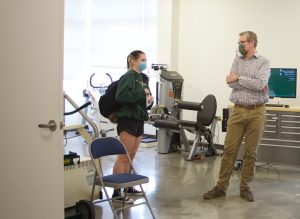 This tool has made it possible for students to do similar lab activities while using their own devices to make data observations. This also eliminates the use of expensive, professional equipment in labs. Students can also check out at home lab kits to conduct experiments at home with those they live with. "It's allowed them to do pretty much the full on lab that they would have done in the lab at home," Tracy says.
While Tracy, Conway and Dodge have made innovative adjustments to their teaching styles, the negative impacts of learning amid the pandemic are still present. 
"Online learning is not the same as in person, period," Tracy stresses. 
"Now there is some stuff that we do in the lab that simply can't be done at home," Tracy elaborates. "It can't be done well by watching a video; it needs to be experienced. So, there's still that part missing." 
Lower levels of engagement, higher numbers of absences and the difference in discussion are all factors that change the learning experience for students and professors.
However, Tracy still says that "you can, with a great amount of input, figure out how to teach stuff remotely and have it be of good quality."
"You can, with a great amount of input, figure out how to teach stuff remotely and have it be of good quality." — Brian Tracy
But while the alteration in teaching is not as effective as in-person, it has also caused great costs to the higher education community. 
Similar to many aspects of this pandemic, everyone has been affected in different ways. While CSU staff is working harder than ever before, the financial stress the pandemic has caused does not compliment this. 
"It's affected employees in terms of more work for no pay," Conway explains. "So all my colleagues, for example, have worked harder over the last year than usual. They usually work hard to begin with in normal circumstances, but there is more work with no compensation. And in some cases, less job security as new hires might be frozen."
Professors have gone to new lengths to shift to online learning amid the pandemic and have found many takeaways to use in the future, but the challenge of online learning has created a gap between a normal learning model and the new online learning. Even though adjustments have been made, we continue to live in a world of unpredictability. So while the return to CSU in-person classes is anticipated by the fall of 2021, professors will continue to adjust and alter instruction models according to the most recent developments in the pandemic.