Don't Call It "the Beer Major"
Before you sit down at the Ramskeller and order an Old Aggie, make sure you know not to call the fermentation science and technology program "the beer major." Just because students in this program take a class in the Ramskeller doesn't mean they sit around and drink beer all day. It is no secret that Colorado State University has a major that teaches brewing science. And it's hard to ignore all of the craft brewery logos that invade the campus. But this program goes far beyond cracking a cold one with the boys.
While working on his master's degree at CSU, Dave Davis recalls his time working at a brewery in West Virginia and noticed how important the craft beer culture is to Fort Collins. In 2004, Davis stopped by Dr. John "Jack" Avens' office, a professor in the Food Science and Human Nutrition department, and asked, "Why don't we have a brewing class?" This was the tipping point for something new.
For Avens, the question stumped him to say the least, and lingered in his mind.
"Well Dave," he responded, "we should. Let's you and me start a brewing science course."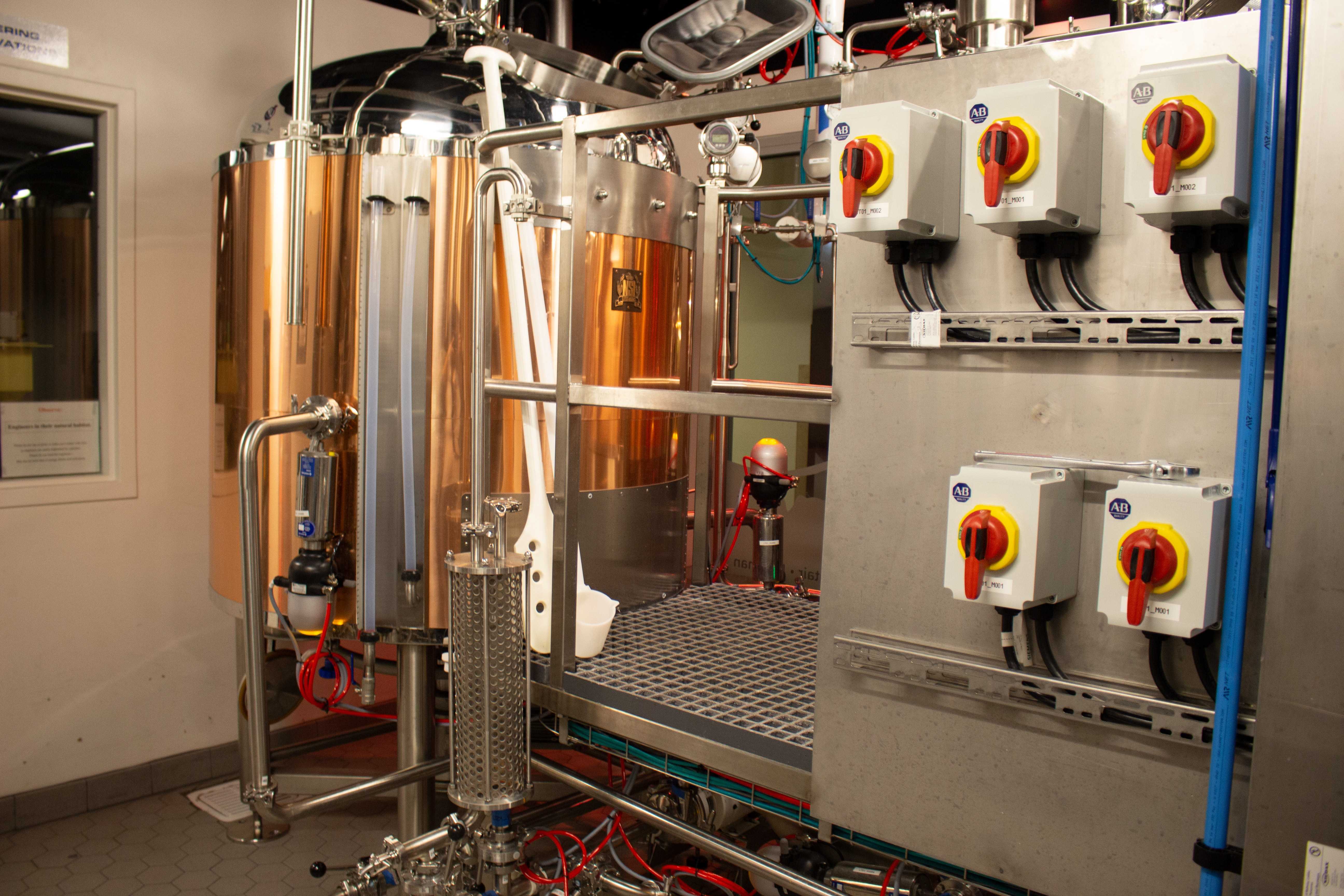 CSU is the first university to offer a four-year bachelor's program specifically designated to studying the field of food and beverage production and quality control. Other universities such as Oregon State University and the University of California Davis have a food science degree with a concentration in brewing science that started before the degree at CSU.
Fermentation science is the process of converting sugar to alcohol, acid or gases through yeast or bacteria. Fermentation involves making kombucha tea, bread and pasteurized dairy products. This field also covers  the overall health and quality of various foods.
In 2004, Avens and graduate student Davis met in the Department of Food Science and Human Nutrition. Avens, who has a doctorate in animal science, is a professor with many stories. Avens' energy fills the room with light and positivity. His passion for science radiates through his eager personality and love for students. Local brewery posters line the wall of his office and a shirt with the four ingredients to make beer-barley, hops, water and yeast-is a feature of his wardrobe. Avens was a professor at CSU for 50 years and continues to contribute to the university as the emeritus professor after retiring in the spring of 2017.
In the fall semester of 2005, Avens and Davis instructed the first brewing class. Starting with 20 open spots, the class filled up in excitement to learn about the brewing process. To fill the growing interest, Avens and Davis added a spring semester class.
While teaching the course, Avens recalls, "I had actual brewers in breweries come in and lend their expertise in our teaching. I received help from graduate students and I also received help from the brewing industry."
The National Beer Sales and Production Association shows the skyrocketing number of breweries across the country growing from 1,468 in 2004 to 7,450 in 2019. But fermentation science is not just about brewing beer.
"Fermentation and brewing science is unmistakably science based," Avens says. "We are about responsible consumption of a fermented food product and the science that goes into it."
Fermentation and brewing science is unmistakably science based." — Dr. John "Jack" Avens, professor in the Food Science and Human Nutrition department
A misconception about the fermentation science major is the program is about brewing and drinking beer.
"I think people think it's a drinking class rather than a hardcore science class," says Davis. "They think it's going to be easy, which I don't necessarily think it is."
Davis is now the director of quality at Noosa Yoghurt in Bellvue, Colorado. This farm is something out of a fairytale. The green grass surrounds the red and grey barns while the mountains loom behind the farmland. A fountain fills the air with a calming song. The pond reflects the rays of the morning sun. This is Davis' office.
But why did Davis ask about having a brewing science course at CSU? Davis says he wanted to start the brewing science class because he saw a need for it in the department.  At the time, Davis was working on his master's degree in food science. "Within the CSU master's program, I was focusing on beer," Davis says. "I did all of my research on beer and wanted to incorporate that into my education."
In 2010 after five years of teaching the brewing science course, the Food Science and Health Nutrition department decided to start a proposal to make a FST major. Avens says, "The way this industry is going, particularly in this area, we need a major in fermentation science. It started with brewing, but very definitely we wanted it broader for a university major."
After years of perfecting the proposal for the major, the moment arrived that would make higher education history. On Dec. 7, 2012, President Tony Frank approved the program as a bachelor's of science in FST. The fall semester in 2013 was the first semester where FST was an official major. Raise your glass and let's toast to science.
Fast forward to 2019, the university is home to the New Belgium teaching lab, the Anheuser-Busch analytics lab, and a fully operational brewery in the Ramskeller.
Jeff Callaway is the associate director of the FST program and has been with the program for seven years. Callaway works with donors to get funding, teaches the senior seminar course and plans out new facility spaces for students.
Let's not forget where CSU is located. The town of Fort Collins has over 24 breweries, Turtle Mountain Fermentery and Noosa Yoghurt. This town is filled to the brim with fermentation. But remember, this is not "the beer major."
Callaway says, "The beer culture in Fort Collins has led to some unique opportunities. Getting to go to production facilities, whether it's breweries, yogurt manufacturers or cheese and see the operations live and sometimes manufacture products is something you couldn't do without the industry we have next to us."
For fermentation science students, the program brings together concepts people never imagined impact each other. Jack Hansen is a junior at CSU majoring in FST with a minor in food safety. Hansen recalls entering the program saying, "I want to learn about fermentation. But all the classes we took were like a big full circle. You start and you don't really know where it's going. But all of a sudden, everything links back together."
Finding fermentation science wasn't a clear-cut path. For Hansen, majoring in English and becoming a playwright was the original plan. The idea of brewing and studying food safety was never something he thought he would end up doing. But during Hansen's time in Costa Rica working at the Jaguar Rescue Center, Hansen's life changed.
Walking back to his hostel, he noticed a brewmaster napping in a hammock. Beside the brewmaster was the beer that he was brewing. After seeing this brewmaster, Hansen remembers saying to himself, "that's what I want to do for the rest of my life." This hammock and beer is what drove Hansen to enroll at CSU to study FST.
Hansen is currently interning at New Belgium Brewery. "There will be hard parts and even scary parts," says Hansen. "But it's gonna feel worth it at the end. You've got to put in the work. If you're not willing to put in the work, you're not going to get anything out of it."
There will be hard parts and even scary parts. But it's gonna feel worth it at the end." — Jack Hansen, fermentation science and technology major
For those who still believe fermentation is simply brewing beer, Callaway says, "understand that it is bigger than brewing. It is scientifically very rigorous. We're not teaching you just to get a job. It's about being a better human and growing in your career. You have to have a deeper understanding if you want to grow."
The FST program has 101 students. The New Belgium Brewery teaching lab teaches students brewing operation and the Anheuser analytical lab for quality assurance. In the Lory Student Center, the Ramskeller brewery proudly displays the copper brew houses used for teaching.
Avens and Davis' curiosity led them to creating the first four-year program in fermentation science. From starting out as a question for a professor, to becoming a class, and being approved as the first fermentation science major, CSU has paved the way for students to learn an industry that affects a large part of our world.