The words "Fridays 4 Future" and an arrow drawn in yellow sidewalk chalk point the way to a group of students, parents, alumni, and staff gathered on the steps of Colorado State University's Administration Building. Signs in the crowd read "What I stand for is what I stand on" and "planet over profit." Speakers pass around a megaphone to share experiences, thoughts, and knowledge about the issues of climate change and environmental injustice. The crowd buzzes with energy. 
Instead of celebrating Homecoming festivities Friday, Oct. 4, protesters gathered to support the second Northern Colorado Climate Strike, demanding that CSU divest support from fossil fuel companies. Names of these corporations — Anadarko Petroleum, Noble Energy, ConocoPhillips and Chevron — are advertised at Canvas Stadium, triggering outrage from community members who pride themselves on being part of a university that focuses so strongly on sustainability. 
The Fridays for Future movement started as a call to action from 16-year-old Swedish activist Greta Thunberg. In 2018, she spent her school days outside the Swedish Parliament, holding a sign that translates to "school strike for climate," and the message quickly spread across the world. While speaking at the United Nations in September, Thunberg accused world leaders of inaction: "We are in the beginning of a mass extinction, and all you can talk about is money and fairy tales of eternal economic growth. How dare you?" 
Thunberg's movement has continuously gained traction and is the reason behind The Global Week For Future, which occurred between Sept. 20-27. Over 7.6 million protesters marched in 185 countries in defense of the climate, according to the strike's website.  
"This strike is about making sure that everyone has their voice heard, everyone is able to advocate and be informed for themselves and actually understand what is going on around them," said Ehret Nottingham, a CSU student and lead organizer of the Northern Colorado climate strikes. "If that can happen, then we can change the world." 
The Fridays for Future movement insists that action be taken to fight climate change, but the Colorado subset has more specific demands: respect for indigenous land and sovereignty, environmental justice, protection and restoration of biodiversity, implementation of sustainable agriculture and a Green New Deal. A major component of the proposed "Green New Deal" is to convert the economy to "100% clean, renewable energy by 2030 and phase out all fossil fuel extraction through a just and equitable transition," as stated in the list of Colorado Youth demands.
Around the world, widespread societal changes have resulted from these strikes, including declarations of climate emergencies, stricter policies, and new regulations, such as renewable energy acts. Some companies have adjusted their products due to consumer pressures toward sustainability; the rejection of plastic straws is one of the most noticeable examples.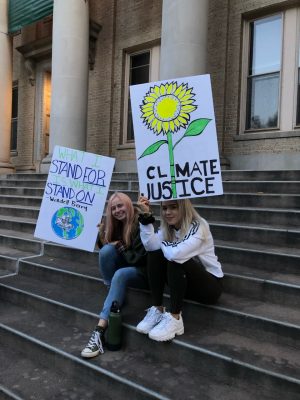 Fort Collins' City Council declared a climate emergency in August. The declaration recognizes the "climate emergency threatens Fort Collins, the state of Colorado, the United States of America, all other nations, and indeed, the entire world." The resolution includes a goal of an 80% emissions reduction by 2030 and carbon neutrality by 2050. Other aspects of Resolution 8191 include more widespread education on the subject and encouragement of other cities and states to follow in the city's footsteps. Over 1100 local governments in 20 countries, representing 272 million people, have declared a climate emergency, according to The Climate Mobilization. 
"I think [this movement] is a catalyst for change," said Nottingham. "As people on the front lines, as people looking at their futures being destroyed, we have the duty and responsibility to ourselves and to future generations to stand up because the older generations have failed to do so. We don't have the choice not to care because it's going to affect us." 
For students like Andrés Better, who studies zoology, the strikes underscore the currency of environmental impacts on today's generations: "I want to study biodiversity, but a lot of species are now rare or extinct because humans have threatened them. Without these strikes and without people saying and doing something for the future, there would be no science for me to do because the species wouldn't exist." 
"We need to take steps to ensure there's a future in which the global ecosystem is healthy and present," said Sean McLennan, a CSU freshman studying ecosystems science and sustainability. "All species are interconnected in a beautiful web of life, but human involvement and manipulation of these systems have destroyed its integrity and sanctity."
"We don't have the choice not to care because it's going to affect us." — Ehret Nottingham, CSU student and lead organizer of the Northern Colorado climate strikes
Climate strikes are organized, led, and attended mainly by youth, but people of all ages show up to support the cause. 
"I think students are courageous for speaking out and taking time out of their busy schedules to turn out for events like this," said Diane Burton, assistant director of CSU's Honors Program. "Things don't change unless people demand change." Burton, who attended the climate strike on campus with other staff members, adds, "Getting results takes time, continued attention, and lots of patience."
"If I could say one thing to people, it would be to get out and do something," says Nottingham. "Greta Thunberg…was just one girl in one place on the planet. You can be that one person, too. So go out and do it."