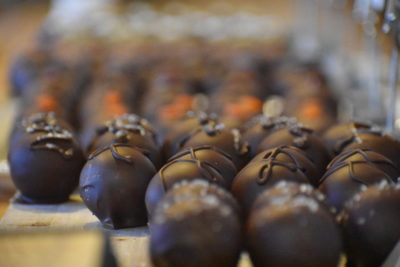 Fort Collins paves the way to make chocolate tasting expeditions happen. The experience of eating chocolate is special and involves each of the senses: vision, smell, sound and taste. Plus, this particular expedition may help fire good neurotransmitters, specifically dopamine, in your brain. Even thinking about eating chocolate has the potential to produce a slightly euphoric state. So yes, the chocolate itself looks pretty. But watch; your brain is going to be happy too.
Hannah McCreery, a sophomore at Colorado State University studying health and exercise science, experienced the Single Origin Dark Taster Flight #1 at Nuance Chocolate in Old Town.
She was given small bits of chocolate made from cacao beans from five different countries: Ghana, Ecuador, Nicaragua, Venezuela and Madagascar. The beans are then roasted and transformed into chocolate in their Fort Collins factory, several blocks away from their walk-in café. McCreery said it was "cool how it tastes different from different places."
According to Nuance Chocolate founder Toby Gadd, his shop is only one of 40 chocolate makers in the country. Most who sell chocolate are chocolatiers who do not make their own. Nuance is a "bean-to-bar" business, Gadd said. Most well-known chocolate manufacturers have a standardized formula, probably not changing over decades, if ever. And according to Gadd, "bitterness is a defect from industrial chocolate," whereas, bean-to-bar chocolate makers work hard to explore new flavors by changing roasting times or differing levels of cacao and sugar, all ending in a product that is not bitter but "brightly acidic."
Most people may have developed a positive association with the sweet treat. That positive experience gives tiny boosts of dopamine, and each time it is reinforced it may give a sense of anticipation when you smell it or even read about it. It's possible you don't remember when your first positive experience with chocolate happened, but the sensory experience was enjoyable enough to want you to have it again.
Nuance Chocolatte is only one of 40 chocolate makers in the country.
The flight includes water and crackers to cleanse the pallet, Nuance Chocolate founder Toby Gadd said. "Take a small bite of chocolate and let it slowly melt in your mouth," Gadd said. He used words like "fully-fermented," "robust," "rare" and "lush" to describe flavors of different single origin chocolates.
New harvesting locations equal new beans equal new flavors. Artisan dark chocolate is only made out of two ingredients: cacao and sugar. To make it milk chocolate, the makers simply add milk or cream.
Since the chocolate-tasting experience isn't just about taste, McCreery commented that the Nuance employees were very welcoming since they took time to help you out and seemed knowledgeable about their products. As she was relishing her flight of chocolates like one might at a wine tasting event, "classical music was playing in the background," McCreery said. The atmosphere is part of the experience.
But in the end, it is exciting to feel a sense of anticipation for what you might find on a chocolate-tasting expedition guided by a sense of exploration, especially one that makes our taste buds and brains happy.