"We're all like a family," Tiffani Kelly said, a 2012 and 2014 graduate of Colorado State University. Kelly is a member of the Choctaw Nation of Oklahoma and the assistant director of the Native American Cultural Center.
1% of the CSU's population identifies as Native American, but that signifies something different for everyone, Kelly said. The NACC's mission is to provide support in the academic, social, personal and/or cultural awareness realms.The center is open to all students and is a welcoming space.
Kelly's personal story said that the NACC helped her develop who she is and that she wouldn't have made it through college without the support of the cultural center. Now, she wants "to give back to students like what she had received."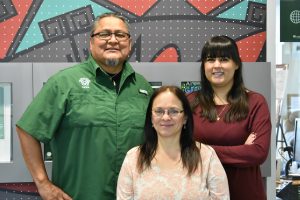 The NACC is one of seven Student Diversity Programs and Services that is not defined as a mutually exclusive club. Kelly said that the programs "collaborate, especially because of the intersections of identities" that many students associate with.
There are countless types of resources that branch from these kinds of programs. Free tutoring is a valuable opportunity that the NACC offers. You can also see the Duhesa Art Gallery, where Native American artists display their creations, located outside the NACC on the second floor of the Lory Student Center.
The NACC makes a presence on campus through class presentations, training opportunities, bringing in speakers for community lectures, putting on events during Native American Heritage Month (such as an Indigenous Hip Hop show) and hosting the annual American Indian Science and Engineering Society Pow Wow in November. These types of cross-cultural events honor Native American culture while also educating the Fort Collins and CSU community about their culture.
One of the new programs NACC hosts is the Native American STEM Institute which collaborates with school districts in Denver and certain Native American reservations that combine building preparatory life skills and a strong base of science, technology, engineering and math. The program hosts students at the CSU Mountain campus and Fort Collins campus throughout a week in June, allowing for these students to learn more about college and pathways they might take after graduation.
This K-12 STEM outreach won the NACC the 'NASPA Indigenous Peoples Knowledge Community Outstanding Student Support Program' in 2018 at a nationally recognized conference. "This was a big deal" and a huge honor, Kelly said.
The NACC also teamed up with Little Shop of Physics to plan outreach trips to tribal communities over the fall and spring breaks. A special part of the NACC's role is being a bridge between tribal communities and the local community.
"Watching students succeed," whether it be "professional development" or any other aspect of their life that are focusing on is Ty Smith's favorite part of his Job. Smith is the director of NACC and from the Navajo Nation. He also graduated from CSU in 1989 and 2001. Smith grew up in New Mexico in the Navajo Nation and he said that he sees firsthand the rippling effects of pain that tribes are continuing to heal from. "Students here at CSU are still healing too," Smith said.
Since there are over 590 federally recognized Native American tribes, how does the NACC respect all the various types of cultures and backgrounds?
Kelly said that she treats "each student as the unique person that they are" just like everyone else and their identity exploration. She also said, is to "advocate and support" each and every student "in whatever that means to them."
Without the NACC, many students would be trying to piece together what their identity means to them and be left without a great opportunity to be valued like everyone deserves. The cultural center provides only a band aid to the deep gauge our American history created. One footstep at a time, we can all help heal this echoing pain.