Surrounded by restaurants and cute shops, Bindle Coffee is an aesthetic and homey coffee shop located in The Farmhouse at Jessup Farm Artisan Village.
The menu at Bindle is very simple. They have their "coffee menu" and their "not coffee menu." This makes decision time easy so even if the customer is not a coffee buff, it is easy to read their menu and know what is in each drink.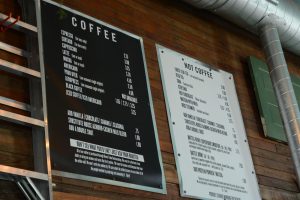 One of the more popular drinks at Bindle is their Iced Caramel Latte. "It's just so balanced. It's kind of like a deconstructed coffee milkshake," Jen Webb, co-owner/baker of Bindle, wrote in an email to College Avenue. "We make the caramel in-house, taken just dark enough with a bit of salt to balance the sweet, with creamy morning fresh milk and our espresso, poured over ice."
The owners at Bindle wanted to open a shop where they cared just as much about the food as they did the coffee. "Not only do we roast our own coffee, but we also bake/prepare everything we serve in house," Webb wrote. "Our bakery case is ever-evolving, ranging from crisp, buttery custard-filled croissants to an expanding offering of gluten and dairy-free items."
Fort Collins has many coffee shops, so what makes Bindle so important to Fort Collins?
"We cater to a wide audience, we're a place where both 'coffee people' and those whose only coffee experience has been popular chains can feel welcome and able to enjoy something special for them," Webb wrote.
Right now, Bindle only has one location. Although the owners are open to expanding, they are not rushing into it just yet. They do not want to lose the frequent customer base they have now or those who think of Bindle as more of a destination. But, they are also open to the idea of a new location because they know new customers could become regulars too.
Overall, Bindle gives a calm atmosphere to drink coffee, bring a date or study for a huge exam. Customers have a wide variety of options that include gluten and dairy free food items. Webb recommends the Magic Muffin because it is kid and adult approved.
Change up the normal coffee routine and try something new with Bindle, an exclusive to Fort Collins – at least for right now.