Homemade Beauty Products Tailored to You
Welcome to reality. This is where your favorite beauty products cost in the ballpark of $99 and your budget is looking more like $9.99. It is a cruel world. However, there are ways to curb this drastic price gap by making your own beauty products. Not only is it a way to pinch pennies on your tight college budget, but it is also a creative and unique activity you can tailor specifically to you.
It is important to note the prevalence of essential oils in the following recipes. While there are suggested oils to be used, there is a long list of oils that can cater to your specific wants and needs.
Feeling stressed? A couple drops of lavender essential oil will ease the mind and body. Complications with acne scars? Rose oil is a foolproof solution. The list of oils and their benefits goes on and on. With this in mind, feel free to substitute any mentioned oils with the one of your choosing!
Quick Tips:
Apply tea tree oil to stubborn pimples and watch them dry up overnight.
Buy an oil diffuser. The aroma of peppermint oil will ease headaches and an achy body.
Lazy girl hack: put your hair in a low ponytail then curl the pieces from there. This will cut your time in half.
Baby powder is the best dry shampoo you will find.
The following recipes were chosen for their minimalistic ingredients, cost-effectiveness, and ability to keep your skin soft and moisturized in Colorado's dry weather. All of the ingredients used were bought at the Dollar Store for under ten dollars.
---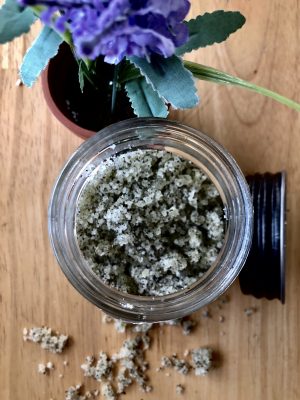 Homemade Green Tea Exfoliator – Author Kristin Marr
INGREDIENTS:
1 Tbsp. dried green tea leaves 2-4 tea bags depending on size of tea bag
1 cup organic white sugar or brown sugar, the sugar should be soft, not large granules
1/2 cup extra-virgin olive oil
2 Tbsp. honey
10 drops lavender essential oil or peppermint (suggested but optional)
DIRECTIONS:
In a medium-size bowl, combine all the ingredients. Store the exfoliator in an air-tight container in a cool, dark place (the linen closet or medicine cabinet).
Recipe Notes: Apply a tablespoon of exfoliator at a time to your hands. Gently massage the skin (face and/or body) with the exfoliator for 30 seconds. Rinse the exfoliator from the skin with water and a washcloth.
---
INGREDIENTS:
1 Tbsp. Brown Sugar
1 Tbsp. White Granulated Sugar
1 Tbsp. Organic Coconut Oil
1/8 tsp Vanilla Extract
5 Drops of Peppermint Essential Oil
DIRECTIONS:
To make this DIY lip scrub, all you have to do is mix the ingredients together well. Here is how you use it:
Apply a small amount to lips.
Rub the mixture on your lips for a minute, allowing the scrub to loosen dead skin.
Wipe the scrub off with a damp cloth.
Apply a lip conditioner to your super smooth lips.
Store extra in an airtight container. (This step is crucial!)