New Crystal Shop In Old Town Fort Collins
Crystal Joys has been providing jobs to adults with developmental disabilities in the Fort Collins community for a little over a year.
The shop started out as a traveling inventory store and in August of 2014, their first location opened up in Longmont. Since then, it has grown to have three different locations around Colorado. Wheather you are looking for crystals, crystals incorporated jewelry, handmade bath salts, incense, art or home decor, this store sells it all.
Crystal Joys' employees have intellectual disabilities and help to make the jewelry sold in the store. Their products have stickers on them that say "Made with Love" because they truly are made with love.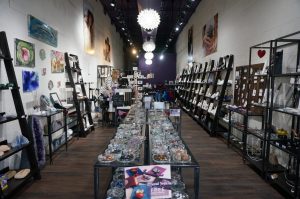 According to their website, "through inclusion, we teach job skills and build self-esteem all while providing a competitive wage." Crystal Joys also mentions "all handmade items at Crystal Joys are crafted by our team of passionate workers and is a reflection of the joy we share being able to learn and teach new skill sets."
"The people who are working here are job coaches, so they're helping coach our folks and teaching them basic skills," Chelsea Glanzer said, a retail worker at Crystal Joys who has been employed for about a year and a half.
Some retail workers help operate the store at the top level with customers, while others are either on the lower level or near the back of the store are where the jewelry is made.
"We are apart of a larger organization called Sample Supports," Austin Prichard said, an employee who has been at Crystal Joys' Fort Collins location for about six months. "We give them employment opportunities here and in the other businesses that we own."
Sample Supports is a larger agency has helped organize the jobs and programs for people with intellectual and developmental disabilities since 2010. On Sample Supports website they believe that "every individual deserves to be in their community."
"It can be challenging at times, you have to have a lot of patience," Prichard said. "Everybody has different needs, so you have to be really willing to be flexible and cater to everybody's needs, no matter how demanding it may be. It can get tiring, but it's definitely worth it."
Crystal Joys has locations in Fort Collins, Longmont and Arvada as well as an online store. All the crystals, both online and in the stores, have a description of what the stone does and all the powers it holds.
"Most of the stones are locally sourced," Glanzer said. "We also have a couple pieces that are from different countries."
Crystal Joys and other Sample Supports groups are here to give opportunities to those who are disabled in the community while providing crystals for everyone.