Your Stress Is Stressing Me Out
College life is not how you always thought it would be. It entails late night study sessions and unreal ambition to hit your 11:59 p.m. deadline. Attending college is a juggling act of school, work, relationships, sleep and do not forget "me" time.
Take a deep breath. It is normal for these elements of life to become overwhelming, but there are ways to keep the clock from becoming your worst enemy.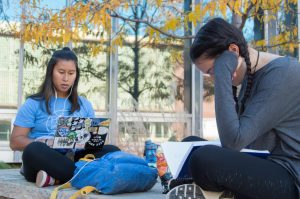 Now, this may seem like more of a chore than a relaxation tactic, but trust me, exercise can help let off steam. I know this may not sound relaxing, however, exercise releases endorphins to your brain work as a natural painkiller. The chemicals in endorphins also help make sleeping easier, thus making you able-minded and ready for the day ahead of you.
"I'll go for a run or a walk because that's a way for me to relieve stress," said Mia Salem, a freshman biology and chemical engineering major at Colorado State University. "(Working out) is my way to release all of the pent up emotions that I get with stress."
The motto "look good, feel good" was never truer. But for those of you that find exercising to be too strenuous, there are more low-key approaches to unwind.
Often times, you see people at a coffee shop reading a classic novel while occasionally sipping their cup of joe. Being immersed in a world outside of their physical one is relaxing and refreshing. Reading can offer an opportunity to stimulate our imaginations, whether it be a romance, suspense or an intellectual read, it allows you to delve into the words on the pages, blooming the image of these words in your mind.
"I like reading, it relaxes me," said Alisha Bun, freshman biochemistry major at CSU. "I think it causes your imagination to go different places and gets your mind off of things sometimes."
Like exercise, reading may not be your cup of tea, but knowing there are times in your day in which you can hang up the phone and enter a new reality of a book is calming in and of itself.
Try creating your own happy place to relieve stress. Whether this is in your room, backyard, or somewhere in your city, find a place that makes you feel comfortable and at ease. For myself, it entails hanging up lights, lighting incense and meditating; feeling my presence at that moment in time. Being caught up looking for the next great thing or dwelling on a regret can leave you feeling drained and anxious. It is easy to get caught up in your mind about the past or the future, but to be present in that space, at that time, is beneficial to living in the moment and treasuring it.
You can not make the hands on a clock stop ticking. But there are ways to feel as if you own a sliver of time for yourself, and sometimes that is all it takes to make the stresses of life worth it.