Five Ideas for Last Minute Halloween Costumes
In the words of Cady Heron, "In girl world, Halloween is the one day a year when a girl can dress up like a total slut and no other girls can say anything else about it."
Arguably, "Mean Girls" has popularized Halloween for young women over the course of 10 years, inspiring them to find the perfect costume. As Halloweekend 2016 approaches, it is not too late to find your costume whether it's promiscuous, cute, or clever; whatever makes you feel fun and ingenious.
Here are five costumes for the college girl or couple who wants to stand out or just throw together a costume as quick and effortless as possible. I guarantee hella Instagram likes and compliments alike.
1. Holly Golightly woke up like dis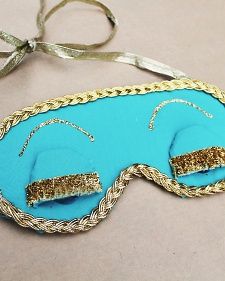 For fans of "Breakfast at Tiffany's" and the iconic Audrey Hepburn that just rolled out of bed, Holly is a perfect costume for ladies who want to throw on an oversized, white button down and eye mask. For the oversized look it is best to search men's sizes at your local Walmart, Target, or H&M if your are looking for a particular, yet affordable look. The blue eye mask can be made from goods found at Jo-Ann Fabrics or Michaels. If you are looking to find an exact replica of the eye mask and ear plugs they are priced starting at $16 (not including shipping) for the set on Amazon. As for the hairdo, Holly has a half up and half down hairstyle in which some of the hair pieces are pinned back with bobby pins and held together by the eye mask. All you need are these three simple pieces and you are Holly Golightly, the well-rested goddess.
Martha Stewart has a DIY guide to making the Holly Golightly mask. She lists all the materials and makes the mask in 10 simple steps. Check out the complete look on POPSUGAR.
2. Mary Poppins and Bert are LIT like the chimney
Mary Poppins and Bert the Chimney Sweeper is the perfect couple's costume for those vintage clothing fans out there. Each costume separates are easy finds at local thrift or vintage shops, but you can make your costume unique by decorating a bowler style hat to match the Mary Poppins classic. Bowler hats or derby hats can be found at Spirit Halloween, starting at $8.99. For the decorative parts, fake daisies and cherries that can be purchased starting at $2.49 to add to the brim of the hat. As for Bert's look, a red scarf, pants, suspenders and a chimney sweeper will complete the look. If you or your partner are enjoying the crafting, you can purchase a plastic poll and black pipe-cleaners to be hot glued to the top of the poll to model Bert's chimney sweeper. All you need is trip to Michael's and a hot glue gun.
3. Let the Bunnies Play
The infamous Playboy Bunny has been a go-to, promiscuous costume for decades every since the beginning of the Playboy Bunny in the 1960s. Since bodysuits are making a major comeback, the bunny costume has never been easier to achieve. Retailers such as Forever 21, Express, and Target have bodysuits between $15-$35. Forever 21 has multiple color bodysuits if you want the classic black and white bunny outfit, or if you want to emulate the Elle Woods with a pink one. Bunny ears, a bowtie, and the cuffs are sold separately at Spirit Halloween. Walmart also has a wide selection of two-piece sets of bunny ears and the cottontail in white, pink, and black.
4. The Freudian Slip
Named after Sigmund Freud, the Freudian Slip is an idea that an error in speech, memory, or physical action is induced by unconscious wish or internal thoughts of the mind. Turning this psychoanalytical parapraxis will keep people guessing, but you will look sexy in it too. A Freudian Slip is achieved by simply wearing slip or a lingerie nightgown of any type with catchy words or sayings that would be classified as a Freudian Slip. For example, she says, "What would you like: bread and butter, or cake?" He replies, "Bed and butter." Just tape or hot glue the words or sayings to your slip and you have become the complex mind. Slips can be found at Walmart, Target, or any lingerie store.
5. Beanie Babies all grown up
Every late 90s early 2000s, kid collected at least two or more Beanie Babies that perched on your bed, but now sit in a box in your parent's basement (moment of silence for the Beanie Babies). This year has easily been the rebirth of everything 90s, so why not bring back the beloved Beanie Babies? Except this time as a group costume. The possibilities are endless as far as which Beanie Baby you want to pose as. Anywhere from the peace Beanie Baby, the tie-dye Beanie Baby, or the flamingo Beanie Baby could be an option to dress as. In this photo, this group of ladies went as animal Beanie Babies in simple costumes with the large Ty logo painted on a red, heart shaped canvas. All you would need for this costume is cardboard, red and white paint, and any style of Beanie Babies to chose from.
Even though Halloween is in less than a week, not all hope is lost when it comes to finding a costume. With some DIY inspiration, you too can come up with something inexpensive, yet unique.