At the northeast edge of Fort Collins, just as fields of corn, hay and wheat sweep over the horizon, there is a small haven blanketed with orange, speckled, leafy mats, towers of yellow halos that obscure the sun and an interlude of squawks from meandering birds. This space that welcomes city faces to the agricultural expanses of Northern Colorado is The Bartels Farm and Pumpkin Patch. 
Doug and Nancy Bartels might be mistaken for any other visitor, if not for their warm and confident demeanors. The easy-going duo represent the labor and love that goes into transforming a field of vegetables and squash into a center of community for residents throughout Colorado and Wyoming.
But the farm has not always bustled with pumpkins and people. Founded in 1905 by Clyde Bartels and his son, Frank Bartels, the farm started out primarily as a sheep ranch, growing various crops including corn, hay and barley on the side. After Frank's son Duane took over the farm, sheep trickled out and hogs became the main livestock they worked with. In the peak years, thousands of hogs lined the Bartels property. 
When the hog market began to fizzle out, the farm shifted its focus to crops. The Bartels grew corn and hay, as well as barley for Coors Brewing Co., cucumbers for Dreher Pickle Factory, pinto beans and Doug's father Duane even took a chance with tobacco. However, the farm was not able to restore its profit back to the levels when they were working with livestock. 
Twenty-one years ago, Nancy was working with a flower shop franchise in Fort Collins called Flowerama. One day, Doug was helping the store unload pumpkins when he was asked to grow the bulbous orange crop for them the next year. That year, he planted three rows of pumpkins. Twenty-one years later, their three rows have exploded into 72 acres and now serve thousands of visitors each season. "Economically, we might have lost the farm a few years back," Doug Bartels said. "If we didn't stick out our neck and try to do something different, it wasn't gonna work."
All across the United States, small farms like The Bartels are being pushed to sell their farms to be consolidated into larger farms that have more economic support from the government, or for city development that seeps into surrounding agricultural land.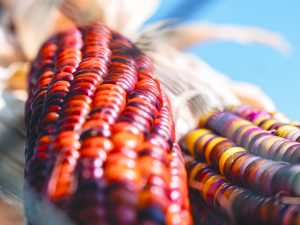 While urban expansion can threaten the existence of farms that border urban centers, the expansion of Fort Collins provided a uniquely ripe market for The Bartels Pumpkin Patch. 
Fort Collins' ever-expanding population has created an interest and demand for agritourism activities like pick-your-own farms and The Bartels Pumpkin Patch where people can engage with agricultural traditions in a relaxed, outdoor environment. 
The community pumpkin patch that Fort Collins residents know today was born when some neighbor children were out playing in the fields of pumpkins the Bartels used to supply local Flowerama shops, and someone stopped to ask if they had a pumpkin patch. "We looked around, and we said, 'Yep, we do!'" Doug Bartels said.
Since then, word of the pumpkin patch has proliferated into the crowds that now flock to the farm every fall. "We hardly do any advertising, we put up a few signs, but it's just word of mouth and people just keep coming back."
On a peak day in October, their pumpkin patch will be dotted with swaths of children lost in the excitement of an outdoor oasis, groups of college students basking in the last bit of sun before exams push them indoors and families vying for pumpkins with which to adorn their homes. Together, these numbers reach into the thousands. Even during the peak of the pandemic last fall, the farm stayed alive with groups of elementary school students who gathered outside of school hours to avoid restrictions placed on school-organized field trips.
Similar to their approach to pulling through rough times and uncertain economies, the charm of the Bartels farm lies within its versatility and commitment to providing a welcoming space for everyone in the community. Each year brings something new, whether it is an exciting new adventure tromping through the mud, an expanding city of sunflowers or a new playground, the Bartels continue to push their farm into the future.
Some of these experiments turn into tradition, like their field of sunflowers where people now congregate for cozy photo ops, the caramel apple stand that they bring from out of state, hay rides and their pumpkin chucker that slings pumpkins half a mile. And as some of their activities turn into tradition for their farm, fall trips out to The Bartels Pumpkin Patch have become a tradition for members of the Fort Collins community. Nancy and Doug have no plans of changing that. 
"We're pressured all the time with developers, because the money's there, but that would make lots of children sad — that wouldn't be good," Doug said, standing against the backdrop of their ever expanding fields of flowers and fall squash. "You get kids out here, they're 50 years old, it's kind of a universal love."