Best On-Campus Lunch: Spoons
Serving Northern Colorado for more than 15 years, Spoons is a go-to spot for soups, salads and sandwiches. Founded in Fort Collins, Spoons works with Colorado farmers to locally source as many ingredients as possible. Their soups and specials rotate daily, and can be paired with their focaccia sandwiches. They also offer gluten-free soups, bread and spinach wraps. 
With two locations on campus, the Lory Student Center and Allison Hall, it's no wonder Spoons won Best On-Campus Lunch. They even offer "The Deal," which includes a grilled cheese sandwich and a cup of soup or side salad for $6.75 — perfect for a quick, fresh and delicious on-campus lunch. 
Runner Ups: Panda Express, Ramskeller
Best Dining Hall at CSU: The Foundry
Located between Corbett and Parmelee halls, The Foundry is one of CSU's most expansive and newest dining halls, having opened in 2018. It offers a myriad of micro-restaurants including Italian, Tex-Mex, International and Kosher stations alongside traditional dining hall fare. Fort Collins' own Walrus Ice Cream is offered at The Creamery station in a variety of rotating flavors. 
The Foundry is open to any CSU student, currently accepting on-campus meal plans, credit cards, cash and Ram Cash. Mobile and online ordering is available by logging onto myramcard.colostate.edu via eID with options for order-ahead and no-contact pickup.
Runner Ups: Durrell, Rams Horn
Located a few blocks west of the Colorado State University campus, the Ram's Village has continued to offer affordable housing for CSU students. The apartment complex also offers group amenities, such as a tanning booth, two heated pools and two indoor spas, and apartment amenities such as Wi-Fi Internet and cable. Apartments range from one bedroom to four bedroom, and their large rooms give students plenty of space to study, sleep and hang out.
Runner Ups: Union, The Cottages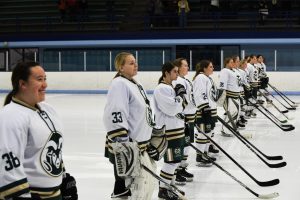 Colorado State University's Women's Ice Hockey team is a student-run organization that competes at the Division I level for the American Collegiate Hockey Association. During the 2019-2020 season, the team won nine games, lost 12 and had one forfeit game. They ranked 9th in their league in penalty kill percentage, 12th in power play percentage and 13th in goals per game. In 2020, the team featured 15 student-athletes from around the country, and player experience ranges from five to 16 years. 
Runner Ups: Rocky Mountain Student Media, Snowriders
This article is part of Best of CSU 2020.