Colorado's 2020 Election Explained in 9 Graphs
We all know what Colorado voted for in the 2020 election but have we seen how Coloradans voted? Nine graphs from College Avenue show the different ways the state population cast their ballots this year and the context behind some of the votes. 
Across the State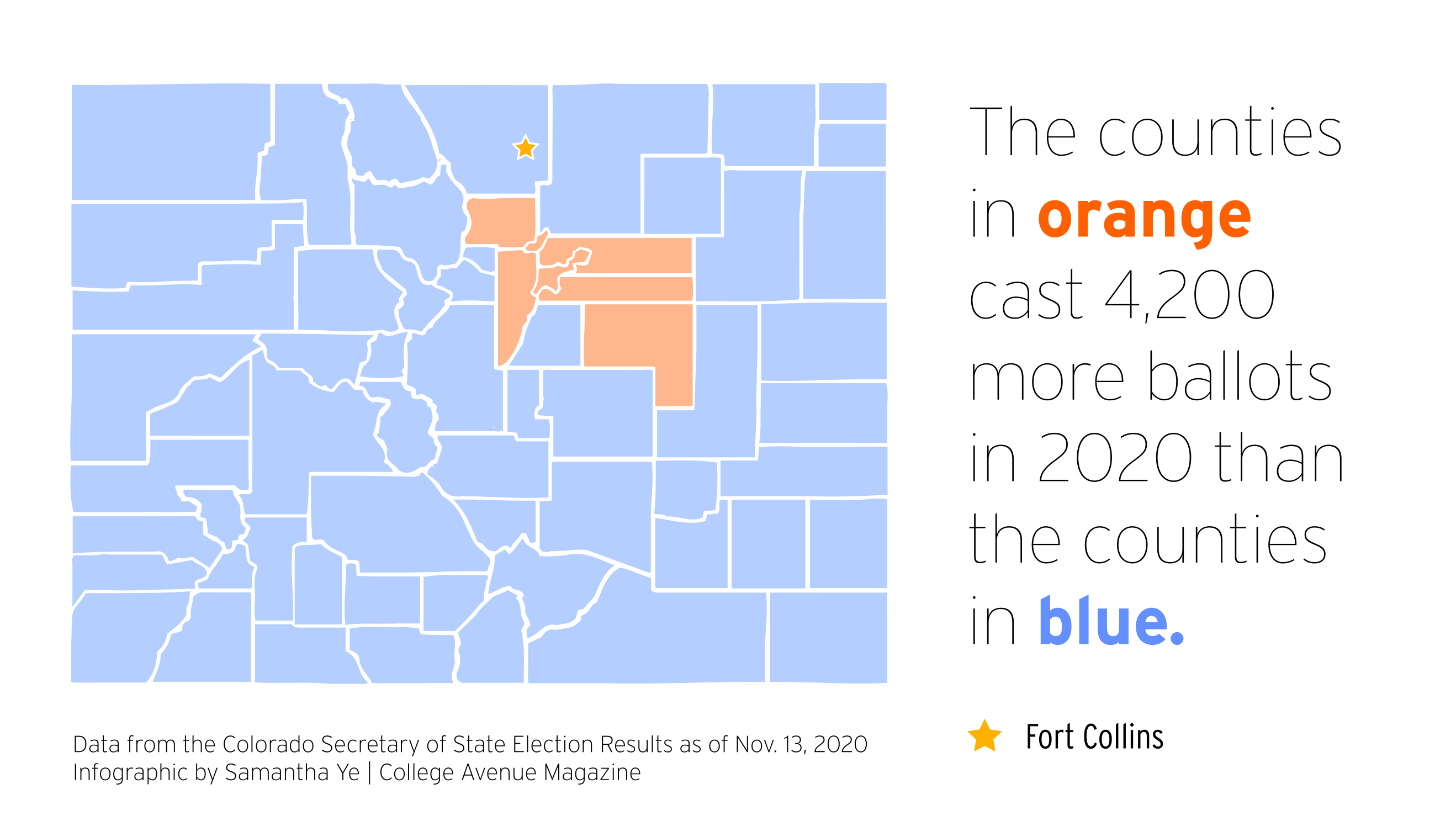 In every county, turnout was over 80% of active voters, with some counties even going above 90%. At nearly 3.3 million ballots cast, it may be one of the highest turnout rates in Colorado history — and Colorado is already one of the top five states for voter participation, according to 5280.
With this consistently high turnout, it's no surprise the number of ballots cast reflect the distribution of the state population. But the raw numbers show just how massive the gaps are. Five counties returned less than 1,000 ballots, while Denver county, the second smallest sliver of land on the map, cast nearly 400,000.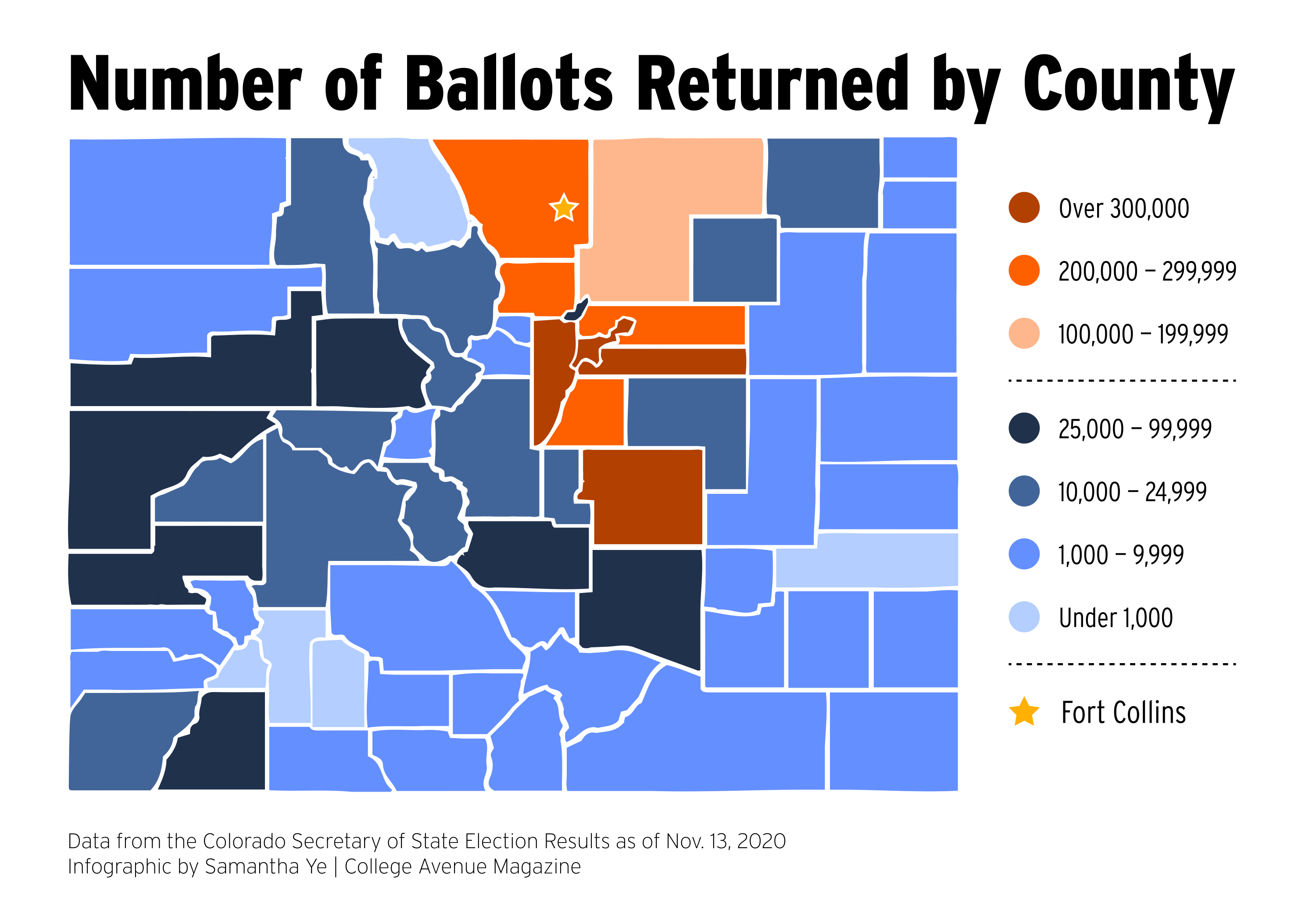 Federal Races
President-elect Joe Biden won Colorado's nine electoral votes with a 13.5-point margin over incumbent Donald Trump. According to CPR News, that is the largest margin of victory for a presidential candidate since 1984. 
Though both candidates received more votes than in 2016 — Trump outdid his past self with 118,000 more votes and Biden received 393,000 votes more than Hillary Clinton — neither one was the most popular choice on the ballot.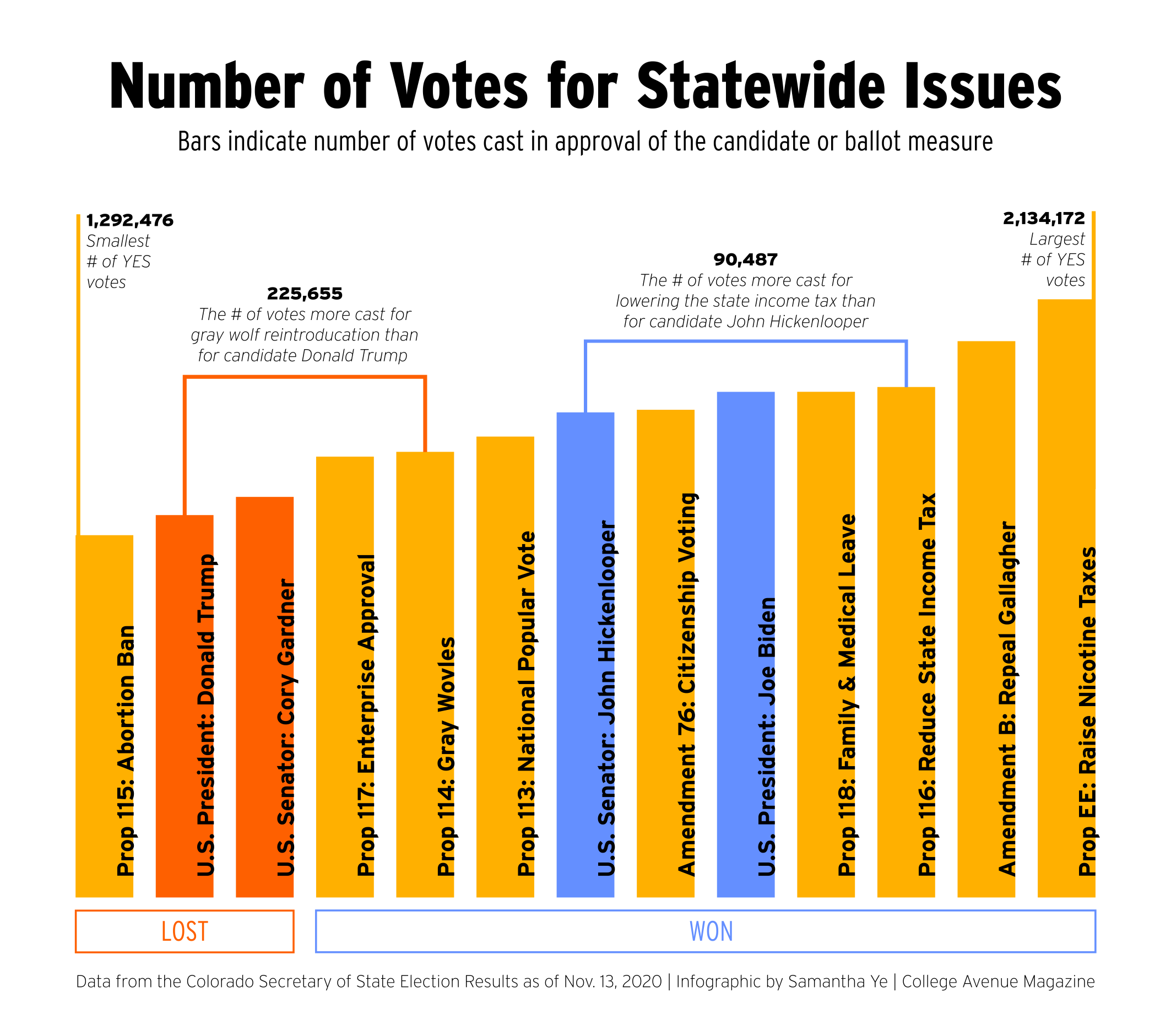 Among statewide races, approval for Proposition EE for raising nicotine taxes soared above the rest, being the only one to break two million YES votes. 
Biden received fewer votes than approval for paid family and medical leave (Prop 118), lowering the state income tax (Prop 116) and repealing the Gallagher Amendment (Amendment B). 
Trump received the second lowest number of Colorado votes, only underperformed by Proposition 115, the 22-week abortion ban. Even in the U.S. senate race, which received fewer votes than the presidential race overall, incumbent Republican Cory Gardner proved slightly more popular in Colorado than the sitting president. 
President Trump got 1,220,661 votes in Colorado.
Wolves got 1,412,507 votes in Colorado.

— Kyle Clark (@KyleClark) November 4, 2020
State Ballot Issues
Almost all of Colorado's 11 ballot issues passed easily this election except for Prop 115 and Amendment C. 
Amendment C would have revised regulations for nonprofits operating charitable bingo and raffles. While it managed to get 51.7% of the vote, as a constitutional amendment, it needed 55% to pass. 
Prop 115 on the other hand was the only ballot issue to achieve less than 50% of the YES vote.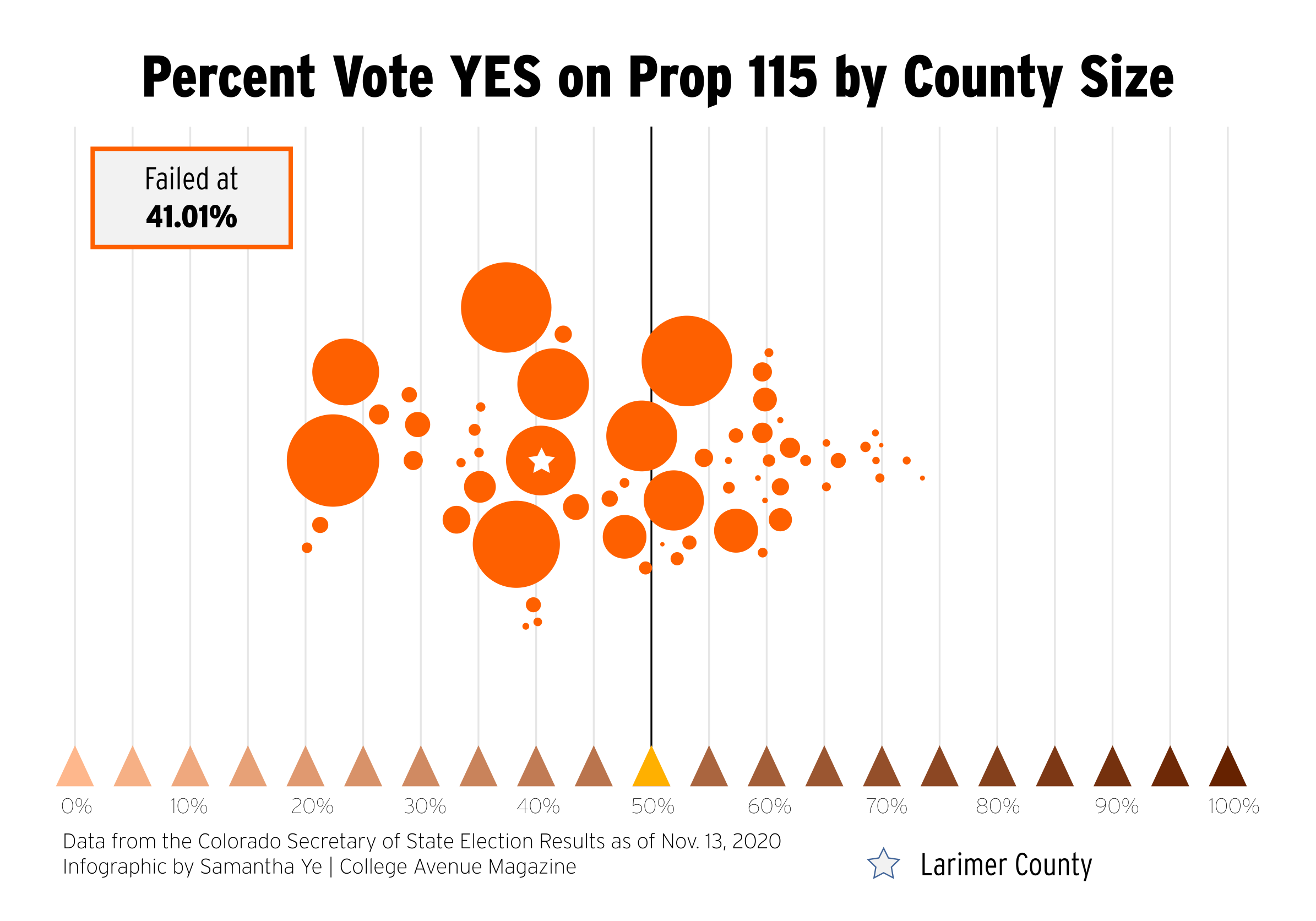 At only 41% of the YES vote, voters handily rejected the proposed ban on allowing abortions after 22-weeks of gestation. 
It is the fourth time since 2008 that Colorado voters have rejected an abortion-related initiative. Previous failed measures were attempts to define "person to include fetuses or unborn human beings," according to Ballotpedia. Prop 115 was seen as comparatively less restrictive since Colorado is only one of seven states that does not place time restrictions on abortion. 
Late-term abortions are rare and usually only done for severe medical problems, according to CPR News. Barely more than 1% of abortions occur after 21 weeks which is still in the second trimester.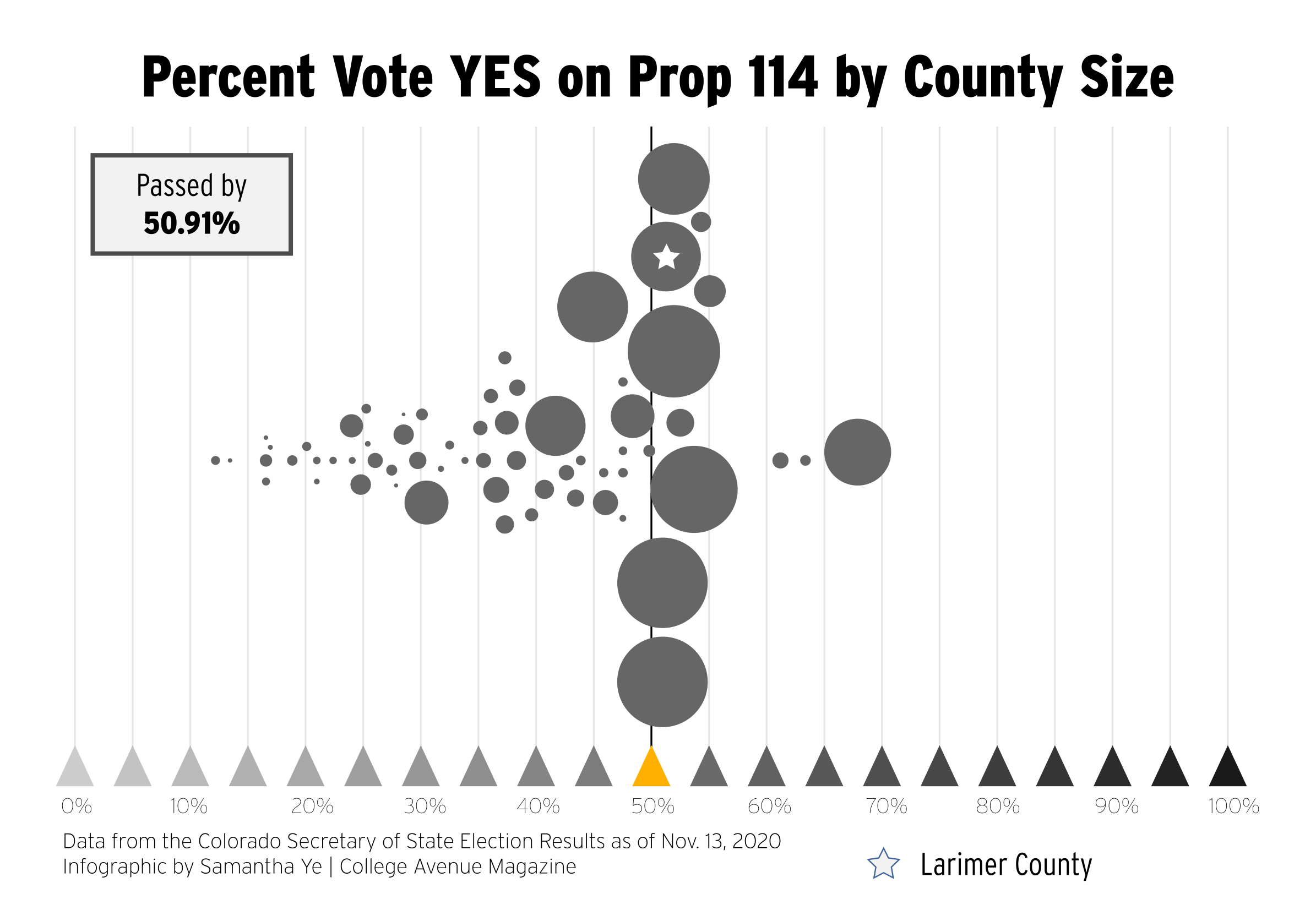 The only issue too close to call the day after election night was Proposition 114, the reintroduction of gray wolves to Colorado. It eventually went to the supporters that Thursday morning by a margin of 1.8%. 
The razor thin approval for wolves can be seen in the county breakdown, with even large supporting counties closely divided on the issue. The only large county that voted for wolves with significant enthusiasm was Boulder.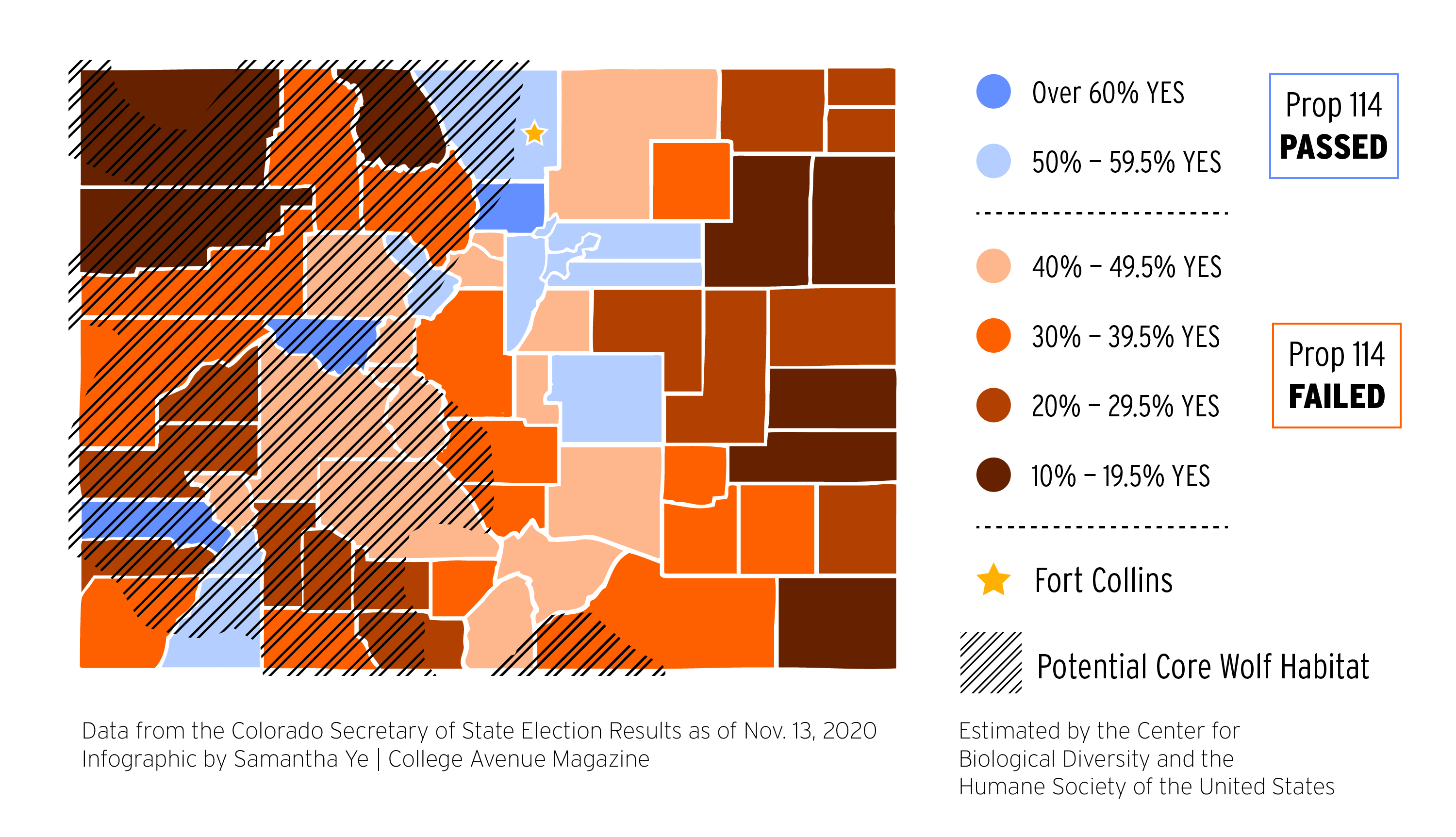 Backers of the initiative saw it as crucial to restoring Colorado's natural ecosystem while opponents saw it as shifting an unfair cost burden onto ranchers in the western slope, according to The Collegian. 
And still, there are logistics to figure out. A state has never voted on reintroducing an animal before this, according to National Geographic. But with gray wolves set to be cut off from the federal Endangered Species Act protections, it certainly is a timely vote.
One issue which fared very well with voters was Proposition 118, the plan to establish a mandated 12-week paid medical and family leave program for Colorado workers. With over half the counties voting in favor, it passed with a solid 57%. 
Colorado Democrats have tried and failed five times to pass it at the state Capitol, even in 2019 when their party controlled both the state House and Senate. 
According to the Colorado Sun, this is the first time a state's voters have approved a paid leave program in place of their legislature. 
The 7-year paid family leave saga in Colorado, ending last night with the overwhelming passage of a progressive measure that did well even in two GOP strongholds, is just a fascinating example of how disconnected lawmaking can be from public sentiment. https://t.co/nAyxrCh3wG

— Alex Burness (@alex_burness) November 5, 2020
Meanwhile, in Larimer…
While Colorado's blue shift has been well-documented, it is also worth noting the blue tides moving up at the local level. 
Larimer County, while long represented by mostly Democrats at the state and federal level, had all Republicans in elected county positions in 2016. That was not a historical rarity. 
The three-person commissioners board for example, has traditionally been mostly Republican and was all-Republican from 2008. In the 2018 midterms, Democrat John Kefalas broke the pattern in Colorado's first blue wave that also brought in Bob Overbeck into the county assessor's role.  
Now in 2020, Jody Shadduck-McNally and Kristin Stephens, both Democrats, will succeed the vacated commissioners seats, making for the first ever all-Democrat board for the county, according to the Reporter-Herald. And new District Attorney Gordon McLaughlin will also be the first Democrat in his role since 1972.